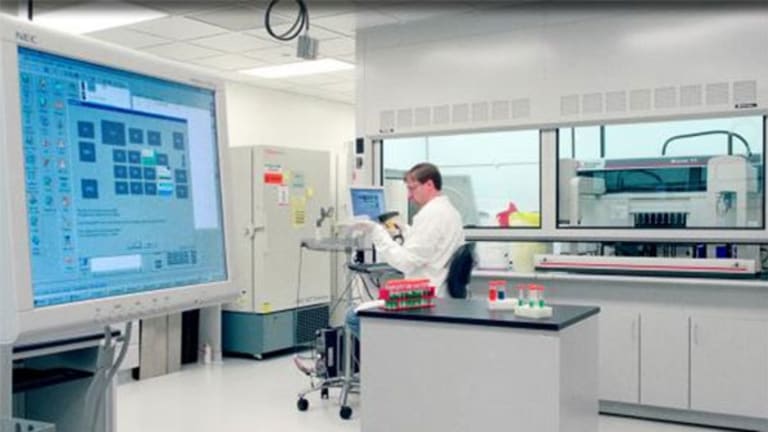 Publish date:
Sagent Pharmaceuticals is in Talks with Potential Targets
Buys in the injectables space are on the table for the pharmaceutical company.
Buys in the injectables space are on the table for the pharmaceutical company.
Sagent Pharmaceuticals Inc. (SGNT) is seeking acquisitions in the injectables space, with the goal of making purchases during 2015, according to chairman and CEO Jeffrey M. Yordon.
Schaumberg, Ill.-based Sagent is currently "seriously speaking with a group" of potential acquisition candidates, Yordon said on the sidelines of the JP Morgan Healthcare Conference in San Francisco on Monday. "Depending on the opportunity, we could do another few deals similar in size and scope to our recent acquisition of Omega, or we could spend upwards of $600 million," he noted.
The company recently acquired Montreal-based Omega Laboratories Ltd., in an all-cash deal valued at $85.3 million. The acquisition helps expand Sagent internationally while also expanding its manufacturing lines. The Deal previously reported that this acquisition added 94 Omega specialty drug products to Sagent's existing 56 product lines. Omega has 26 products in its pipeline as well, according to a previous report.
The CEO added that the company would have no problem raising cash in order to fund the right acquisitions, adding that deals would likely be struck in a combination of cash and stock. Sagent, which generally focuses on generic injectables, would ideally aim to purchase products that are specifically being sold to hospitals. Yordon said that Sagent is working with Perella Weinberg, as well as other financial advisers.
Sagent focuses on generic injectables and often makes enhancements to the original drug by changing its form or means of delivery. It also works in making shortage products, Yordon said, noting that the company also has a pipeline of drugs in development in this space. In addition its PreventIV system — a packaging and labeling system for its drugs that helps to distinguish drugs through color-coded and large labels — is used widely in hospitals and helps in preventing medication errors.
The pharmaceutical company's major competitors include Fresenius SE's American Pharmaceutical Partners Inc., Yordon said. Other general competitors include Pfizer Inc. (PFE) - Get Pfizer Inc. Report and Hospira Inc. (HSP) . Due to consolidation in the industry, Yordon noted that Sagent is one of the "last real standalone" companies in the space.
Yordon, who previously worked at American Pharmaceutical Partners, and other companies that had been purchased by larger competitors, noted that he is currently not interested in selling Sagent at this time.
"I am so positive about growth and the future, I would be hard pressed to sell now," Yordon said. "There is no reason we can't be a billion dollar revenue company." Sagent currently has a market cap of $407.2 million.
Read more from
: