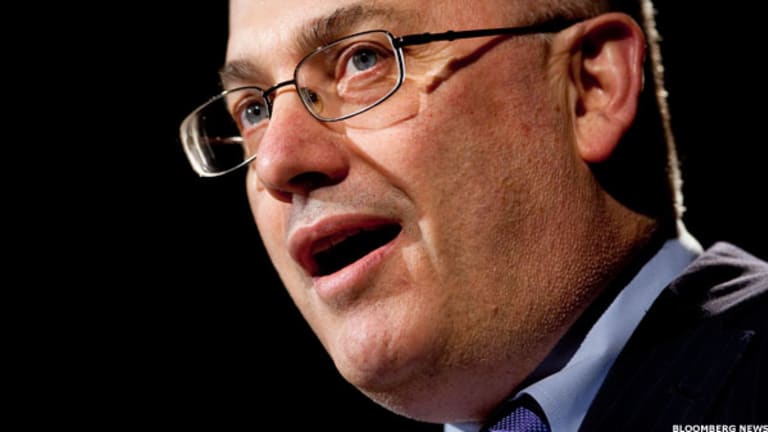 SAC Capital's Next Hurricane
SAC Capital's foray into the reinsurance business may bring new storms to the embattled hedge funds manager.
NEW YORK (
) -- Wall Street may believe
SAC Capital Advisors
faced a tsunami of bad news Thursday when the
Department of Justice
against the hedge fund, however, the firm and its billionaire head Steven A. Cohen remain exposed to other catastrophic events, including earthquakes, tornadoes, floods and hurricanes.
SAC Capital, as an investment manager for S.A.C. Re, is responsible for an unknown amount of reinsurance that could come back to bite the hedge fund, given its current state of distress.
A giant natural disaster and any prospective reinsurance claims against S.A.C Re could put the hedge fund at risk of having to cover losses. Meanwhile, SAC Capital may be challenged to make investments that cover the reinsurance S.A.C. Re has already underwritten, given criminal charges against the hedge fund, outflows of investor money and the prospect Wall Street trading counterparts cut ties with Cohen & Co.
The plight of SAC Capital could also bring to light long-held concerns about a rush of hedge funds into Bermuda's reinsurance market.
In addition to S.A.C. Re, David Einhorn's
Greenlight Capital
has controlled a reinsurance subsidiary called
Greenlight Re
(GLRE) - Get Greenlight Capital Re, Ltd. Class A Report
since 2004. Daniel Loeb's
Third Point Capital
filed a prospectus earlier in July for a $250 million initial public offering of its reinsurance subsidiary,
Third Point Reinsurance
. John Paulson-run
Paulson & Co.
controls
PaCRe
alongside minority investor
Validus Holdings
(VR)
, a reinsurer.
Are hedge funds plowing billions of dollars of
into the reinsurance market that is susceptible to large trading losses, investor redemptions or the criminal probes that often ensnare Wall Street hedge funds? The DoJ's charges against SAC Capital could be a major test.
In 2012, SAC Capital and private equity firm
Capital Z Partners
opened S.A.C. Re with $500 million of capital. The goal was to have S.A.C Re underwrite low-risk property and casualty reinsurance and have SAC Capital's hedge fund wizards profitably invest the reinsurance float.
So far, $500 million of S.A.C Re assets have been invested back in SAC Capital and it is unclear how much reinsurance the venture has underwritten.
A.M. Best
currently gives S.A.C Re a solid financial strength rating of (A-), however, it highlights a convergence of underwriting risk and investment risk in the hedge fund industry as the firm's most significant challenge. The rating firm is assessing whether S.A.C. Re will be impacted by the DoJ's charges against SAC Capital.
Bloomberg
earlier in 2013 that Paulson's PaCRe had only underwritten a minimal amount of reinsurance, while investing about $500 million into Paulson & Co. funds. It characterized hedge funds' reinsurance operations as a
and calculated that a combined $1.7 billion has been reinvested in Third Point, SAC Capital and Paulson & Co funds.
Greenlight Re does appear to have underwritten a significant amount of reinsurance. It reported net premium and investment income of $171 million and $60 million in operating income in the first quarter of 2013.
Warren Buffett of insurance and investment conglomerate
Berkshire Hathaway
sees hedge funds' entrance into the reinsurance industry as a perfectly legal way to defer taxes on their investment gains. However, Buffett
at Berkshire's May 4 shareholder meeting hedge funds have increased competition for premiums and made reinsurance pricing too low.
"Hedge funds have entered the reinsurance business quite aggressively in the last few years," Buffett said. He said Berkshire Hathaway wasn't going to push heavily into certain reinsurance markets given prevailing prices.
SAC Capital's legal troubles, however, may uncover concerns about the sustainability of hedge funds using their flighty investment activity to support reinsurance policies.
A grand jury has indicted SAC Capital for one count of wire fraud and four counts of securities fraud, in an insider trading conspiracy U.S. prosecutors allege lasted over a decade and led to hundreds of million of dollars in illegal profits and avoided losses.
While the U.S. attorney also levied civil money laundering charges against the fund, Preet Bharara, U.S. Attorney for the Southern District of New York, said Thursday the government will be mindful of minimizing investor losses from its criminal action. Presumably, that applies to the reported $500 million in S.A.C. Re funds currently invested with SAC Capital.
"
The government's action today does not attempt to freeze any of SAC's assets. We have been advised by the U.S. Attorney's Office that their action is not intended to affect the ongoing operations of SAC's business, prevent investor redemptions, or impact the interests of any of SAC's counterparties," SAC said in an e-mailed statement Thursday.
SAC Capital said Thursday it objects to the government's criminal charge. On Friday, it pleaded 'not guilty' to all five of the DoJ's criminal charges.
The fund also said last week it will fight an administrative action filed by the
Securities and Exchange Commission
against Steven A. Cohen.
Simon Burton, chief executive of S.A.C. Re, declined to comment on how the government's charges against SAC Capital could impact its reinsurance operations. He also didn't respond to an email seeking detail on the amount of reinsurance S.A.C. Re has underwritten.
Robert Spass, a managing partner at Capital Z Partners, did not respond to an email seeking comment.
-- Written by Antoine Gara in New York