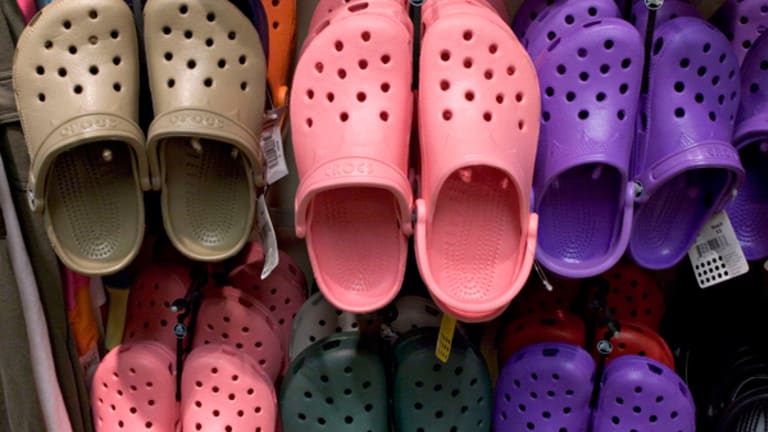 SAC Capital Takes 5% Stake in Crocs After Blackstone's Bet
SAC Capital Management is taking a large passive stake in Crocs.
NEW YORK (TheStreet) -- Embattled hedge fund SAC Capital Advisors has disclosed a 5% stake in footwear manufacturer Crocs (CROX) - Get Crocs, Inc. Report just over a day after The Blackstone Group (BX) - Get Blackstone Inc. Report said it would invest $200 million in a convertible preferred stock offering that will allow the company to replace its CEO and buy back $350 million in stock.
SAC Capital management said in a filing with the Securities and Exchange Commission on Tuesday it had accumulated a 5% passive stake in Crocs. As of the third quarter, SAC held a 1.95% stake in the niche footwear brand. It couldn't immediately be discerned whether SAC had increased its Crocs stake before or after the Blackstone announcement.
Firms holding 5% or more of a company's shares are required by the SEC to disclose their holding. However, they have a window to make the disclosure. Jonathan Gasthalter, a SAC Capital spokesperson, declined to comment.
It has been a rough year for SAC, which included a guilty plea by the hedge fund on multiple counts of securities fraud, an SEC order against the fund's founder Steven A. Cohen and, most recently, the criminal conviction of Michael Steinberg, once one of SAC's top portfolio managers, on multiple counts of fraud. 
A stake in Crocs may seek to benefit from Blackstone's recently announced investment, as SAC closes to outside investors and operates as a so-called family office to manage Cohen's wealth.
Blackstone Group said on Sunday it would invest $200 million in Crocs' convertible preferred stock, as the company works to replace its CEO John McCarvel and buy back $350 million in the company's common shares. The preferred stake will carry a 6% cash dividend and is convertible to stock at $14.50 a share. Blackstone will also gain two seats to Crocs board of directors.
Crocs expects to begin its share repurchase in the first quarter of 2014 and said the company would be "patient, methodical and opportunistic" in buying back its stock.
Crocs will recruit a new CEO with its reconstituted board, while refining its strategy to focus on earnings growth instead of sales growth. The company also updated its fourth quarter 2013 outlook to guide at the low-end of its previous guidance. Crocs expects to earn between $220 million and $225 million in fourth quarter revenue and diluted loss per share of between 20 cents and 23 cents.
"[We] believe that a regime change and a shift of balance of power in the Board (with Blackstone having 2 board seats with veto power and presumably, a significant say regarding a new potential CEO) will be beneficial for the business... We suspect that Blackstone may have already identified several candidates and we do not expect this to be a protracted search," Corinna Freedman, a Wedbush Securities analyst said in a Monday client note.
"Blackstone is likely to push for the closure of some US stores, continued growth in Asia, and product innovation," Sam Poser, a Sterne Agee analyst said in a Monday client note. The analyst added that McCarvel's departure may help Crocs attract and retain talent and purge additional board members such as Chairman Thomas J. Smach.
After gaining over 20% on Monday, Crocs shares fell just over 1% in Tuesday trading, closing at $15.92.
-- Written by Antoine Gara in New York