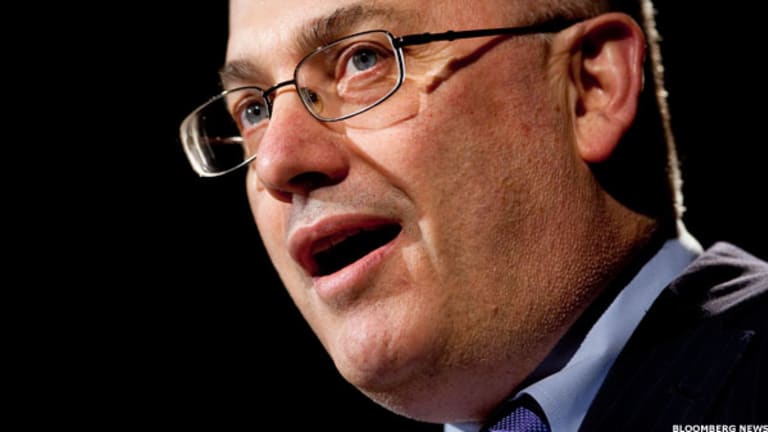 SAC Capital Pleads Guilty to Decade-Long Insider Trading Conspiracy
SAC Capital will pay $1.8 billion and plead guilty to a handful of criminal charges, as trader prosecutions loom.
Updated from 12:01 p.m ET to include SAC Capital, Preet Bharara comments and additional analysis throughout.
NEW YORK (TheStreet) -- Steven A. Cohen's hedge fund SAC Capital Advisors agreed to plead guilty to federal charges that it violated insider trading laws and will pay a record $1.8 billion in fines and restitution.
In July, a grand jury indicted SAC Capital and its affiliates for one count of wire fraud and four counts of securities fraud, in an insider trading conspiracy U.S. prosecutors alleged lasted over a decade and led to hundreds of millions of dollars in illegal profits and avoided losses.
The hedge fund's alleged insider trading occurred between 1999 and at least 2010, according to the complaint, which was filed on July 25 by Preet Bharara, U.S. Attorney for the Southern District of New York. The U.S. attorney also levied civil money laundering charges against the fund in July.
"Greed sometimes is not good," Bharara said at a Monday press conference, referencing Wall Street, the 1987 classic that addressed a rash of insider trading in the first years of the leveraged buyout boom. When charging SAC Capital in July, Bharara said the hedge fund had become "a veritable magnet for market cheaters."
SAC Capital will plead guilty to every charge brought against the firm and its affiliates in July, however, individuals at the company will not receive immunity from future prosecutions, according to a letter unsealed in a U.S. District Court in New York.
In aggregate, the firm will pay a total of $1.8 billion when counting forfeitures and fines. That total amount will credit SAC Capital for a $616 million settlement it agreed with the Securities and Exchange Commission. 
"I don't think this was much of a deal. They just pled guilty," Thomas Rohback, a partner at law firm Axinn, Veltrop & Harkrider said in a Monday telephone interview.
The plea agreement, which is pending approval from a New York court, will require SAC Capital to terminate its investment advisory businesses, effectively closing the hedge fund to outside investors.
SAC Capital's billionaire head Steven A. Cohen has not been criminally charged.
"We take responsibility for the handful of men who pleaded guilty and whose conduct gave rise to SAC's liability," SAC Capital said in a statement. The fund, however, continued to maintain that illegal activity was limited to a handful of individuals.
"The tiny fraction of wrongdoers does not represent the 3,000 honest men and women who have worked at the firm during the past 21 years," SAC said. 
"Even one person crossing the line into illegal behavior is too many and we greatly regret this conduct occurred."
The fund's ongoing operations, a family office that manages Steven Cohen's wealth, will be required to employ compliance procedures to prevent insider trading.
At its peak, SAC Capital managed over $15 billion in investor assets and boasted some of the best returns in the industry since its founding in 1992. The fund also made its founder Cohen a billionaire as a result of abnormally high fees, charging investors up to 3% annually for assets under management and 50% of investment gains.
The criminal complaint against SAC Capital alleged that at least eight portfolio managers and research analysts traded in inside information regarding nearly two-dozen publicly traded companies such as Dell (DELL) - Get Dell Technologies Inc Class C Report, Altera (ALTR) - Get Altair Engineering Inc. Class A Report, AMD (AMD) - Get Advanced Micro Devices, Inc. Report, Yahoo! (YHOO) and Elan (ELN) .
Richard Lee, a former SAC Capital portfolio manager, pleaded guilty on July 23 to conspiracy and securities fraud after admitting he obtained inside information and made trades based on that information while employed with SAC.
Currently, the U.S. attorney is poised to try insider trading cases against former SAC portfolio managers Matthew Martoma and Michael Steinberg, who both maintain their innocence.
Bharara said on Monday the U.S. Attorney's guilty plea with SAC Capital should not be construed as having any bearing on individual prosecutions. Moreover, Bharara said "the investigation, at least on the criminal side, remains ongoing."
Prosecutors have already won guilty verdicts or received admissions of guilt from former SAC employees Wes Wang, Richard Choo-Beng Lee, Richard Lee, Jon Horvath, Noah Freeman and Donald Longueuil.
Blackstone Group and the wealth management division of Citigroup pulled investor money from SAC Capital earlier in 2013, amid an escalating investigation of SAC and its employees.
It is yet to be seen whether SAC Capital's biggest Wall Street trading counterparts such as Goldman Sachs, Morgan Stanley, JPMorgan and Barclays suspend their trading relationship with the fund. Over the years, SAC is reported to have paid hundreds of millions of dollars in trading fees to its Wall Street dealers.
Goldman Sachs spokesperson Michael DuVally declined to comment when reached by email. In recent months, Goldman Sachs CEO Lloyd Blankfein has said in media appearances the firm continued to trade with SAC Capital and saw the hedge fund as a valid counterparty.
In July, the Securities and Exchange Commission charged Cohen with failing to supervise two senior traders -- Matthew Martoma and Michael Steinberg -- amid allegations of insider trading under his watch. Both traders have been charged with criminal conspiracy to commit insider trading and face trials in coming months.
Those charges, however, were delayed when the U.S. Attorney leveled its criminal indictment against the hedge fund.
The SEC's administrative proceeding, while potentially a career ender for Cohen's multi-decade run atop Wall Street, isn't a criminal charge or an accusation of fraud. "Steve Cohen acted appropriately at all times and will fight this charge vigorously," Jonathan Gasthalter, the SAC Capital spokesperson, said of the SEC's proceeding in July.
According to the U.S. Attorney's complaint, Cohen, referred to as "SAC owner," ran the company's largest internal fund and was in close communication on trading positions with portfolio managers who have since been found guilty of criminal charges.
Currently, it is the SEC's action against Cohen that will determine what penalties or industry bans he could face. Media reports also leave open the prospect that the U.S. Attorney's criminal inquiry continues to expand.
"The real question is the case that hasn't been brought: the individual case against Steven Cohen," Rohback, the Axinn, Veltrop & Harkrider partner said.
"The agreement provides no immunity from prosecution for any individual and does not restrict the Government from charging any individual for any criminal offense and seeking the maximum term of imprisonment applicable to any such violation of criminal law, " Bharara said in his Monday letter.
The government's escalating investigation comes amid a six-year insider trading inquest that has so far led to scores of arrests and more than two dozen criminal convictions, including Galleon Group founder Raj Rajaratnam and former Goldman Sachs board director Rajat Gupta.
-- Written by Antoine Gara in New York