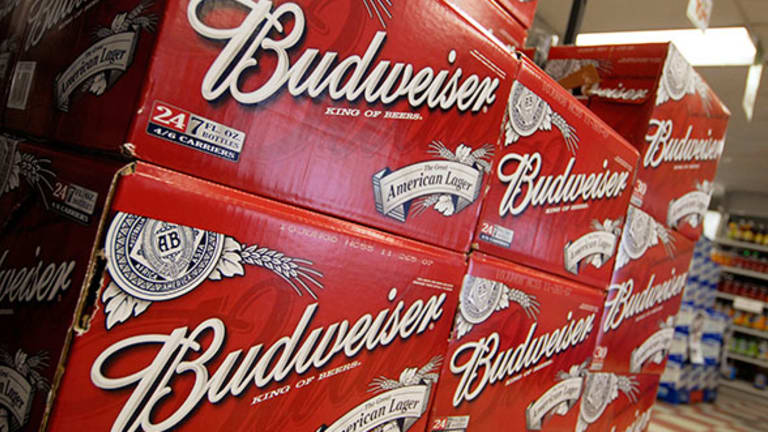 SABMiller Falls After Reportedly Rejecting Anheuser Busch InBev Deal
With eight days to the initial deadline to reach an agreement, reports suggest SABMiller has rejected a proposal from the maker of Budweiser.
NEW YORK (The Deal) -- SABMiller (SBMRY) shares fell Tuesday on reports the U.K. brewer poured cold water on a takeover proposal from Anheuser Busch InBev (BUD) .
The world's second-largest brewer is being courted by the global No. 1 in the hopes of creating an entity with a combined market value approaching $270 billion. The companies revealed the courtship last month and have maintained radio silence ever since.
However, reports on Tuesday cast doubt on the deal's prospects. Citing people familiar with the matter, Bloomberg News reported SABMiller, of London, had rejected an informal offer it deemed too low.
The company said the initial proposal, made last week, was worth a little more than 4,000 pence a share, falling short of the 4,500 pence-per-share floor reportedly stipulated by executives and some investors. The higher price would value the maker of Pilsner Urquell and Miller Genuine Draft at around £73 billion ($110.7 billion).
Adding more doubts to the deal's prospects of succeeding, the New York Post claimed the deal may be "skunked." It reported SABMiller Chairman Jan du Plessis and his management team are leaning towards fighting the expected takeover bid. It also cited an unnamed food executive as saying that "SAB is gearing up to fight."
The companies were not immediately available to comment. Anheuser Busch InBev, of Leuven, Belgium, has until Oct. 14 to decide whether to proceed with an offer or retreat, though the U.K. Takeover Panel will typically grant an extension if the target requests one.
On Tuesday SABMiller surprised investors with early second-quarter results "to ensure the timely release of trading information on the market during the offer period."
Second-quarter organic revenue grew a better-than-expected 6%, as beer volume growth in emerging markets including Latin America and Africa offset declines in Asia Pacific, Europe, and North America, the company said.
"Our strategic priority of driving superior top line growth through strengthening our brand portfolios and expanding the beer category is showing clear results," said SABMiller CEO Alan Clark in a statement.
SABMiller shares fell sharply following the Bloomberg report. The stock was recently trading 3.3% lower at 3,640.50 pence, after dropping as low as 3,618.pence. In Brussels, AB InBev shares were down 0.5% at €97.86. In the U.S., SBMiller's shares fell 4% to $55 while Anheuser Busch was off slightly to $110. 
If a deal comes to fruition, it would put 400 or so brands under the same ownership in a company selling one out of every three beers on the planet. But the combined entity is widely expected to face disposal demands from antitrust regulators worldwide, opening up new deal opportunities for other players.
Analysts expect the U.S. Department of Justice, for example, to demand the disposal of SABMiller's stake in Chicago-based MillerCoors, its joint venture with Molson Coors Brewing (TAP) , as well as SABMiller's 49% stake in its China Resources Snow Breweries joint venture with Hong Kong-based China Resources Enterprise (CRHKY) .