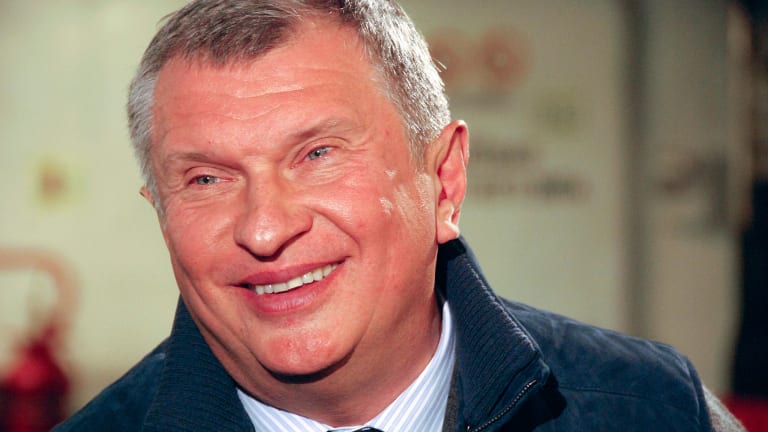 Russia's Biggest Oil Producer Rises From Slump, Looks to 2017
Sanctions couldn't stop Rosneft from growing. Having the head of Exxon Mobil as U.S. secretary of state may not hurt either.
If there was such a thing as a company of the year Rosneft would be in the running for 2016.
In the past six months, Russia's biggest oil producer has risen from the ruins of a two-year slump in oil prices to strike a series of unlikely deals that have extended its dominance of the domestic oil sector, secured favor with the Kremlin and stretched its influence well beyond Russia's borders.
In doing so it has shrugged off international sanctions that were meant to crimp its growth, established itself as a key player on the global oil stage and positioned itself for the next phase of investment as it looks north to Russia's huge Arctic oil fields.
EDITOR'S NOTE: This article was originally published by The Deal, a sister publication of TheStreet that offers sophisticated insight and analysis on all types of deals, from inception to integration. Click here for a free trial.
The crowning glory undoubtedly came last week, when the Moscow-based group found a new way to thumb its nose at Western sanctions, agreeing the €10.2 billion sale of a 19.5% stake to an acquisition vehicle backed by Glencore and Qatar.
The deal, taken at face value, is a simple commercial agreement underpinned by an equity stake. Glencore, backed by its biggest shareholder the Qatari Investment Authority, gained the right to sell 220,000 barrels per day of Rosneft's oil in return for a meagre €300 million ($320 million) equity investment. The QIA will inject a further €2.5 billion into the deal, while remaining cash will come from about €7.4 billion of non-recourse loans, the bulk of which will be supplied by Italy's Banca Intesa Sanpaolo.
Yet, the sale is far more than just that.
From Rosneft's and Russia's perspective it is a return to the mainstream, proof that despite ongoing sanctions, and outstanding legal claims against Rosneft assets, Russia's oil industry can attract serious investment from high-profile names.
The U.S., the E.U. and Britain have all said they will review the deal, though with the sanctions not barring equity investment in Russian oil firms it is unlikely they will find fault.
Besides, President-elect Donald Trump's nomination of Exxon Mobil's (XOM) - Get Report Rex Tillerson as Secretary of State makes a detente with Russia ever more likely. Tillerson, who in 2013 was awarded the "Order of Friendship" by the Kremlin, has been a vocal critic of Russian sanctions, while Trump himself has spoken of his admiration for Russia's President Vladimir Putin.
Europe, too, could pivot to a more open relationship with Russia in 2017 if France elects Francis Fillon to President, as polls suggest it will. Fillon, the candidate for the center-right Republican party, in October called for sanctions to be lifted.
"This is a signal to the U.S., just ahead of the change of administration, and the message is that it is now time to remove sanctions," said Robert Amsterdam, founding partner of Amsterdam & Partners and former counsel to Mikhail Khodorkovsky, the former CEO of oil company Yukos whose assets were seized by the Russian state in 2004 for alleged unpaid taxes. "It says that under Trump the U.S. needs to move quickly or its oil companies risk missing out on investment opportunities in Russia."
A revival of the Exxon Mobil's and Rosneft's 2011 joint venture to explore for Russian arctic oil, abandoned following the imposition of sanctions, could well be among the first orders of business for the new U.S. administration.   
Any suggestion the Rosneft deal with Glencore was not overtly political was swept aside by the nature of its announcement. Putin joined his long-time ally, former Deputy Prime Minister and now Rosneft CEO and Chairman Igor Sechin, on national television where they engaged in a round of verbal back slapping. 
Rosneft had been searching since January for a buyer for the state's 19.5% stake. Repeated delays had lead to growing expectation that Rosneft itself would have to buy the shares as a means of transferring cash to the Moscow to help plug a yawning budget deficit.
Glencore's deal "illustrates the attractiveness of Russian energy assets," noted Goldman Sachs analysts including Geydar Mamedov and Elena Malareva. "An expanding international shareholder base is a positive aspect of the deal in terms of corporate governance."
Rosneft's deals suggest its vision is increasingly turning outwards. This week's $1.13 billion agreement to buy a 10% stake in Egypt's Zohr gas field from Italy's Eni SpA is a rare Russian investment in North Africa.
A series of deals with India, where oil diplomacy led by Sechin has played a key role in an closer alliance between Delhi and Moscow, were also notable. In March, a consortium of Indian oil companies agreed a $4.4 billion investment in two Rosneft oil fields. In October, Rosneft returned the favor, teaming with oil trader Trafigura to pay $12.9 billion for India's Essar Oil, operator of the nation's No.2 oil refinery and a network of 2,700 service stations.
Rosneft has also played its role in improving relations between Russia and Middle Eastern oil producers, notably Saudi Arabia and Qatar. The war in Syria, which has seen Russia take the opposing side to two of the Gulf's heaviest hitters and biggest oil producers had threatened to open a rift. Yet, Moscow's public backing for OPEC's recent oil production cut, and the boost that support had afforded the Saudi driven initiative hints at a new spirit of cooperation.
Editors' pick: This article was originally published on Dec. 13