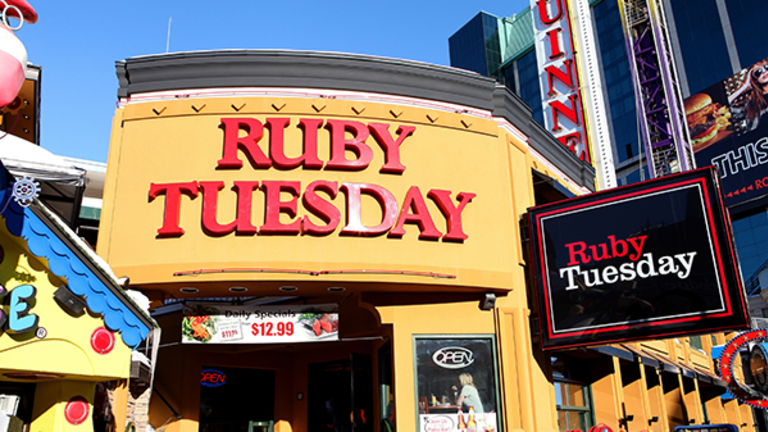 Ruby Tuesday's Real Estate Could Be Focus of 'Wolf Pack' Activists, Strategic Review
Activists could push Ruby Tuesday to sell itself, its real estate or franchise more locations to raise cash for stock buybacks, but analysts eye a REIT conversion instead
A wolf pack of activist investors is accumulating Ruby Tuesday (RT) shares, raising the prospect that the embattled restaurant chain's recently launched strategic review will result in a sale of the company or a move to monetize its large real estate holding some time in the not-to-distant future.  
The Maryville, Tenn.-based restaurant chain said March 13 that it had retained investment bank UBS to explore strategic alternatives, including a possible sale.
That move comes after activist investor Glenn Welling's Engaged Capital reported owning a 3.3% stake in February. The activist has launched 22 activist campaigns, including 11 director-election proxy battles since 2013, according to FactSet Research Systems Inc., including insurgencies that have driven companies to sell themselves. As a result, it would not be surprising if Welling launched an activist campaign or proxy battle at Ruby Tuesday if the company's strategic review does not result in some share-price improving catalyst.
Another fund, Leon Capital Partners, on March 24 reported in an activist filing with the Securities and Exchange Commission that it had accumulated a 9.5% stake. The fund, managed by Fernando De Leon, describes itself as an investment company with a focus on real estate. The fund noted in its filing that it had entered into a confidentiality agreement with Ruby Tuesday in connection with a possible negotiated transaction. Leon Capital did not return a call for comment.
Stephen Anderson, an analyst at Maxim Group in New York, suggested that it was possible that Leon Capital could be taking a look at buying some of Ruby Tuesday's real estate.
Activist investors frequently pressure restaurant chains to sell their company-owned real estate to raise proceeds for debt reduction, stock buybacks or other initiatives. It's possible that Engaged Capital could be pushing Ruby Tuesday to sell its real estate and lease it back.
Ruby Tuesday owns the land and buildings for 269 locations, as of November, almost half of the 613 restaurants it has in 42 states and 14 other countries. 
Anderson suggests that, beyond Leon Capital, it was possible that Ruby Tuesday's could sell a large chunk of its real estate to a restaurant chain-focused Real Estate Investment Trust and use the proceeds to buy back shares.
One possible buyer could be Four Corners Property Trust (FCPT) - Get Four Corners Property Trust, Inc. Report , a REIT that was spun off from Olive Garden operator Darden Restaurants (DRI) - Get Darden Restaurants, Inc. Report . Four Corners was created under pressure from activist Starboard Value's Jeff Smith. However, Anderson suggested that even though Darden has expanded beyond Olive Garden real estate, buying up Buffalo Wild Wings (BWLD) and KFC properties, he wasn't sure that the Ruby Tuesday locations were of a sufficiently high quality to meet the REIT's standards.
It's possible that a private equity firm with a focus on restaurant chains could be interested in buying Ruby Tuesday's operating business if it could combine that purchase with a sale of the real estate, with the proceeds from that sale used to help finance the buyout shop's acquisition. For example, buyout shop Golden Gate Capital acquired Red Lobster Seafood Restaurants in 2014 for $2.1 billion and as part of that deal it reached a $1.5 billion sale-leaseback agreement with American Realty Capital Properties Inc. for the chain's real estate. The proceeds from the real estate sale helped finance the Red Lobster acquisition. In January, Golden Gate announced it had acquired Bob Evans Farms, under pressure from activist investor Tom Sandell and Sandell Asset Management.
It is possible that Golden Gate could be interested in buying Ruby Tuesday. However, analysts contend that the fund may be more careful with its acquisitions after it purchased Italian-American restaurant chain Romano's Macaroni Grill in 2008 for $131.5 million, a chain it sold in 2013 for $55 million. 
The purchase price was later dropped to $88 million, due to the collapse of the credit markets in the midst of the financial crisis in 2008 and it included a sale of the real estate for 39 locations to Cardinal Capital. The private equity firm made 2.5 times on its investment in the chain, according to a person familiar with the situation. 
John Gordon, a restaurant analyst at Pacific Management Consulting Group, said he doubts Golden Gate would want to buy Ruby Tuesday. "They are working the Bob Evans integration right now and a greatly diminished brand [Ruby Tuesday] might be an anchor around their necks," Gordon said. "They had to have learned from the Macaroni Grill experience earlier."
Anderson said that Bob Evans restaurant business has started to recover, so Golden Gate's purchase of that chain makes more sense than an acquisition of Ruby Tuesday.
In addition, activist funds also often pressure restaurant chains to franchise more locations. Engaged Capital, the activist with a 3.3% Ruby Tuesday stake, for example, helped drive Jamba Juice to franchise-out a number of locations. However, Anderson contends that the "window for more franchising" in the U.S. may have passed.
"There isn't a lot of value in Ruby Tuesday's brand anymore," he said.
However, Anderson said that one real possibility is that Ruby Tuesday could decide to convert itself into a REIT itself by closing down its restaurants and leasing the properties.
"Look at some of the retailers that have exited the retail business and become real estate business," Anderson said. "The real estate is worth more than the restaurant business. It's possible some fast casual-dining operator could be interested in some of these properties."
Anderson said that the company's recent move to close 95 stores and its negative Ebitda of late suggests that a conversion to a REIT was a serious possibility. In its four most recent quarters, Ruby Tuesday reported Ebitda of negative $6.9 million, $5.2 million, $28.3 million and $20.3 million, or $46.9 million in Ebitda over the year. It announced a plan in August to close 95 company-owned stores.
"When a company can't generate Ebitda it calls into question whether it's a viable brand," he said.
Ruby Tuesday typically holds its annual meeting in October and it sets its deadline for shareholders to submit director nominations for ninety day's earlier. As a result, any director-election battle to drive more real estate monetization or a sale probably wouldn't be launched until July or August.