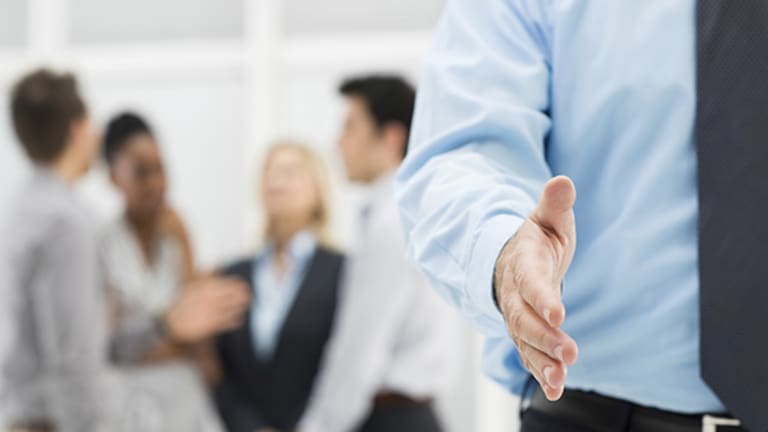 Rubicon Project Basks in the Glow of AOL's Sale to Verizon
The Los Angeles-based Rubicon, provider of advertising technology, is an attractive, but potentially expensive target for strategics.
NEW YORK ( TheDeal) -- Following Verizon Communications'  (VZ) - Get Verizon Communications Inc. Report purchase of AOL (AOL) , advertising technology provider Rubicon Project (RUBI) - Get Rubicon Project, Inc. Report looks particularly attractive as a potential takeout candidate, given its clean track record and specialty in programmatic advertising, according to industry observers.
Verizon Communications announced May 12 that it has agreed to purchase AOL for about $4.4 billion in a move to expand its footprint in advertising technology and digital content platforms. "I think it's a smart move from Verizon," said Tristan Snyder, vice president of Intrepid Investment Bankers's digital media and technology group. Snyder explained that content is key for anyone who wants to be in media or digital marketing, adding that video content is "the most effective and most valuable form of marketing content.
"AOL is a very, very large programmatic ad platform, and that's going to drive a lot of margin growth. It's evident that programmatic is continuing to grow," he added, referring to technology that allows for automated buying and selling of digital advertisements. "Programmatic is here to stay."
Programmatic advertising involves using software to automate purchasing and selling of digital ads, also called impressions, compared to using more traditional, human-driven methods.
"Somebody else thinks they need [ad tech] in order to compete against Verizon, and Rubicon becomes a target," said Richard Tullo, director of research at Albert, Fried & Co., adding that from Verizon's perspective, AOL's ad network was likely one of the big drivers of the transaction.
Among ad tech companies, Rubicon has carved out a nice niche in programmatic advertising and display advertising, he added.
"There are about a dozen ad networks out there. If I was really kind of looking at real-time [bidding] catering to programmatic strategy of buying ads, I'd favor Rubicon over DoubleClick," Tullo said, speaking of Google's (GOOG) - Get Alphabet Inc. Class C Report ad tech subsidiary DoubleClick.
Real-time bidding, or RTB, refers to bidding for online ad impressions between ad sellers and ad buyers.
While Rubicon Project isn't under pressure to shop itself, it could attract a price tag of about $1 billion, or four to six times its annual revenue, he explained.
A handful of ad tech companies have pursued initial public offerings in recent years, but haven't fared well in the public market.
For instance, stock of Millennial Media (MM) is down about 92% since the company's IPO in 2012. Since going public in 2013, Rocket Fuel (FUEL) has seen its shares plummet approximately 85%. Tremor Video (TRMR) also pursued an IPO in 2013, and shares have dropped nearly 70% since then. Stock of YuMeundefined have gone down 44% since the 2013 IPO.
Rubicon Project has seen its shares go down by 13% since its IPO last April, but the stock has been on its way up since last fall. Shares are up about 23% on a six-month basis and up about 8% year-to-date.
The ad tech company with a market capitalization of about $744.7 million has also sealed three acquisitions since going public, having grabbed Chango, iSocket and Shiny Ads.
In fact, Rubicon is one of the few stable, profitable companies with cash flow in the ad tech space, said RBC Capital Markets analyst Rohit Kulkarni.
"It has steady Ebitda margins and would be easy to acquire," he said of Rubicon, adding that in addition to Rubicon, Paris-based Criteo (CRTO) - Get Criteo SA Sponsored ADR Report is another player in the space that fits such category. But between the two, Rubicon is relatively small and fairly acquirable compared to Criteo that has a market cap of nearly $3 billion, he said.

Rubicon Project initially started as a seller-focused ad tech provider, but has also been building out buyer capabilities, Kulkarni explained, adding that he sees two cohorts of potential suitors for Rubicon: Tech giants and ad agencies.
"Most of the large tech companies have somewhat of a mini Rubicon counterpart inside them, but independent publisher relationships are more valuable for these larger companies," Kulkarni explained, citing Yahoo! (YHOO) as a potential suitor for Rubicon.
Last year, Yahoo! picked up video advertising company BrightRoll for about $640 million in the midst of Starboard Value's push to explore a merger with AOL.
Ad agencies, such as WPP, could also take a look at Rubicon as they feel the need to own the technology and tap into programmatic, Kulkarni added.
"Shares did plummet and did come back, but that makes them more expensive," said John Matthews, senior adviser at boutique investment bank DeSilva + Phillips, referring to Rubicon.
"It's not a small fish. It's going to come quite pricey. The buyer is more likely to be a strategic buyer and a large one, and there are not many of those," he added, explaining that in addition to Yahoo!, Comcast (CMCSA) - Get Comcast Corporation Class A Report could also express interest in Rubicon to compete with Verizon.
"Rubicon had a little bit of a challenging start, but stock has enjoyed steady growth and a decent run," Intrepid Investment Bankers' Snyder said. While Rubicon has a good name and reputation, he said the company would command a heavy premium.
The ad tech space has enjoyed fluid levels of M&A.
Redwood City, Calif.-based Rocket Fuel received a $350 million go-private offer earlier this month from tech mogul Gurbaksh Chahal's Gravity4 and rejected the bid, calling it "not credible."
Industry sources previously said the bid from Gravity4 is too low, but that higher offers could come in for the ad tech company that is in the midst of major restructuring.
Meanwhile, Twitter (TWTR) - Get Twitter, Inc. Report  inked its largest deal in April by agreeing to snatch up ad tech company TellApart for $533 million in stock. In March, AppNexus grabbed Yieldex for $100 million after months of discussion, while eXelate went to Nielsen Holdings NV (NLSN) - Get Nielsen Holdings Plc (NLSN) Report after attracting interest from multiple strategics.
The Deal had previously reported that venture capital-backed PulsePoint is exploring strategic options, including a sale, and that the New York-based ad tech company is seeking an offer of as much as $400 million.
Officials with Rubicon, Yahoo! and Comcast did not return requests for comment Monday. Those with WPP declined to comment.
Read more from: