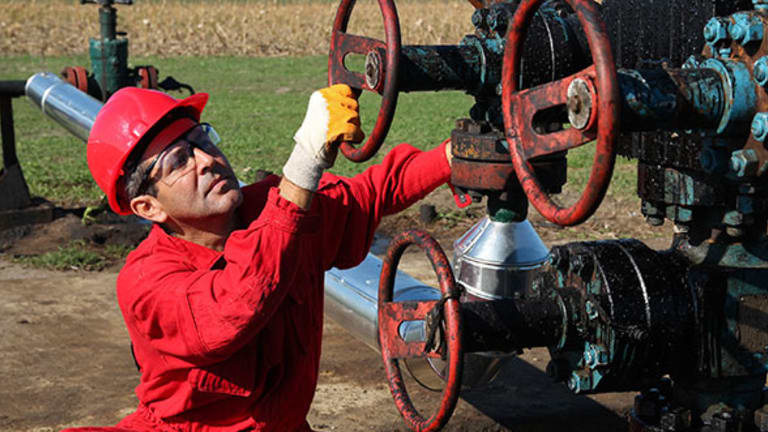 Publish date:
RPC's Balance Sheet a Clear Contrast to Rest of Oil Sector
Its financial strength leads analysts to wonder if it will buy other companies during the downturn or become a target.
Its financial strength leads analysts to wonder if it will buy other companies during the downturn or become a target.
For a glimpse of how bad the oil and gas industry is suffering, get a load of RPC (RES) - Get Report .
The Atlanta provider of oilfield services and equipment was one of the first out of the gate to report fourth-quarter earnings on Wednesday. The company lost $37.9 million, or 18 cents per share, in the quarter on a 57% drop in sales to $268 million. The results led RPC to lose almost $100 million, or 47 cents per share, for the year on nearly 46% less sales of $1.3 billion. Yet, its stock closed Wednesday up nearly 10% at $11.80.
What gives?
Rising oil prices this week -- which are back over $30 per barrel -- have certainly helped energy companies like RPC. Part of the company's red ink also came as the result of an asset sale, so analysts have noted that its net earnings-per-share loss was actually 15 cents and its operating earnings came in better than expected at a positive 1 cent per share. Its sales in technical services, or pressure pumping, were also down only 8% versus a 13% drop in the U.S. rig count and operating margins on those sales were better than anticipated.
But overall, RPC has also demonstrated financial discipline, with no debt on its balance sheet and cash on its books. Analysts have gushed.
"Even though $30 per barrel oil portends first half 2016 well completions activity will be even more anemic than the second half of 2015, we like the RES story as its perfectly clean balance sheet (literally no debt outstanding) and continued solid execution (still Ebitda positive) ensure that they'll be around to participate in eventual North American oilfield activity recovery," Tudor, Pickering, Holt & Co. Securities wrote in a note Wednesday.
Ken Sill and Mark Brown, analysts at Seaport Global Securities, think RPC could use its lack of debt to shop for acquisitions through the downcycle, noting that the company said it's assessing "other opportunities to utilize [its] balance sheet."
The company said it's encouraged by rumors that competing oilfield services companies aren't able to maintain their equipment at current pricing while it's been able to keep its existing fleet. But it still remains focused on cutting costs and improving efficiencies in response to the continuing downturn in activity.
John Daniel, an analyst at Simmons & Co. International, said RPC's balance sheet remains "best in class" as the company is now debt free while enjoying a $65 million cash position. He noted that during the quarter the company voluntarily cut the size of its credit facility to $125 million from $350 million, incurring accelerated fees. But it did note that it was evaluating opportunities to use its balance sheet.
Through the downturn RPC has shown to be highly correlated with the giant in the industry, Schlumberger (SLB) - Get Report , which agreed to buy Cameron International (CAM) this past summer for $14.8 billion. Could an acquisition for RPC be next? Or, more interestingly, could RPC -- which has been considered a target before and whose CEO Richard Hubbell is in his early 70s -- be swallowed up by a larger player?
Look what happened to RPC's onetime pressure-pumping competitor BJ Services, which was gobbled up during the last down cycle in 2009 by Baker Hughes (BHI) for $5.5 billion. Baker Hughes is now being eaten by Halliburton (HAL) - Get Report . In this fast-consolidating sector, anything's possible.