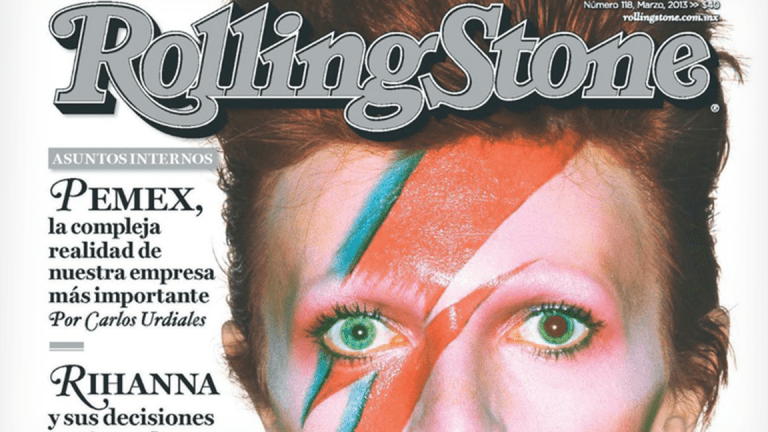 Rolling Stone's Financial Numbers Make Business Look Thin
The 50-year-old music publication may not be worth anywhere near as much as originally expected, with print ad revenue falling to $10.9 million in 2020.
The numbers for Rolling Stone, which went up for sale last week, don't exactly inspire a lot of confidence. 
According to Vanity Fair, revenue for the iconic music and lifestyle magazine is projected to total $46.3 million in 2017. Print advertising revenue is expected to drop to $10.9 million in 2020, compared with $28.6 million in 2015, and circulation revenue is forecast to fall by about 50% to $6.3 million by 2020.
The peek at the magazine's business come from financial documents made available to prospective buyers after signing a nondisclosure agreement. Wenner Media LLC announced the planned sale of its 51% stake in Rolling Stone on Sept. 18, a decision that would bring to an end Jann Wenner's 50-year ownership of a publication he founded in San Francisco at the height of the counterculture movement.
Even without knowing the size of Rolling Stone's profit or revenue from its digital operations, the numbers form a picture of a shrinking business, according to Reed Phillips, managing partner of boutique media investment bank Oaklins DeSilva + Phillips LLC.
"The numbers are certainly discouraging in terms of where the business is, and where it's headed and where it used to be," Phillips said on Wednesday, Sept. 27. "Some brands have been hit much harder since the recession of 2008 than others, and it looks like Rolling Stone is one that has been hit hard."
Wenner sold a 49% stake in the magazine a year ago to Singapore-based BandLab Technologies Ltd. in a deal estimated at $40 million. BandLab acquired Rolling Stone's international distribution rather than any U.S. operations. Methuselah Advisors LLC was retained as Wenner Media's financial adviser.
While interest among prospective buyers may be high, the price to be paid may be less than initial estimates of $80 million, and certainly below the $500 million that Wenner, 71, is said to have been offered some years ago. A buyer might pay 5 or 6 times profit, Phillips said, or 1 time revenue -- $46.3 million for 2017. "Something in that ballpark," he said.
Most concerning to a prospective buyer is a picture of a business that is shrinking, rather than growing. The Wenners reportedly are pitching a magazine that expects to cut its print publication schedule to monthly from bi-weekly while laying off 30% of its editorial staff, Vanity Fair reported.
The editorial budget is expected to fall to $4.2 million by 2020 from $8.1 million in 2015. Rolling Stone didn't reply to a request for comment.
The Wenners, both Jann and his son, Gus, 27, who currently oversees the magazine, envisage a publication, and by extension a brand, that has yet to be properly exploited in video. Rolling Stone says it can generate $5.8 million from TV and film by 2020, according to the report, compared to a mere $300,000 at present.
While Rolling Stone all but owned the mantle of youth-focused music and lifestyle for decades, other entities -- Vice Media Inc., Spotify Ltd. and Apple Music, for instance -- have eclipsed it. Wenner Media said last week that its digital traffic has grown nearly 50% over the past three years, but that still may be tiny compared with its many rivals.
"The brand name is one of the stronger elements in their story," Phillips said. "The downside is that it may be a brand that resonates better with people 50-and-over than millennials. And if that's the case, what's the future of the business look like?"
The sale of a majority stake in Rolling Stone comes at a time when legacy print publications are under increasing pressure to offset declining revenue from both advertising and circulation. The Village Voice last month announced it would stop publishing a print edition to invest in its digital operations.
Time Inc. (TIME) , the 95-year-old publisher of Fortune, People and Sports Illustrated, cut about 4% of jobs at the New York company in June as part of a reorganization of titles and priorities. It is exploring the divestiture of various assets after abandoning a potential sale of the entire company.
Family-owned Rodale Inc., the 87-year-old Pennsylvania-based publisher of Men's Health, Prevention and Runner's World, put itself up for sale in June, citing the need to find a buyer with deeper pockets who might be better able to invest in "technology, brand-building and commercialization." An announcement reportedly could come soon, with Hearst Corp. seen as the leading bidder.
Rolling Stone may be looking for a similar buyer.
More of What's Trending on TheStreet: