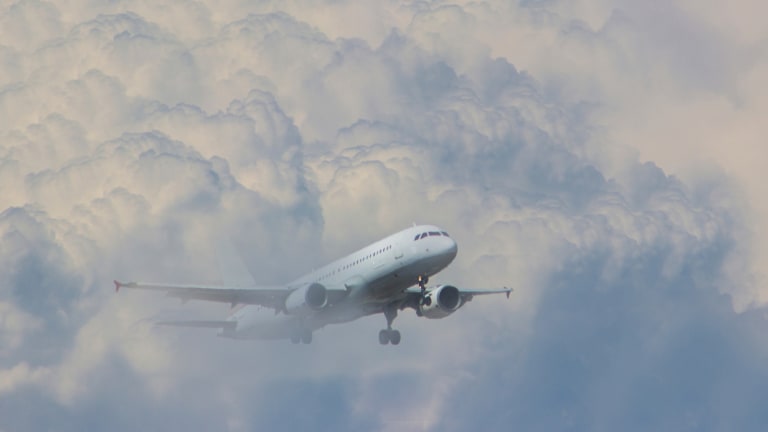 Rockwell Collins Gambles on B/E at Top of Cycle
Rockwell Collins is doubling down on commercial aerospace just as the market is showing signs of a top. Company officials insist the deal leaves them better prepared for a downturn.
Rockwell Collins (COL)  is paying a rich price to grow its commercial aircraft exposure, buying B/E Aerospace (BEAV) for $8.3 billion in cash, stock and debt despite warning signs that new jet demand might have finally peaked. The company says the deal will leave it better positioned for whenever the aerospace cycle eventually turns.
Cedar Rapids, Iowa-based Rockwell Collins is paying upwards of 12 times estimated 2017 earnings before interest, taxes, depreciation and amortization for B/E, which Barclays analyst Carter Copeland in a note says is "at the higher end" of the price range he's seen in recent years. It is Rockwell Collins' second substantial deal since 2013, when the company bought cockpit communications firm Arinc from Carlyle for $1.39 billion.
Shares of Rockwell Collins fell 6.3%, or $5.28, on Monday, Oct. 24, to a close of $79.29, and at first glance the timing of the B/E deal would appear worrisome. Rockwell Collins is doing the largest purchase in its corporate history to gain exposure to a highly cyclical commercial aviation industry that is now eight years removed from its last significant correction.
Company CEO Kelly Ortberg addressed that question head-on in comments to analysts Monday, saying "it's something that we spent a lot of time analyzing as part of our decision here." Ortberg said that the transaction, which would marry Rockwell Collins' avionics, electronics and communications gear with B/E's seats, galleys and modular lavatories, actually would leave Rockwell Collins less vulnerable to a turning cycle.
The executive argued that Rockwell Collins is actually diversifying its exposure because while its current commercial business is mostly selling to original equipment manufacturers like Boeing (BA) - Get Free Report and Airbus (EADSY) - Get Free Report , B/E sells its seats directly to airlines and so its business is tied to the separate airline growth cycle. B/E also is active in the retrofit market, an area to which Rockwell Collins previously had little exposure.
While new plane sales could indeed slow in the quarters to come, the commercial airline industry will soon enter a major cycle where a lot of wide-body aircrafts are coming off lease and will be returned to lessors, requiring a cabin retrofitting before they can be sent out to a new customer. That's a business to which B/E is much more exposed than Rockwell Collins is as a standalone.
"I really like the fact that the interiors get modified multiple times in the life of an aircraft," Ortberg said. "Our avionics typically don't."
Overall Rockwell Collins post-deal figures to nearly triple its position on wide-body commercial jets like the Boeing 787 and Airbus A350, and nearly double its position on smaller narrow-body jets including the 737. Ortberg said that Rockwell Collins "did extraordinarily deep due diligence" on the B/E backlog before deciding to do a deal and came away confident.
The CEO said Rockwell Collins expects to experience a windfall similar to the Arinc deal by capitalizing on B/E's existing relationships with airline customers. With Arinc, he said, "there were airlines that they had a much stronger position with some of their services, and it just gave us access to better understand the needs and the demands of those customers."
The deal could also help solidify Rockwell Collins' business making products for business jets, a market that is already in a downward trend. Rockwell Collins has a network of more than 300 dealers selling gear to business aviation owners that will soon sell B/E seats and other products as well, creating upwards of $1 million in potential revenue opportunities per jet.
A B/E sale was not totally unexpected, due in part to its founder's age, but the company according to sources tried and failed to sell itself in 2014 and instead spun off its distribution business. While deep-pocketed buyers including General Electric (GE) - Get Free Report  and Honeywell (HON) - Get Free Report  had previously been mentioned as potential acquirers, Cowen analyst Gautam Khanna in a note said he'd "be surprised" if another offer comes along.
Should B/E's board change its recommendation in favor of the deal, they would have to pay a $200 million breakup fee. Rockwell Collins meanwhile would owe a $300 million breakup fee in certain circumstances should the deal not go through as planned.