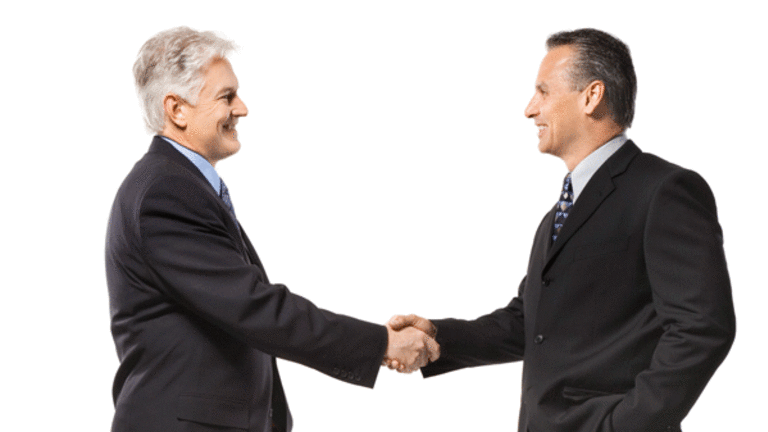 Publish date:
Roche, InterMune a Strategic Play in Midst of Inversions
As more companies seek tax savings through inversions, strategic reasons still remain for drug company deals.
As more companies seek tax savings through inversions, strategic reasons still remain for drug company deals.
NEW YORK (The Deal) -- In 2003, Foster City, Calif.'s Gilead Sciences (GILD) - Get Gilead Sciences, Inc. (GILD) Report  purchased Durham, N.C.'s Triangle Pharmaceuticals for $464 million. Daniel Welch, CEO of Triangle at the time, was a key player in the transaction.
Soon after his gig was up at Triangle, Welch joined InterMune (ITMN)  as president and CEO. So it's no surprise that Welch's InterMune is now merging with Roche Holding AG -- especially now that InterMune is on the cusp of near-certain approval for a first-in-class drug targeting a highly unmet need, idiopathic pulmonary fibrosis. Switzerland's Roche announced over the weekend that it would pay $8.3 billion for Brisbane, Calif.'s InterMune.
Welch recently said of the Roche/InterMune deal: "I couldn't do better if I had scripted this."
Both mergers represent fine examples of strategic transactions. Not only that, but the pipelines of the merging companies in both acquisitions are almost expertly dovetailed, and the purchasing companies have commercial organizations that can address the therapeutic needs of the target.
"We believe this is a good strategic fit for Roche," Liisa Bayko, biotechnology analyst at JMP Securities Inc., who followed InterMune, told The Deal in an interview.
Bayko noted that with so much talk (and some actual deals) concerning pharmaceutical company inversions to save tax dollars, she's optimistic there will be more strategic transactions in healthcare. There's been some concern that so many inversion deals have been consumed recently, that pharma dealmakers have been focused on finding inversion candidates for M&A rather than looking at the strategic benefits of companies to narrow down targets. That dynamic may have caused biotechs that want to sell for their pipeline values to be overlooked.
The key to Roche's strategy is Esbriet (pirfenidone), a first-in-class treatment for idiopathic pulmonary fibrosis, an often-fatal condition that causes scarring of the lungs. The FDA is expected to approve the drug by its November 23 action data, as the agency has already said it would not require an advisory committee review.
The drug has been on the market in Japan since 2008 under the trade name Pirespa and approved in the EU in 2011. It has been launched in the UK, France, Italy, Canada and Korea, and is on the market in several other countries as well.
Esbriet is the first approved drug on the market specifically for IPF.
Esbriet could bring in as much as $1.8 billion in U.S., Canada and UK revenue by 2020, according to Roche and JMP estimates.
The only other close competitor would be Boehringer Ingelheim GmbH drug candidate nintedanib, which was granted breakthrough therapy designation by the FDA in July. That compound has been shown to reduce the annual decline in lung function by about 50%. It also is in development to treat several types of cancer, include non-small cell lung cancer.
However, Boehringer's nintedanib has demonstrated characteristics that may be drawbacks for some IPF patients, Bayko noted. Certain patients have had tolerance issues and the administration is not as convenient as that of Esbriet.
But perhaps the most important benefit of Esbriet over nintedanib would be the mortality benefit shown in InterMune's Phase 3 ASCEND trial. A 10% decline in forced lung vital capacity is clinically meaningful and strongly predicts mortality. After 52 weeks on Esbriet, 16.5% of patients had an FVC decline of 10% or more or death, compared with 31.8% in a placebo group.
In discussions with providers, Bayko noted, they were most impressed overall with Esbriet's confirmed effect to reduce mortality and would be more likely to prescribe it over nintedanib.
Roche has estimated the U.S. treatment population to be about 100,000, which is about 30% more than InterMune had projected. That means Roche plans more clinical trials to expand Esbriet's use to patients with fibrotic respiratory disease from other causes, such as certain drugs or diseases like scleroderma, rheumatoid arthritis or polymyositis.
Earlier this month, InterMune said that it was accelerating its commercial team so it could be fully equipped to launch right after the FDA approval, with a team of 175 positions in commercial and 35 positions in medical affairs. Now Roche can leverage its existing relationships with pulmonologists who prescribe Xolair and Pulmozyme, and rely on its Genentech unit's patient support models, physician access and reimbursement expertise in the U.S.
While there could be some synergies in the deal, Roche has said it would retain InterMune's employees.
And Roche also vowed to build on the pulmonary portfolio, improving its footprint as its pipeline advances. InterMune has discovered an analog of Esbriet that could have as much as 10 times the potency of the parent molecule, more convenient dosing and a better safety and tolerability profile. That drug candidate is expected to enter the clinic in the second half of 2015.
The potential patient population could be quite large, as pulmonary fibrosis is just one of a group of fibrotic diseases called interstitial lung diseases. The term "idiopathic" simply means the cause is unknown. These interstitial lung diseases are marked by a progressive and generally fatal scarring of the lungs, which thickens its lining and reduces the lung tissues' ability to transport oxygen. About 40,000 people in this country die of IPF each year, according to the Pulmonary Fibrosis Foundation.