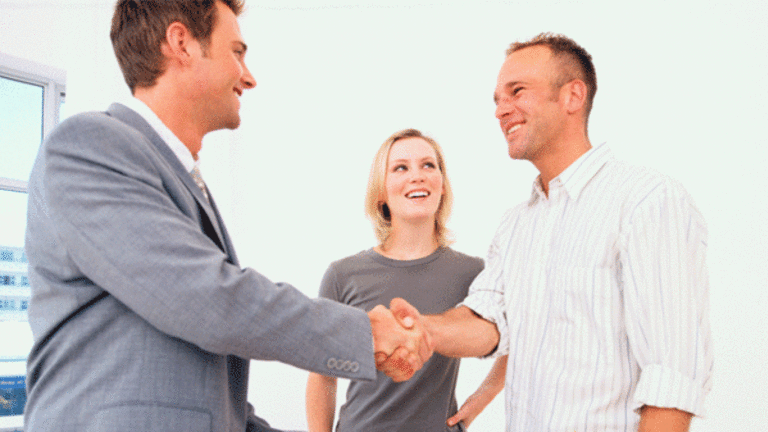 Roche $5.7 Billion Illumina Bid Expected to Rise (Update 1)
Investors and analysts are expecting an increase to Roche's $5.7 billion bid.
Updated to reflect opening prices and analyst comments starting in the fifth paragraph.
NEW YORK (
) --
Roche
is taking a $5.7 billion hostile bid for cancer drug developer
Illumina
(ILMN) - Get Illumina, Inc. Report
to shareholders after direct talks with management were rebuffed earlier in January.
The move by Roche -- the world's biggest maker of cancer drugs - is its third hostile bid for a U.S. drug maker after taking a previous $43.7 billion offer for
Genentech
and a $3 billion bid for
Ventana Medical Systems
directly to shareholders.
While Roche says in a statement that its $44.50 a share cash offer for Illumina is a significant premium to the company's battered shares, it represents a near 50% discount to the San Diego-based company's 2011 highs. Investors and analysts expections signal that the bid may increase value, providing a windfall to Illumina's competitors.
Basel, Switzerland-based Roche is taking its $5.7 bid, which represents a 18% premium to Tuesday's close directly to Illumina's shareholders after the company was "unwilling to participate in substantive discussions" that ended on Jan. 18, Roche said in a statement. To move its bid forward, Roche will nominate a slate of directors to Illumina's board at the company's 2012 annual meeting.
"Roche's all-cash offer of $44.50 per share represents full and fair value for Illumina and we expect that Illumina's shareholders will welcome the opportunity to sell their shares at a significant premium to current market prices," said Roche Chief Executive Severin Schwan in a Jan. 25 letter. While the bid is an 18% premium to Wednesday's close, Roche may need to increase its bid as it did when boosting hostile offers for Genentech and Ventana Medical Systems by over 10%.
Illumina shares rose nearly 40% to $52.60 in early trading, 20% higher than Roche's bid, indicating that investors expect a bid increase.
Analysts also expect that the bid could be increased. Jefferies analyst Jeffery Holford said in a Jan. 25 note that while Illumina's bid makes strategic sense, the $44.50 price is "opportunistic" and will likely need to be increased
On news of the bid, JPMorgan analyst Tycho W. Peterson increased his price target for Illumina's shares by 60% to $70 a share, calling the bid too low for a technology leader in an open-ended market like genetic sequencing machinery. "We believe the offer price underappreciates the
free cashflowgeneration by the company," adds Wedbush Securities analyst Zarak Khurshid in a note upgrading Illumina's price target to $50 a share from $35.
For more on Illumina shares, see
.
With Illumina, Roche would acquire a genetic sequencing specialist, which would help the company diagnose cancer tumors and provide treatment to individual patients. Illumina is currently developing machinery to sequence human genomes in a day, bringing down the time horizon from weeks and even months. The company currently has an over 50% market share in sequencing machinery, as the technology becomes a part of cancer patient treatment, in addition to medical research.
Currently, the company can sequence five human genomes in 10 days, according to
Bloomberg
reports Earlier in January, the company said it will have a new sequencing machine to market in the second half of 2012.
For Illumina's sequencing machinery, which is a competitor to
Life Technologies
(LIFE) - Get aTyr Pharma, Inc. Report
, Roche is willing to pay a significant premium to its slowing earnings. The offer values Illumina at 32 times its 2012 profit estimates of $1.39 a share, according to
Bloomberg
.
Roche's offer may be a boost to Illumina competitors like Life Technologies
Pacific Biosciences of California
(PACB) - Get Pacific Biosciences of California, Inc. Report
and
Complete Genomics
(GNOM) - Get Global X Genomics & Biotechnology ETF Report
that saw their shares spike over 11% on news of the bid. "
We expect other stocks with direct exposure to sequencing(Life Technologies, Pacific Biosciences of California and Complete Genomics) will enjoy a sympathetic boost," wrote Leerink Swann analyst Dan Leonard in a note reacting to Roche's bid.
Analysts currently give a price target of $41.31 a share, according to consensus estimates filed by
Bloomberg
. The company is expected to earn 28 cents in earnings per share when it reports its fourth quarter earnings on Jan. 31, according to estimates compiled by
. In its previous two quarters, Illumina missed
Zacks
consensus earnings estimates.
In 2011, Illumina's shares fell from above $70 as it cut its profit forecasts and indicated cuts to its research budget, leading to a fall in the company's earnings multiple. It means that Roche's offer may be below the historical value of Illumina, just as the company competes for new market opportunities.
"Illumina has positioned itself well to maintain its marketleading position in the fast growing next generation sequencing market, in our opinion; on a takeout basis, we believe that premium has not been reflected," writes William Blair analyst Amanda Murphy in a Wednesday note. Murphy notes that Illumina is at 26 times the firm's 2012 EPS estimate of $1.43 and below its three year average of 38 times, making the firm's intrinsic value closer to $70 a share.
There is also potential that Roche's offer will pull other interested strategic acquirers into the bidding process. "We are increasing our price target for
Illumina to $49.50 to reflect the potential for a broader sale process following Roche's recent announcement of a hostile bid," wrote Deutsche Bank analyst Ross Muken in a Wednesday note.
Illumina's board will now need to review Roche's offer and recommend action for shareholders, the company said in a statement. Goldman, Sachs & Co. and Bank of America Merrill Lynch are acting as financial advisers to Illumina. Greenhill & Co. and Citigroup Inc. are Roche's financial advisers.
-- Written by Antoine Gara in New York