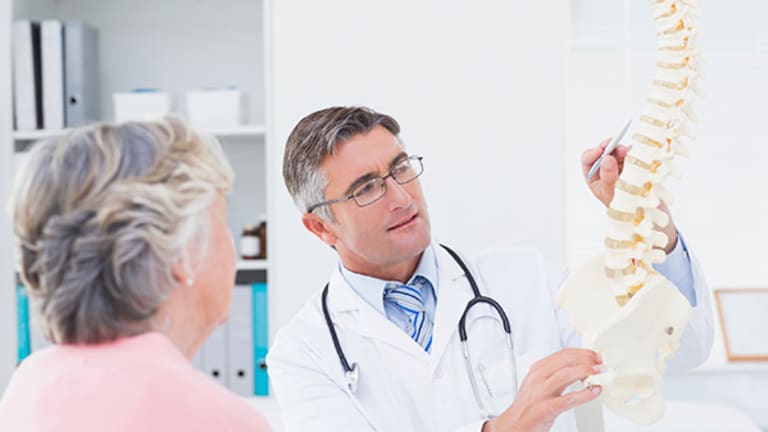 Rival Offer for LDR Is Unlikely, but Never Say Never
The hefty premium Zimmer Biomet is paying in the $1 billion deal for the spine company suggests the target's management followed a competitive process.
Even as shares of LDR Holding Corp. (LDRH) exceeded the $37 price per share the spine disorder-related technology company agreed to be taken out for in intraday trading Wednesday, analysts say a competitive bid is probably unlikely. 
Medical device company Zimmer Biomet (ZBH) - Get Zimmer Biomet Holdings, Inc. Report on Tuesday announced a $1 billion deal for Austin, Texas-based LDR, representing an about 64% premium over the target's $22.58 closing share price a day prior. 
After trading at $37.08 midday Wednesday, LDR's shares closed flat at $36.92. Shares ticked up 10 cents Thursday morning to $37.01 per share.
LDR, which makes technologies used for surgical procedures to treat spine disorders, is viewed as a highly attractive asset largely because of its Mobi-C CDR device. Mobi-C is the first and only FDA-approved product that treats both one- and two-level damaged cervical discs. 
Perhaps most telling that Zimmer won't face a rival bid for LDR is indications from the target's management that the deal followed a competitive process, analysts said.  
"That suggests there was enough of a premium by Zimmer," said Leerink Partners analyst Rich Newitter.  
The steep premium paid for LDR likely reflects the claim that there was a competitive process, Newitter said, adding that while the deal appears expensive today, it might not be from a long-term perspective.
"My knee-jerk reaction is it's not cheap, but time will tell whether they paid too much or if the market is bigger than anyone expects," he asserted. 
Since Zimmer's offer values LDR at about 4.5 times Cowen and Co.'s sales estimates for the target, one of the investment bank's analysts, Josh Jennings, suspects another offer isn't likely.
"It's not egregiously rich, but probably enough to keep the No. 3, 4, 5 players on the sidelines," he asserted.
Brean Capital LLC analyst Jason Wittes agrees that there's a slim chance for a competitive bid, but noted that other companies will realize that putting LDR in the hands of Zimmer creates another strong competitor.
"That may motivate other players to potentially bid higher," Wittes said. "It's a very differentiated technology with very strong clinical data behind it. That's going to allow whoever owns it to really take a lot of share in the cervical market."
For players wanting to get into the cervical disk market, he noted that there's a significant time and cost barrier that includes an initial investment of around $30 million to $50 million, plus two years or so to get through the regulatory process. Even then, rivals wouldn't have the long-term data that LDR has.
Besides Zimmer, fellow medical device companies including Johnson & Johnson (JNJ) - Get Johnson & Johnson Report , Medtronic (MDT) - Get Medtronic Plc Report , Stryker Corp. (SYK) - Get Stryker Corporation Report and Smith & Nephew (SNN) - Get Smith & Nephew Plc Report , as well as other spine companies Globus Medical (GMED) - Get Globus Medical Inc Class A Report and NuVasive Inc. (NUVA) - Get NuVasive, Inc. Report , are among those that could all be thrown into the mix as possible buyers of LDR.
But none seem to fit quite as well as Zimmer. 
The deal wouldn't make sense for Medtronic plc, Jennings said, since the company is currently awaiting Food and Drug Administration approval for its own two-level cervical disc replacement device and is confident in its data. Plus, it was less than a month ago that Medtronic agreed to make an equity investment in Israeli spinal robotic developer Mazor Robotics MZOR. 
J&J, meanwhile, is already home to DePuy Synthes Spine, which is the second largest spine company in the world. Even while J&J only has a Level 1 cervical disc product and hasn't yet begun a two-level trial, an alternative bid from the company also seems unlikely, Jennings said.
While Stryker might be a more logical buyer than J&J or Medtronic for LDR, the company's CEO, Kevin A. Lobo, indicated on its first quarter earnings call that a foothold in the cervical disc market isn't a must-have.  
"We don't feel that we have to have a cervical disc (product) at the moment to be able to drive growth," Lobo told investors on an April call. "It's something we will look at, but at the current time, we don't see that as an impediment to having strong growth in our spine business." 
Zimmer's deal for LDR comes about a year after the company completed its $14 billion cash and stock acquisiton of Biomet, following which it changed its corporate name to Zimmer Biomet. The deal was consummated in June 2015 after undergoing antitrust review in the U.S. for nearly a year.
"LDR suggests that Zimmer is probably a more likely acquirer of spine assets going forward," noted Newitter.
While this is probably "step one" for Zimmer as it looks to gain market share in spine, the medical device company will probably stick to smaller tuck-in deals in the near term as it digests LDR and Biomet while also paying down its debt load.
A LDR representative did not return calls seeking comment.