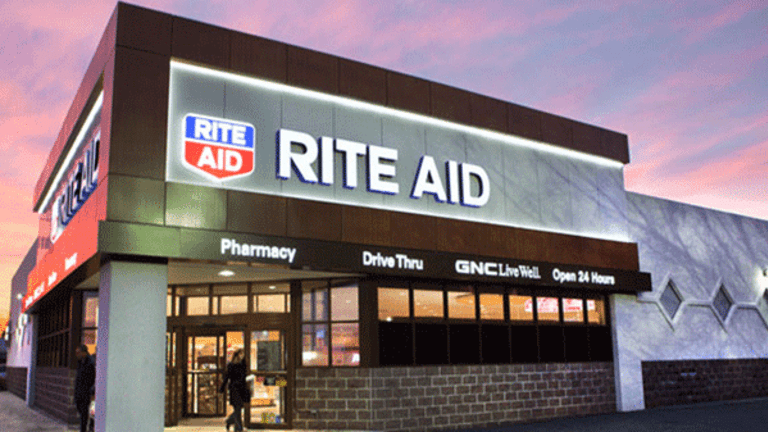 Rite Aid Plummets After Walgreens Slashes Offer Price by Nearly $2 Billion
Will this deal ever satisfy the FTC? Plus what Jim Cramer thinks.
Walgreens Boots Alliance (WBA) - Get Free Report and Rite Aid (RAD) - Get Free Report said Monday they agreed to reduce the price Rite Aid shareholders will receive from the proposed buyout of their company by Walgreens.
Although the news hit Rite Aid shares, some analysts suggested the announcement shows both companies are committed to seeing the deal through believe an agreement can eventually be reached with the Federal Trade Commission to win antitrust approval.
Rite Aid shares fell on the news in pre-market trading and currently trade down about 17% to $5.76. The revised price cuts the per share price being paid for Rite Aid stock from $9 to a maximum of $7 per share and a minimum of $6.50 per share.
The reason for the cut: The Federal Trade Commission says Walgreens' offer to divest 865 Rite Aid stores in order is not sufficient to receive antitrust approval in the U.S. Walgreens, a holding in the Action Alerts PLUS portfolio managed by Jim Cramer, said its new agreement with Rite Aid obligates Walgreens to divest up to 1,200 Rite Aid stores and certain additional related assets if required for FTC approval. The original merger agreement capped Walgreens' divestiture obligation at 1,000 stores.
"This news is very positive for Walgreens, they're basically paying a lot less for something than they were paying on Monday," Cramer said Monday. "There is a sense here that Walgreens is going to get a better deal, which is terrific for Walgreen's. But the market itself is ugly and when it stops being ugly, people will buy Walgreen's."
Amid the news, the proposed buyer for those stores, Fred'sundefined , maintained that it intends to remain the buyer for them and any additional stores the FTC requires sold. Fred's noted that its Dec. 19 agreement with Walgreens and Rite Aid calls for Fred's Pharmacy to be the buyer of any stores the commission requires to be sold beyond that initial 865.
"The amendment and extension of the Walgreens-Rite Aid merger agreement reinforces [Fred's] confidence that the transaction is in the mutual best interest of Fred's Pharmacy and all of its shareholders,"Fred's said in a statement it issued late Monday.
The exact per share of Walgreen's offer will be determined based on the number of required store divestitures. If 1,000 stores or fewer are required for divestiture, Rite Aid shareholders will receive $7 per share. They will get $6.50 per share if 1,200 stores are required for divestiture. If the required divestitures fall between 1,000 and 1,200 stores, the per share price will be set according to pro-rata adjustment.
To accommodate the continued discussions with the FTC, Walgreens and Rite Aid agreed to extend the end date under the previously announced agreement from Jan. 27, 2017 to July 31, 2017.
To analyst John Boylan of Edward Jones, this move shows Walgreens' willingness to work with the FTC to get the deal approved. "We think that they're clearly doing this to try to get to deal through," Boylan said by phone Monday. "They're committed to it." Boylan has a hold rating on the stock.
Analyst Ross Muken of Evercore said the news comes as a "modest surprise." Muken wrote in a note Monday, "On the slight negative side, the approval extension to end of July keeps up waiting for deal closure possibly for several more months, delaying Walgreen's ability to start materially inflecting earnings-per-share power, however once the wait is likely complete the ultimate outcome is certain to be highly constructive to equity returns."
Muken has a buy rating at a $93 price target on Walgreens' stock. Walgreens' share price barely moved on the news, climbing 0.21% to $81.67 Monday morning. 
EDITOR'S NOTE: This article was originally published by The Deal, a sister publication of TheStreet that offers sophisticated insight and analysis on all types of deals, from inception to integration. Click here for a free trial.