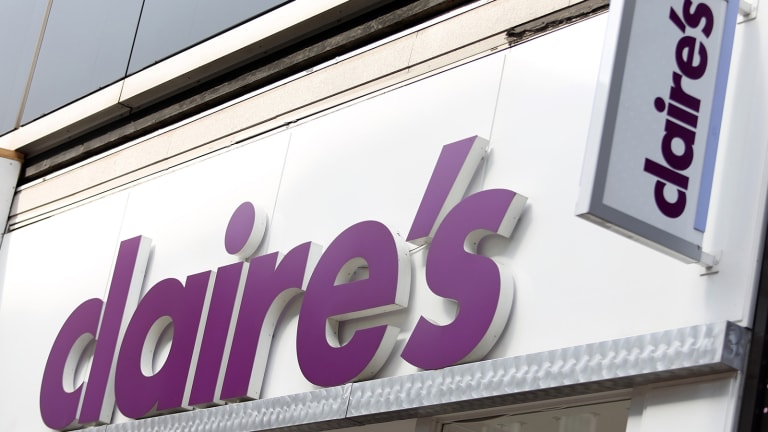 NEW YORK (The Deal) -- As it struggles to realign its capital structure, private equity-backed Claire's Stores, may turn to a creative solution to address subordinated debt of $260 million due in June 2017.
The Hoffman Estates, Ill.-based accessories retailer, owned by Apollo Global Management (APO) - Get Apollo Global Management Inc. Class A Report, might be able to use a "permitted investments" capacity under its debt agreements to move assets to an unrestricted subsidiary, according to Anthony Canale, head of high-yield research at Covenant Review.
That may be one of the few options open to Claire's Stores, he said.
And, if that doesn't work, the retailer may be hard put to stave off defaulting on its debt.
Claire's Stores didn't respond to a request for comment. Apollo Global Management declined to comment.
By using unrestricted subsidiaries, proceeds from the sale of assets wouldn't be restricted by covenants, Canale said.
Claire's Stores could then sell the assets and use the proceeds to buy the retailer more time in order to deal with the subordinated notes.
Canale, however, cautioned that bondholders may be able to challenge such transactions, depending on the structure and timing.
One indication that Apollo Global Management might take this kind of creative approach to dealing with Claire's Stores' debt load is that the private-equity firm did something similar at another portfolio company, Caesars Entertainment (CZR) - Get Caesars Entertainment Corporation Report.
Prior to its bankruptcy filing, the casino operator used unrestricted subsidiaries to sell a number of properties including Bally's Las Vegas, The Cromwell, Harah's New Orleans and The Quad to its affiliate Caesars Growth Partners, resulting in cash proceeds of about $1.8 billion, Canale wrote in a June 10 report.
The Caesars asset sales didn't go unchallenged. Bondholders sued various Caesars entities, claiming it had breached asset sales covenants.
A verdict has yet to be rendered on that lawsuit, one of many as Caesars navigates its way through bankruptcy.
If Claire's Stores doesn't have the option of moving assets to an unrestricted subsidiary, it may have few additional paths to liquidity.
The retailer is unlikely to receive additional financing on acceptable terms to refinance the subordinated notes due 2017 because incremental secured debt capacity under the bond indentures or agreement is limited, Canale said.
Claire's Stores "is most likely not able to refinance those bonds with later-dated subordinated debt (which the indentures would allow), given current market conditions and the current perception of the company's prospects," he said.
Claire's Stores' subordinated notes due 2017 were trading at 64 cents on the dollar as of Tuesday, indicating that bondholders expect a restructuring resulting in a significant haircut.
Claire's Stores must also stay compliant with a covenant dictating that a senior secured first-lien loan not exceed 6 times adjusted earnings before interest, taxes, depreciation and amortization, and that the retailer generate enough cash flow to service interest expense, a dictate that will be ever more difficult to fulfill as the company's performance deteriorates.
For the fiscal first quarter ended May 2, Claire's Stores generated EBITDA of about $34 million, compared with EBITDA of nearly $43 million a year earlier, according to data provided by Bloomberg.
A debt-for-equity swap could also be in the works for the mall-based retailer, sources have said.
Claire's Stores debt includes nearly $1.14 billion in 9% senior secured first-lien notes due 2019, $210 million in 6.125% senior secured first-lien notes due March 15, 2020, $450 million in 8.875% senior secured second-lien notes due March 15, 2019, $320 million in 7.75% senior notes due June 1, 2020, and almost $260 million in 10.5% senior subordinated notes due June 1, 2017, according to regulatory filings.
There are also two undrawn credit facilities and about $17 million in capital lease obligations. That equates to total debt of close to $2.4 billion.
Read more from
: