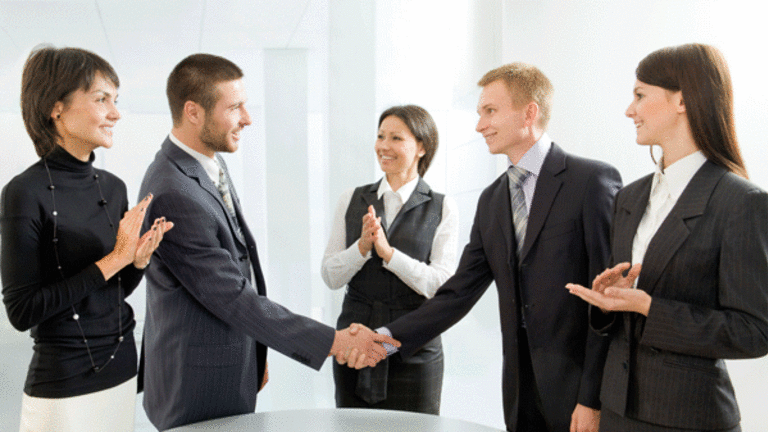 Reservations in OpenTable Trading for Higher Offer
Once again Google's name comes up as a potential bidder, sending shares higher.
NEW YORK (The Deal) -- Shares of OpenTable (OPEN) persist in trading above their value in the $2.6 billion merger with Priceline Group undefined in anticipation of a richer offer.
The market expects the likes of Google (GOOG) might move on OpenTable, a mobile device restaurant reservation service that Priceline is acquiring for $103 per share, a 46% premium to its price prior to the June 13 deal.
OpenTable shares have traded up to about $1.10 over the deal price.
The situation looks similar to the reaction to Priceline's acquisition of Kayak Software, the hotel reservation company. Kayak shares traded above their value in the 2012 acquisition by Priceline for months without a clear overbid in sight.
Indeed, the deal spread barely corrected when the Kayak transaction was facing potential competition issues in the U.K. In the Kayak situation, Priceline insisted on an exclusivity agreement. That prior negotiation may have arbs predicting that a similar situation existed with OpenTable and the company was not fully shopped.
The OpenTable transaction is being executed as a tender offer, which is often considered an indication that the buyer wants to execute a transaction swiftly to avoid bidding competition. The tender offer document had yet to be filed Tuesday along with a management recommendation from OpenTable with a background for the deal negotiation.
Comparative valuations are difficult to come by for the OpenTable operations. The deal was struck at a 46% premium, as compared to a 30% premium for the Kayak transaction.
Google has been named a potential spoiler bidder for a number of recent M&A situations, including AT&T (T) $67 billion plan to purchase DirecTV (DTV) .
The mobile application aspect of the OpenTable deal makes the idea of a Google bid an attractive one, but why would it not be a bidder for all of Priceline, as well, one arb said.
The deal has a $91 million break up fee, about 3.3% or about $3.85 per share.