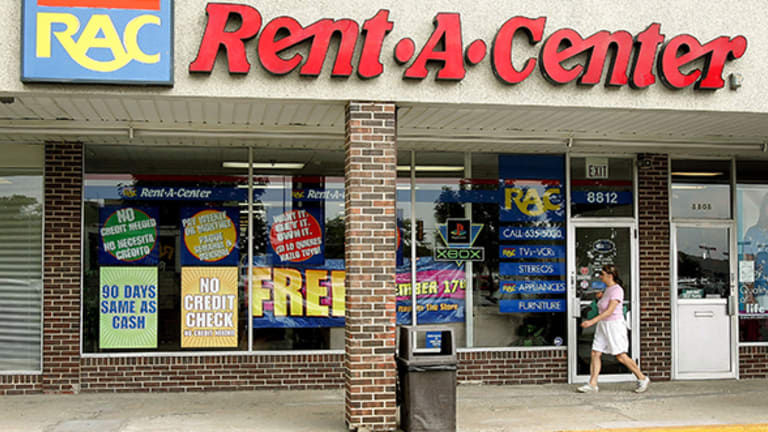 Rent-A-Center's New Plan Doesn't Appease Activist
Engaged Capital's Welling calls the turnaround plan "risky" and he reiterated a previous call to look at selling the business.
Rent-A-Center Inc. (RCII) - Get Rent-A-Center Inc Report on Monday announced a number of initiatives to spur share-price value as it faces an imminent director-election proxy battle launched by an activist fund manager that is still moving full-speed ahead with his effort to have the rent-to-own retailer consider selling itself.
The company announced that its recently-installed interim chief executive, Mark Speese, is becoming the company's permanent CEO. Speese was a one of the company's founders and a former CEO, between 2001 and 2014. He oversaw a period of general share-price improvement at the company as CEO. Nevertheless, Speese has been chairman of the board between 2001 and today, including a more recent period of declining share prices. 
The rent-to-own retailer also announced it was expanding its AcceptanceNOW operation, a virtual rental business that partners with a number of furniture and appliance retailers, including Ashley Furniture Industries Inc. and Rooms To Go. Rent-A-Center also announced that it was hiring more full time employees, based on an argument that the move will increase retention and improve customer relations. It also plans to implement shorter and alternative terms for renters, with a goal of increasing furniture ownership down the road. And it plans to offer more middle and high end products across all its sales categories, including electronics, appliances, computers and furniture, as a means of hiking its earnings.
The Plano-Texas-based company issued a variety of other strategies, including an expected effort to expand its e-commerce and online efforts, with an eventual introduction of a Rent-A-Center app for mobile devices. The proposal also issued a variety of specific estimates for how a number of key aspects of the plan will improve its earnings. 
However, the strategies, didn't appease the activist at the gate, Engaged Capital LLC's Glenn Welling, who said in a statement that the Rent-A-Center strategic plan was developed by the same board that "failed shareholders miserably" over the past two years. Welling called it a "high-risk path" and he reiterated a previous call for the company to consider "all strategic alternatives, including a sale of the entire company" as a key way to meet its fiduciary duty to shareholders.
Editor's note: This article was originally published by The Deal, a sister publication of TheStreet that offers sophisticated insight and analysis on all types of deals, from inception to integration. Click here for a free trial.
Welling looks to install three directors onto the company's seven-member board at an annual meeting that is likely to take place in June or July. The company put in a poison pill to discourage Welling. However, Engaged already owns 20.5% of the enterprise, a significantly large block that will likely be a big boost in Welling's effort.
The activist campaign comes as the Rent-A-Center business has been struggling of late, with its stock price dropping from a recent high of $36.32 a share in December 2014 to trade recently as low as $8.73 a share. Its stock price was up slightly, 6%, on the news Monday, trading at $10.20 a share early Monday.
Rent-A-Center's Speese is one of the company's incumbent directors up for election. A victory by Engaged to replace Speese from the board would send a message from shareholders that Rent-A-Center should launch a serious strategic review process.
There are at least two U.S.-based strategic buyers interested in Rent-A-Center; rival rent-to-own operator, Aarons Inc. (AAN) - Get Aaron's, Inc. Report and private equity firm Vintage Capital Management LLC, a majority owner of a smaller rent-to-own competitor, Buddy's Home Furnishings, according to people familiar with the situation. Vintage had sought to acquire Aaron's in 2014, but that effort was quashed after Aaron's acquired Progressive Finance Holdings LLC, a virtual rent-to-own business. 
Welling likely will find shareholders who support the argument that a combination of Rent-A-Center and Aaron's, for example, would significantly cut corporate overhead costs and bring distribution and purchasing synergies.
Rent-A-Center reported recently that it had retained JPMorgan Chase & Co. as an adviser, though it's unclear whether the bank is providing activist defense or M&A advice. Its board also noted recently that it would "continue to evaluate" opportunities to improve shareholder value. Winston & Strawn LLP is serving as the company's legal adviser.