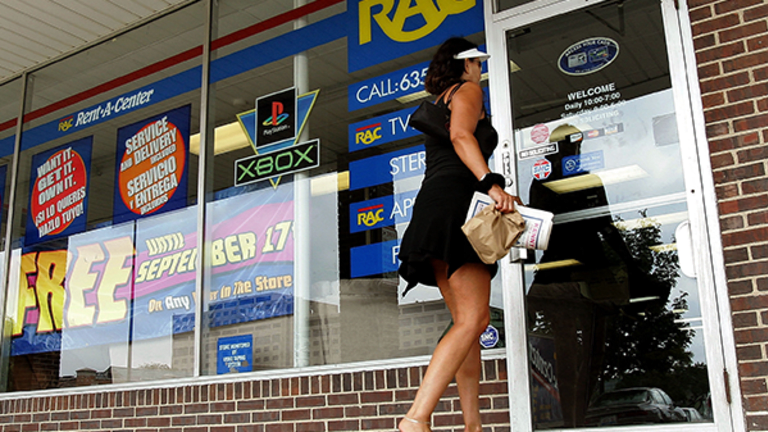 Rent-A-Center Rejects $15-a-Share Vintage Offer Despite Activist's Recent Victory
The offer came after The Deal reported in April that Vintage and another rent-to-own company, Aarons, were interested in buying the company under pressure from Engaged's Wellnig
Rent-A-Center (RCII) - Get Rent-A-Center Inc Report on Tuesday reported that it had recently rejected an $800 million bid from Vintage Capital Management LLC, arguing that the offer significantly undervalued the rent-to-own company and was opportunistic and inadequate.
The company's shares shot up as much as 17% in pre-market trading on expectations that a sale could happen soon but dropped back down slightly after Rent-a-Center disclosed in a securities filing that it had rejected Vintage's offer.
Rent-A-Center closed up 99 cents, or 8.9%, to $12.09 per share. The Vintage bid valued the company at $15 per share.
The move comes after Rent-a-Center shareholders last month voted to elect three dissident director candidates, giving an activist investor at the gate, Engaged Capital LLC's Glenn Welling, a boost. Welling had been pushing to have the rent-to-own company conduct a review and potentially sell the business.
The Deal had reported in April, citing people familiar with the situation, that Vintage Capital, which is the majority owner of a smaller rent-to-own competitor, Buddy's Home Furnishings, had been interested in buying Rent-a-Center. Also, The Deal reported that another rent-to-own operator, Aarons Inc. (AAN) - Get Aaron's Company Inc Report was also interested. 
However, Welling's victory didn't necessarily mean that Engaged would be able to push through a deal quickly. His director candidates did not take control of the board - they only secured a minority of three dissidents on the company's seven-person board. Also, Welling recently noted that Rent-a-Center's board chairman Steven Pepper said that he would take a two-month vacation and would be unavailable until August. The move suggested a stalling tactic and one that indicates that a sale wasn't imminent.
Nevertheless, expect that Welling's directors will have some influence in pushing for a sale. Their success at the annual meeting likely drove Vintage to make its offer, which was for $15 a share. Vintage probably was encouraged by Engaged's nominee Jeffrey Brown, who joined the board as part of Engaged's June boardroom victory. One shareholder advisory firm suggested has "finance and transnational experience that could likely be of value to the board as it considers opportunities to maximize shareholder value."
Also, Welling has had success at driving M&A at companies Engaged targets. Boulder Brands, which makes Earth Balance and Evol Foods, was sold to Pinnacle Foods in 2015 shortly after Engaged became involved. Engaged has been successful at driving the recent sale of Redbox kiosk maker Outerwall Inc.'s sale to Apollo Global Management for $1.6 billion and medical device maker HeartWare International Inc. purchase by Medtronic plc for $1.1 billion.
Rent-a-Center said its board remains open-minded and "regularly reviews the company's strategic priorities and opportunities."
It's possible that Vintage will hike its offer in the months to come. With Aaron's and Vintage seeking to buy the company, a deal may not be far off.
Editor's pick: Originally published at 9:38 am ET and has been updated.