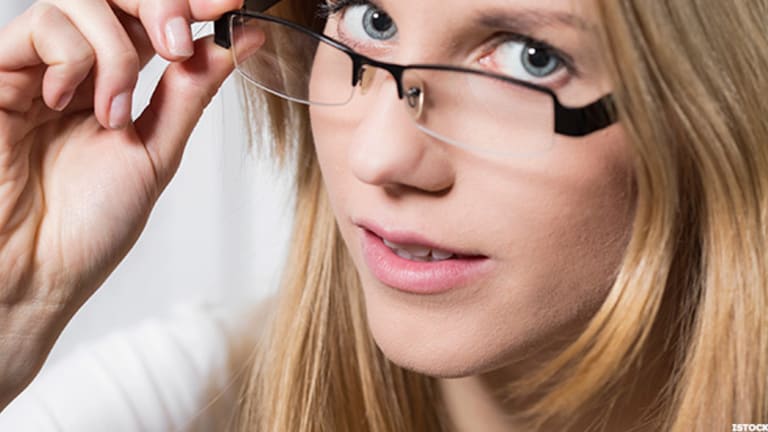 Ray-Ban Owner Luxottica Seen Eyeing M&A
The return of founder Del Vecchio to an executive position could spur expansion.
Ray-Ban and Oakley owner Luxotticaundefined is seen likely to take a cool appraisal of its options after the return of founder Leonardo Del Vecchio to a management role.
The octogenarian's January appointment as executive chairman heightened expectations it will dig deep to expand what one expert said was already a "pseudo monopoly" in eyewear.
At first sight, the Milan-based luxury and sports eyewear empire looks short of expansion prospects. Not only is Luxottica involved in the entire value chain -- from the design and manufacturing of its products, to distribution -- it operates in more than 150 countries, and is the world's largest eyewear player by revenue. Sales have more than doubled over the last decade to €8.8 billion ($9.9 billion) in 2015, partly as a result of aggressive acquisitions for retailers including LensCrafters and Sunglass Hut, proprietary brands including Ray-Ban, Oakley and Alain Mikli, and a long list of licensed brands including Prada, Burberry, and Coach.
Yet, the company says it wants to further double its revenue to €15 billion by 2024, and industry experts agree there is still space for acquisitions and tie-ups. Indeed, Del Vecchio, who founded the company in 1961, said he came back to "seize new opportunities" in retail, emerging markets, e-commerce, and brands. His return followed the exits of three chief executive officers in 18 months. 
"The balance sheet still looks strong despite a significant investment plan over the next 3 years," Credit Suisse Group analysts noted. "With Chairman and Founder Del Vecchio in a controlling position, we expect the likelihood of bolt-on acquisitions has increased.".
Luxottica has about  €6 billion to €7 billion it can use on M&A without the need to raise new equity, according to Alberto Checchinato, an analyst at Fidentiis Equities. While he noted there are few assets left to buy, he highlighted one area that Luxottica can reinforce.
"The one area, geographical area, where they have very little retail distribution is Europe," said Checchinato. "If you see the Luxottica map, it's the most glaring missing point at the moment."
Despite its Italian roots, Luxottica generates about 58% of its revenue in North America, with a majority coming from retail. This compares with 21% in Europe, 13% in Asia Pacific, and 5% in Latin America. The major gap between North America and Europe may be explained by the company's roots in the latter, where it started out as a wholesaler and has avoided competing with its own client retailers.
An indication as to whether Luxottica will step up its retail presence in Europe may lie in its decision about what to do with Salmoiraghi & Viganò. Luxottica, which acquired a 36% stake in the Italian retailer in 2012, has the option to acquire the rest of the shares from 2017.
"Whether or not they decide to exercise this option would be probably an excellent signal about what Luxottica intends to do in retail in Europe," said Checchinato. "If they buy the biggest retail chain in Italy, in their own country, it means anything else is possible."
France's GrandVision stands out in the European retail map, but Checchinato sees little synergy as the retailer's positioning is only partially in line with the premium position of Luxottica's products. Rather than buying such a large retailer, currently valued in the stock market at €6.5 billion, Luxottica may benefit more from buying smaller retailers for around €300 million to €500 million as well a brand for a premium, he said.
Others predict Luxottica may shun bricks-and-mortar retailers.
"They are less likely now to acquire further retail assets," said Luca Solca, an analyst with Exane BNP Paribas. "More tactical acquisitions in the digital space are also likely."
The company expects to generate 7% of its group sales from e-commerce in two years, up from just over 4% now. Currently, the firm bases its online business on the digital platforms of Ray-Ban, Oakley and Sunglass Hut and through retailers such as Amazon  (AMZN) and Alibaba (BABA) . While the company has said it is experimenting a lot, in Europe this route may be limited to sunglasses, as countries like Germany and Italy prohibit online sales of prescription eyewear.
Another potential move for Luxottica is in North America. The region may be its cash cow but it isn't without its problems. One of the concerns that many analysts have raised to management is Oakley, which Luxottica acquired in 2007. The Oakley outlets  aren't limited to eyewear, and their apparel, footwear and accessories sales are struggling.
Checchinato noted that Luxottica does not have know-how or a specific distribution network for such products, and suggested that the company could benefit from a license or perpetual use agreement with a U.S. player.
Such an agreement "would not only make complementary product categories more profitable but even enhance Oakley's brand equity," Checchinato said. "The key is to find a great partner... think the Nikes or Under Armours of this world."
Luxottica representatives could not be reached for comment. 
The Italian group's largest peer,  Essilor International, is a name that has persistently emerged as a potential merger partner. Some consider the French group a good fit for Luxottica, with the former focusing more on lens production and the latter on frames. But Exane BNP Paribas' Solca said:
"Luxottica is a client of Essilor, but it's getting more and more independent from it, as it builds lens machining and manufacturing capabilities in each continent. There was a time when a possible tie-up was considered. But I think this is less likely now."
Indeed, in September 2014, the-then CEO Enrico Cavatorta said that while a merger with Essilor was explored at least 18 months prior to that, the prospect was no longer on the table after the two disagreed on financial and operational conditions as well as shareholding governance. (Cavatorta ended up quitting after 40 days at the helm).
Essilor could not immediately be reached for comment. 
The 81-year old Del Vecchio hasn't got unlimited time to reshape the company, having already said he plans to step down from management in a few years' time.  
"He is certainly concerned about making Luxottica the best possible company, and that includes expanding wherever he sees a good opportunity, but also to put in things in order for this legacy," said Checchinato. "I am sure he does not want whoever comes after him to mess around with his 'baby' Luxottica."
Luxottica shares closed down €0.07 at €43.23 in Milan on Friday, translating into a market value of just under €20.9 billion.