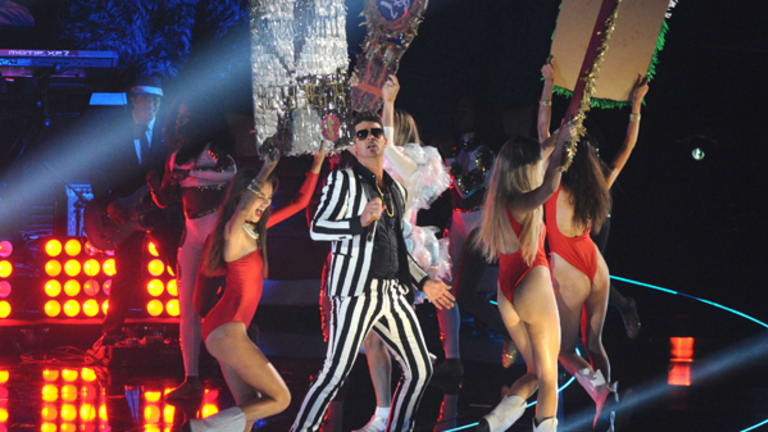 Rapid Realty Courts Buyers as Brooklyn Goes Hollywood
MTV's Video Music Awards may bolster a hot Brooklyn real estate market.
NEW YORK (
) -- Talking from a rented penthouse overlooking the Chicago skyline, Anthony Lolli, 36, says his New Year's resolution is to IPO or find a private equity investor for
Rapid Realty
, the Brooklyn-based real estate brokerage he founded in 1998.
Bankers have been kicking Rapid Realty's tires amid a booming New York City apartment rental market. Lolli is in Chicago for an annual dealmaker's summit that he says is his "Shark Tank" moment with billion dollar-sized investors.
Rapid Realty has courted media attention by offering 15% raises to staff that get the firm's logo tattooed to their bodies. Lolli's 5,000 square foot Bay Ridge, Brooklyn estate -- known as "Lolli Mansion" -- has been featured on local
and in a rap
. The company's DUMBO, Brooklyn-based headquarters have been used in a handful of movies, including
The Amazing Spiderman 2
, slated to be released by
Marvel
and
Columbia Pictures
in May 2014.
If Jay Gatsby carried a picture of
Oxford University
with him, Lolli dispenses a digital image of him donating "$10,000.00+" to Spike Lee's $1.25 million
Kickstarter
campaign for a new film.
MTV's
star-studded Video Music Awards show, hosted at Brooklyn's
Barclays Center
on Sunday night, may turn out to be the break Lolli needs as he tries to attract new capital to expand Rapid Realty, already New York's largest real estate rental brokerage, according to the company.
This year's VMA awards may be remembered for two things: Miley Cyrus' innuendo-filled rendition of
We Can't Stop
and the show's red carpet embrace of Brooklyn, once considered an "outer borough" of New York City.
Advertisements for the Sunday night awards show had Seattle-based Macklemore & Ryan Lewis leading crowds of stylish teens from the Pacific Northwest towards the borough to the tune of the
Beastie Boys'
1980s anthem
No Sleep 'till Brooklyn
. Pharrell cruised onto the red carpet with a crew of
Moongoose
-riding bikers, in an homage to the Brooklyn depicted in many Spike Lee films. A faux Brooklyn Bridge even graced the stage of a pre-show concert.
The Barclays Center -- a near $5 billion sports and real estate complex partly owned by Russian metals magnate Mikhail Prokhorov -- opened about a year ago to a Jay-Z performance and a transplanted
NBA
basketball team. Next season the Brooklyn Nets will start a lineup of former Boston Celtics stars that may do justice to the city's legacy as a rough-and-tumble high school basketball hotbed. The arena will soon host an ice hockey team that is an up-tempo alternative to the stalled New York Rangers franchise.
Brooklyn has emerged from the shadow of Manhattan in recent years. The question now is whether its artists, startup businesses, musicians and laid back attitude will soon outdraw Wall Street, Museum Mile and Broadway.
Lolli, who watched the VMA's for about half an hour, says Brooklyn is heading in a direction that begs the question "what's next?"
He thinks Brooklyn may be transforming into a Hollywood of the East Coast. Hundreds of boutique hotels have opened in the borough, real estate prices are surging, and celebrities are moving in.
The VMA's treated Brooklyn as a brand.
Lolli was born in Brooklyn Heights when real estate in the borough was a backwater to markets like the Westchester suburbs and Manhattan. He attended PS 8 and MS 51 in Park Slope before graduating from Brooklyn's John Jay High School and
Kingsborough Community College
.
In 1998, at the age of 21, Lolli founded Rapid Realty from a single office.
"Who the Hell wanted to start doing real estate in Brooklyn," he says of brokers reaction to the business at the time. Talent would make a name in the borough and quickly move to the Manhattan market.
Those, like Lolli, who stayed are now poised to capitalize on Brooklyn's moment.
After adopting a franchised rental real estate brokerage business model during the real estate downturn, Rapid Realty now has about 60 rental real estate offices nationally, including locations in all five of New York's boroughs and Boston, Philadelphia, San Diego and Miami.
The firm's staff of brokers has grown from 150 to 1,100 in recent years, as franchisees buy into the firm's strategy and its attachment to attractive rental markets. Lolli also bought 15 buildings and made an investment in a boutique hotel during the bust.
He says Rapid Realty is profitable without disclosing other financial details and adds that the company looking at either an IPO or a private equity partner as a means to attract talent and bolster its marketing capabilities.
A few years ago, the firm offered an
to customers who took to the comment boards of
Yelp
to complain about the practices of its brokers. "Real estate has always been a cut-throat industry in Brooklyn, and we got wrapped up in the competitiveness," Rapid Realty said at the time.
Lolli, who reached out after
RE/MAX
said it was
planning a $100 million initial public offering
, says the hype about Brooklyn plays directly into Rapid Realty's business model.
The firm specializes in high-turnover rentals. Rising demand for the borough may also translate to rising rental prices and, consequently, rising profits for Rapid Realty.
"I remember there was a time when I had to convince people to move to Brooklyn," he says. His next move will be to convince public or private buyers that Rapid Realty can use new capital to expand its market position as new entrants chase New York City real estate riches.
The firm's prospective IPO or PE partnership comes as RE/MAX's owners seek to sell shares amid strong performance by the likes of
Realogy
(RLGY) - Get Anywhere Real Estate Inc Com Report
,
Zillow
(Z) - Get Zillow Group Inc. Report
and
Trulia
(TRLA)
, as stock investors seek ways to gain exposure to the recovering housing market.
Lolli says that franchised models such as RE/MAX, Realogy and
H&R Block
(HRB) - Get H&R Block Inc. Report
support Rapid Realty's appeal to investors. No one, however, is as exposed to urban real estate rentals as Rapid Realty, Lolli says. He also highlights investors such as
The Blackstone Group
who have similarly used the real estate meltdown to move into the rental market.
It all comes back to Brooklyn. I asked if the borough is being over-hyped.
"Even Biggie said it was all a dream," Lolli responds, referencing The Notorious B.I.G.'s 1994 hit
Juicy
, a biographical homage to the rapper's upbringing in a Clinton Hill, Brooklyn brownstone.
If B.I.G. saw "condos in Queens" as progress in the 1990s, Lolli would probably note that "Biggie's" childhood abode recently listed at $725,000.
-- Written by Antoine Gara in New York