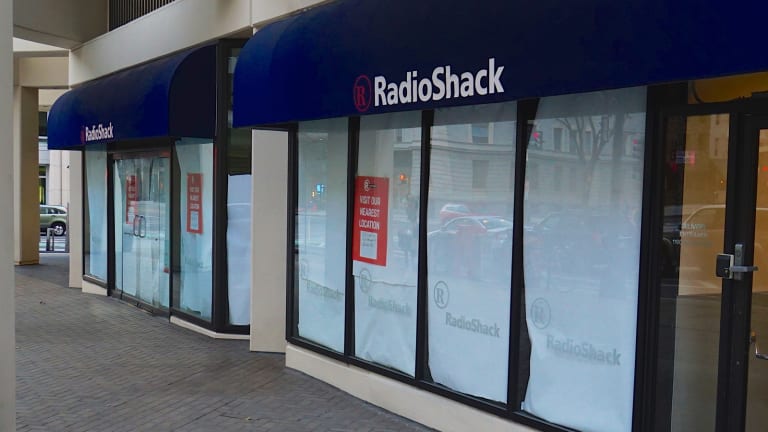 RadioShack Set to Put Intellectual Property, Last Store Leases on the Auction Block
The final tranche of leases for RadioShack's closed stores should hit the auction block soon, and the bankruptcy judge has verbally approved bidding procedures for its intellectual property.
NEW YORK (The Deal) -- The third and final tranche of RadioShack's (RSHCQ) leases for closed stores is expected to hit the auction block in about two weeks.
On Tuesday, Chief Judge Brendan Linehan Shannon of the U.S. Bankruptcy Court for the District of Delaware in Wilmington signed an order approving RadioShack's round three bidding procedures for leases and lease designation rights for its 636 stores that were set to close by April 1.
Must Read:5 Health Care Stocks John Paulson Is Betting On for 2015¿
Shannon also verbally approved the bidding procedures for its remaining intellectual property, including trademarks, franchise and dealer network and customer data, according to debtor counsel David Fournier of Pepper Hamilton.
Shannon had not entered the IP bidding procedures order Tuesday afternoon, because he was awaiting changes to the order by the debtor, Fournier said.
Shannon set a May 8 deadline for qualified bids on store leases, although bids submitted by lease counterparties on their own leases are due by May 11. If stores receive more than one qualified bid, an auction would be held May 14. RadioShack did not propose a minimum initial bid for stores in the motion it filed April 7. Bids, however, must include a good faith deposit of 10% of an offer.
A sale hearing to approve acquisitions would be held May 27, with closings expected no later than May 31, the bid procedures order states.
On April 10, RadioShack filed proposed sale procedures for the IP assets, which include certain personally identifiable customer information. (On March 5, a consumer privacy ombudsman was appointed to protect the data.) Under the bidding procedures for IP, bids for the assets would be due by May 6, with an auction to take place on May 11 if RadioShack received more than one qualified offer. Minimum bid increments would be announced at auction. The company proposed a May 15 sale hearing.
The former electronics retailer also requested permission to enter into stalking-horse agreements for the assets. Any stalking horse would be entitled to a breakup fee or expense reimbursement capped at 3%.
On April 1, Shannon approved a sale of a large portion of RadioShack's assets as a going concern following a four-day hearing. In his order, Shannon said Standard General subsidiary General Wireless had submitted the highest and best offer on March 31, and he overruled all objections to the sale. General Wireless's bid was supported by a retail agreement with wireless company Sprint (S) - Get SENTINELONE, INC. Report.
"The consideration provided by the buyer and Sprint under the [asset purchase agreement] will provide a greater recovery for the debtor's estates than would be provided by any other available alternative, including a separate liquidation of the acquired assets, and unless the sale is concluded expeditiously as provided for in the motion and pursuant to the APA, recoveries of creditors will be diminished," Shannon reasoned.
His order allowed Standard General to credit-bid $112 million of amounts owed on outstanding term and revolving loans. The order also set aside $12 million in two cash collateral reserves as adequate protection for any indemnification claims of first-out asset-based lenders and debtor-in-possession financing agent Cantor Fitzgerald Securities. The buyer will contribute $2 million to the reserves, with the remaining $10 million provided from asset-based priority collateral.
Under the buyer's calculation in the APA, General Wireless will pay $8.48 million in cash, credit-bid $118.9 million, assume $12.4 million in cure costs, pay $300,000 to an indenture trustee and make the $2 million reserve contribution. The order and APA do not explain how the buyer will reconcile the difference between the APA's credit bid calculation and the judge's order.
Salus Capital Partners had argued that its $271 million bid at the RadioShack auction was higher and better than Standard General's bid, valued at the time at $140.09 million. RadioShack said it rejected the Salus bid because it relied on a combination of contingencies.
RadioShack also has named buyers for assets in Latin America and the Middle East.
According to court papers filed March 26, Office Depot de Mexico SA de CV will pay $31.8 million for Mexican assets, which include a retail operation with more than 250 stores and the exclusive rights to the RadioShack trademark in Mexico. Regal Forest Holding won the right to RadioShack's trademarks and franchise agreements in Central and South America for $5 million, while Delta RS for Trading will pay $1.5 million for RadioShack's Middle East and North Africa trademarks. Both of the latter are RadioShack franchisees looking to expand their territory, it noted.
The Fort Worth, Texas-based company filed for Chapter 11 on Feb. 5, days after it announced the receipt of a second default notice from Salus.
RadioShack began store closing sales shortly after filing for bankruptcy, as part of a three-phase liquidation of inventory. The first phase liquidated and closed 162 stores by Feb. 17. The second phase liquidated 986 stores with a target closure date of Feb. 28. The third phase of its store closure program liquidated 636 stores that were scheduled to close by April 1.
The company traces its roots to shoe part supplier Hinckley-Tandy Leather, founded in 1919, and mail-order radio parts supplier RadioShack, founded two years later. Tandy acquired RadioShack in 1963, and the company took its current name in 2000.
In its petition, RadioShack reported $1.2 billion in assets and $1.39 billion in liabilities as of Nov. 1. A first-day declaration said it has about $30 million in unpaid lease obligations.
This article was originally published at 10:15 p.m. ET, April 28, on The Deal.
Must Read:3 Things Best Buy Was Able to Do That RadioShack Wasn't