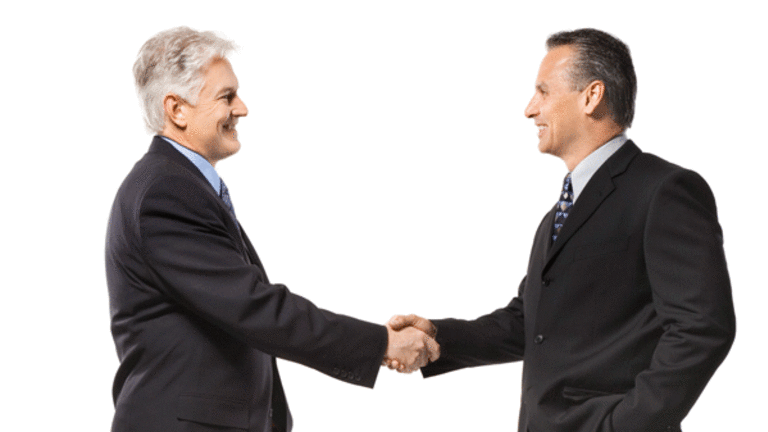 RadioShack Is Thrown a Lifeline by Hedge Fund Standard General
The hedge fund is making a $120 million investment to help the electronics retailer restructure debt, achieve liquidity for holiday season.
The hedge fund is making a $120 million investment to help the electronics retailer restructure debt, achieve liquidity for holiday season.
NEW YORK (The Deal) -- RadioShack (RSH) received a lifeline of a $120 million investment from shareholders Standard General LP and Litespeed Management LLC that will allow it to get through the holiday season and restructure its debt.
The Fort Worth, Texas-based electronics retailer is also planning a rights offering for later this year or early next year, it said in a statement announcing the financing made after the market close on Friday, Oct. 3.
New York-based hedge fund Standard General, which holds just under a 10% equity stake in the company, acquired the company's $585 million asset-based credit agreement along with other investors, replacing GE Capital Corp. as the lead lender.
Standard General acquiring the loan "will allow immediate access to additional liquidity," as it has agreed to change the credit availability on the financing, giving it sufficient credit to build its inventory for the holidays, the company said in its announcement.
While it was unclear from the statement exactly what terms had changed, the $585 million loan previously consisted of a $535 million asset-based revolving credit line and a $50 million asset-based term loan due Dec. 10, 2018. The revolver was priced at Libor plus 200 basis points, while the term loan was priced at Libor plus 400 basis points.
The company plans to refinance the amended loan by March.
RadioShack said in the statement that the $120 million investment is expected to be converted into equity, representing a 50% stake in the company (if certain conditions are satisfied) in the coming months. The conditions include modifying a supplier contract, developing a fiscal 2016 plan, having at least $100 million in cash and borrowing capacity by Jan. 15, as well as other requirements.
The company said they would use the $120 million to cash collateralize letters of credit for the company.
If the $120 million investment is converted to equity, Standard General will have the right to appoint four people to the company's board of directors. There will also be two independent directors picked by RadioShack.
The company, which has more than 4,400 company-operated stores in the U.S. and Mexico and more than 900 dealer stores in 25 countries, also announced that it is planning a rights offering that is expects to complete by March 15, where it will offer existing shareholders the right to purchase equity at 40 cents per share of common stock.
"We are pleased to complete this important step, which we believe positions us to continue to progress our operational turnaround," said RadioShack's CEO Joe Magnacca, in the statement Friday. "We recognize that we will need to address constraints under our existing term loan in order to undertake a store base consolidation program and pursue other measures to reduce our cost structure.
"This amended ABL Facility provides time to pursue a longer-term restructuring. To that end, we are in constructive discussions with our term lenders, led by Salus Capital [Partners LLC], toward additional steps to recapitalize RadioShack," Magnacca said in the statement. "We look forward to continuing to serve our customers with differentiated products and an upgraded shopping experience as we move into the Holiday season."
RadioShack's stock, which trades on the New York Stock Exchange, was halted for trading due to the pending refinancing news on Friday after the stock spiked 67% to $1.65 in early morning trading.
The stock closed at $1.34, up over 35% from its finish at 99 cents on Thursday.
In an Oct. 3 report, ratings agency Standard & Poor's wrote that if the company did reach a refinancing agreement, "we think any material improvement in liquidity could be muted by our expectation that the company will be using substantial amounts of liquidity to fund operations over the near term."
"Ultimately, we still believe significant business performance improvements are necessary to avoid a financial restructuring," the S&P report said.
The company disclosed in mid-September that it was working on a deal to recapitalize its balance sheet, but it warned that if it can't get a deal done, it might not have enough cash to fund its operations, causing substantial doubt about its ability to continue as a going concern. RadioShack said it was examining options including a recapitalization and investment agreement, a sale of the company, an out-of-court restructuring or a prepackaged or prearranged Chapter 11 filing.
RadioShack's financial problems include continuing losses, declining sales and its debt load.
In its latest Form 10-Q filed with the Securities and Exchange Commission on Sept. 11, the company said it had a $235.7 million net loss for the 26 weeks ended Aug. 2 on $1.41 billion in net sales and operating revenue.
RadioShack posted full-year losses of $400.2 million in 2013 and $139.4 million in 2012.
The company's other debt includes a $250 million second-lien term loan due Dec. 10, 2018, and $325 million in 6.75% unsecured notes due May 15, 2019.
The second-lien term loan bears interest at Libor plus 1,100 basis points, with a 50-basis point floor on Libor. Salus Capital Partners is the administrative agent on the second-lien debt.
The company reported $1.15 billion in assets and $1.21 billion in liabilities as of Aug. 2. RadioShack has approximately 27,000 employees.
Holly F. Etlin, a managing director at AlixPartners LLP, who is acting as the company's interim chief financial officer, couldn't be reached for comment on Friday.
Calls to the company were not returned.
Officials at Standard General couldn't be reached for comment.
RadioShack is getting legal advice from Jones Day, while Sullivan & Cromwell LLP is advising bondholders. AlixPartners, along with Peter J. Solomon Co., is providing the company with financial advice.
Durc A. Savini, Joseph C. Stein III, Ajay Bijoor and Kenneth T. Berliner at Peter J. Solomon advised the company, The Deal has learned.
Lazard is advising the company's board of directors.
Debevoise & Plimpton LLP is legal counsel to Standard General and Blank Rome LLP is advising investors of the asset-based credit agreement, the statement said.