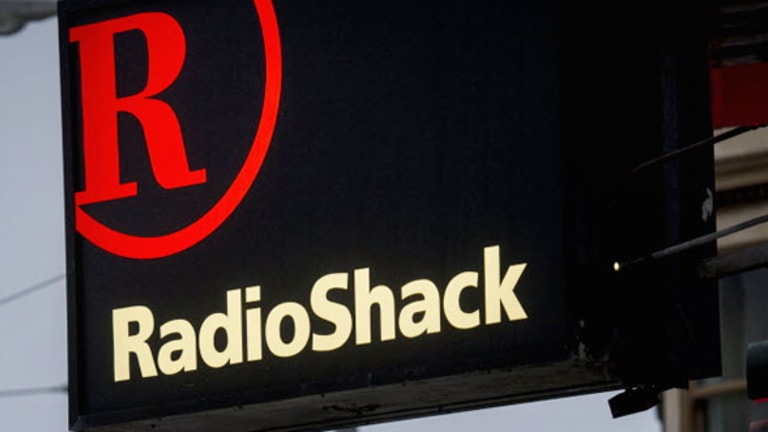 Publish date:
RadioShack in Talks with Several Bidders for Asset Sales
Sprint and Amazon are said to be some that are interested in store locations.
Sprint and Amazon are said to be some that are interested in store locations.
RadioShack Corp. (RSH) is in talks with Sprint Corp. (S) - Get SENTINELONE, INC. Report to sell the telecom some of its stores, a source familiar with the situation confirmed, adding that the troubled Ft. Worth, Texas-based electronics retailer is also in discussions with other parties.
Bloomberg had previously reported that RadioShack could sell just under half of its stores to Sprint, while shuttering the other half, but that the retailer was also in talks to possibly sell some locations to Amazon.com Inc. (AMZN) - Get Amazon.com, Inc. Report . Amazon.com. The Seattle-based online retailer has flirted in the past with the idea of establishing brick-and-mortar locations in a substantial way.
Sprint declined to comment on the reports. RadioShack and Amazon.com did not respond to a request for comment.
The source, however, cautioned that while the company is in talks with Sprint there are other potential bidders who may be interested in investing in a down-sized version of RadioShack, and there are yet others who are interested only in obtaining some of the store locations. Other possible bidders see value in the RadioShack brand name or intellectual property, this person said.
While a bankruptcy filing in the near-term appears to be a foregone conclusion, the source said, how RadioShack will emerge from its current troubles and who will end up with what part is yet to be determined.
As RadioShack wrangles with potential bidders for its assets, the New York Stock Exchange on Monday began the process of delisting the company. As of Tuesday morning, the retailer will trade over-the-counter.
RadioShack also said in a regulatory filing Monday it had received a second default notice from Salus Capital Partners LLC, the administrator for the retailer's $250 million term loan facility. Salus in a Jan. 27 notice asserted that RadioShack was not depositing all of its proceeds into the Residual Account Deposit Account, which is a stipulation of the credit agreement between the lender and the borrowers, according to the filing.
RadioShack said that if it is determined an event of default has occurred, it would create a domino effect, where its $585 million asset-based loan, for which Cantor Fitzgerald is the administrative agent, and its $325 million in 6.75% senior notes, with Wells Fargo Bank NA as the trustee, would both come due.
The Deal previously reported in mid-January that RadioShack had few options outside of bankruptcy after a poor holiday season. That's because it would not have the $100 million in cash and availability on its revolver to convert a $120 million lifeline thrown to it by hedge fund Standard General LP late last year, into equity.
Read more from
: