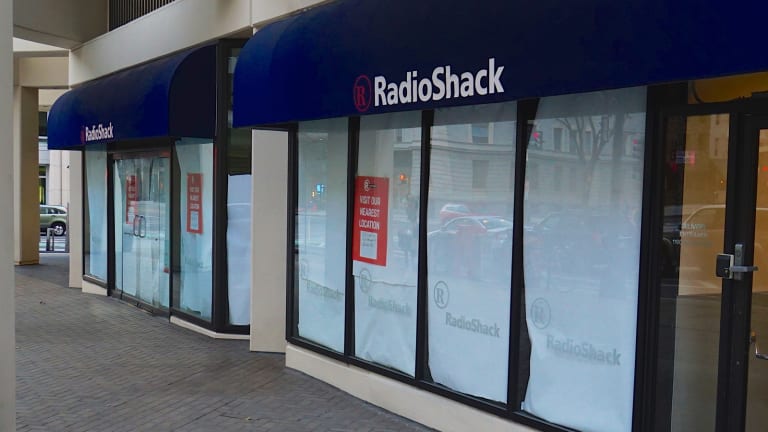 RadioShack Agrees to Protect AT&T, Verizon Customer Data
RadioShack is selling customer information to General Wireless but certain AT&T and Verizon data will now be excluded.
NEW YORK (The Deal) -- RadioShack (RSHCQ) has reached agreements with AT&T's (T) - Get AT&T Inc. Report AT&T Mobility, Verizon's  (VZ) - Get Verizon Communications Inc. Report Verizon Wireless and Standard General's General Wireless that will allow a sale of its intellectual property and customer information to move forward.
Judge Brendan Linehan Shannon of the U.S. Bankruptcy Court for the District of Delaware in Wilmington on Monday signed an interim order preventing RadioShack from selling, transferring or disclosing confidential customer or commercial information of Verizon and AT&T users.
The interim order will become final if the court receives no objections to it before noon on June 14.
The interim stipulation includes a 16-page AT&T document and a 29-page Verizon document that list stock keeping units, servers, databases and other information to be excluded from RadioShack's IP and customer information sale to General Wireless. The protocols include procedures for handling the information and descriptions of the process for destroying excluded information.
The stipulation calls for RadioShack to certify to the court that the settlement agreements with AT&T and Verizon have been completed with regards to their protected information. After certification with the court, the remaining customer information and IP not excluded from the sale shall be transferred to General Wireless pursuant to the asset purchase agreement and IP sale order, according to court papers.
RadioShack, General Wireless and 17 state attorneys general reached an agreement on a proposed sale of a subsection of the electronics retailer's customers' personal identifiable information during a May 14 mediation session, according to a notice filed on May 20.
RadioShack agreed on May 15 to sell its intellectual property, including trademarks, patents and certain contracts, to General Wireless for $26.2 million.
Under the mediation agreement, RadioShack can sell to General Wireless customer first and last names, mailing addresses and email addresses active in the two years prior to the petition date. Certain AT&T and Verizon customer and commercial information will be excluded under the new stipulation.
General Wireless will also be able to purchase seven fields of customer transaction data, including store number, ticket date and time, stock keeping unit number, stock keeping unit description, stock keeping unit selling price, tender type and tender amount.
RadioShack will not be able to sell email addresses active longer than two years before the petition date, customer telephone numbers, 14 customer transaction data fields previously marketed for sale and other customer data not listed in the mediation agreement.
The debtor will not sell any credit or debit card numbers. Social security numbers or other government identification numbers unique to customers, which were previously collected under wireless service contracts, were not maintained by the debtor and no longer exist.
Emails will be sent to email addresses providing opt out opportunities prior to being transferred to the buyer, giving people seven days to opt out. Emails of people who opt out will not be transferred or sold, and will instead be destroyed. Those emails that do not opt out will be sold and transferred to the buyer.
Postal addresses will receive a mailing offering a 30-day window to opt out. Addresses will be destroyed if customers opt out, and information will be retained if they don't. Undeliverable mail addresses will also be destroyed.
The buyer will be bound by RadioShack's privacy policy and may not sell or transfer customer personal identifiable information to third parties.
Shannon has set a June 25 hearing to consider the debtor's request to schedule a combined disclosure statement and confirmation hearing.
RadioShack struck a deal to sell five properties in Fort Worth and one in Woodland, Calif., to B.H. Management Inc.for $39.29 million, according to an unredacted May 18 asset purchase agreement filed June 4.
On May 20 Shannon approved bidding procedures for the sale of the debtor's real estate in Texas and California. The proposed purchaser would be entitled to a $785,800 breakup fee if it were not the successful bidder, according to court papers. The company filed the bid procedures motion May 5.
The order also sanctioned the sale process for a property in Hagerstown, Md. SK Realty Management is the lead bidder for that real estate with an offer of $11.4 million. The stalking horse would be entitled to a $114,000 breakup fee if it lost at auction. The sale of the six other properties is expected to close by June 26.
RadioShack filed for Chapter 11 on Feb. 5, days after it announced the receipt of a second default notice from Salus Capital Partners. Later that month the company sold the lease rights to 163 of its stores to GameStop (GME) - Get GameStop Corp. Class A Report subsidiary Spring Communications Holdings Inc. for $2.44 million.
RadioShack's counsel Gregory Gordon of Jones Day was not immediately available for comment on Wednesday.
Read more from: