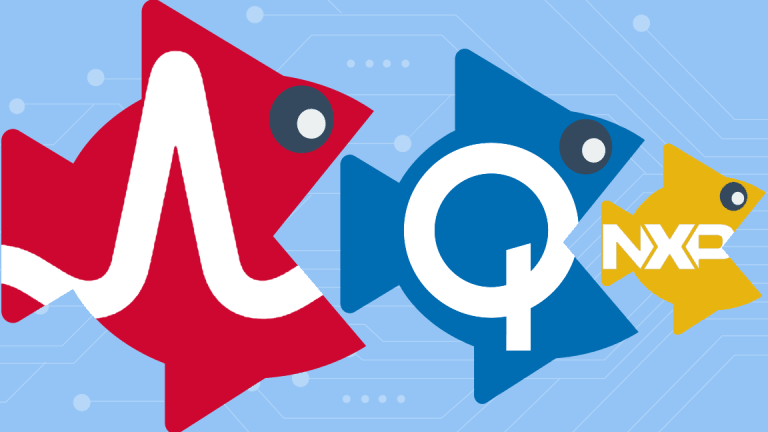 Qualcomm Vows NXP Shareholder Talks After Deal Approval
Elliott Management wants the chipmaker to pay more to acquire NXP, which it just may do as a defensive tactic against Broadcom's hostile $130 billion offer.
Facing a $130 billion hostile Broadcom (AVGO) bid, Qualcomm Inc. (QCOM) CEO Steve Mollenkopf on Thursday said that he is sure there will be "lots of discussions" about the price of the semiconductor company's pending $47 billion NXP Semiconductors NV (NXP) acquisition after the deal receives its final regulatory approval in the coming weeks.
"We're focused on getting our [NXP acquisition] through regulatory approval," Mollenkopf said in Washington at an Economic Club of Washington event. "We think it will close either this calendar year or early next year and then there will be some discussion about how to get it to close. We think the price is a full price, but I'm sure there will be lots of discussion about that."
Mollenkopf's push to complete the NXP purchase comes as Broadcom CEO Hock Tan on Dec. 4 escalates his effort to acquire Qualcomm via a board takeover.  Qualcomm rejected Broadcom's unsolicited bid, with some hedge fund managers suggesting to TheStreet that Tan would need to hike his unsolicited offer to as much as $80 a share to get it done.
Elliott Management's Paul Singer, who has a 6% NXP stake and recently launched a so-called bumpitrage campaign to push Qualcomm to pay a higher price for NXP is one of many issues facing Qualcomm's NXP buy. 
Mollenkopf acknowledged that he needs 80% of NXP shareholders to approve the Qualcomm acquisition. In an interview with TheStreet on the sidelines of the event, Mollenkopf generally said Qualcomm is focused on doing whatever is the right long-term strategy for the company's shareholders "with any of these transactions."
He added that discussions with shareholders about price "typically" occur after regulatory approvals are closed. He declined to comment as to whether Qualcomm believes its acquisition of NXP could act as a sort of poison pill on Broadcom's offer. Broadcom has said it will buy Qualcomm whether or not it closes the NXP deal.
Mollenkopf didn't dispute comments from Carlyle Group co-CEO David Rubenstein who suggested that Elliott Management wants Qualcomm to pay a higher price but that Broadcom is pushing to ensure that the price is lower because they don't want the deal to be too expensive since they are seeking to acquire the company as well. 
A person familiar with the situation noted that Broadcom officials have been meeting with NXP shareholders and urging them to sell shares and instead invest in Broadcom.
Mollenkopf also noted that there are  shareholders who want us "to do the right thing long term and we're listening very closely to them as well."
Nevertheless, Qualcomm will be highly incentivized to get the NXP deal done as a defensive tactic against the Broadcom attack. That could play right into the hands of Elliott Management because Mollenkopf and Qualcomm's board may be amenable to hike its bid for NXP just to wrap up the deal, creating additional complications for Broadcom's offer.
Mollenkopf said he first heard that Broadcom was going to pursue a hostile bid for Qualcomm through a leak "like everybody else." He acknowledged that Qualcomm and Broadcom had engaged in some discussions about a year earlier, but those broke off. "Like everyone in the [semiconductor] industry, we always had discussions to examine 'can we find shareholder value in some form of combination.' I would just caution everyone to understand the semiconductor industry is going through a period of consolidation, so everyone talks to everyone else all the time."
Wrapping up, Mollenkopf made an argument for opposing the Broadcom bid, arguing that Qualcomm is the best-positioned company to offer 5G, the next dominant digital wireless technology, which he claimed would present a wide variety of new opportunities, in automotive, self-driving cars, health and other sectors. He also insisted that the company's revenue may appear murky currently because of licensing disputes, including one with Apple (AAPL) , but that the situation will become more evident soon.
"There is no real path to value in terms that we see with offers in terms of an alternative," he said. "We are probably the best-positioned company for 5G and the connected world. We are sitting in a momentary spot where our revenue is difficult to model because of licensing disputes but those will get resolved and what you will see is a company that really is providing the fundamental technology at scale into the connected world when the connected world is disrupting almost every industry, and we have a track record of knowing how to do it."
More of What's Trending on TheStreet: