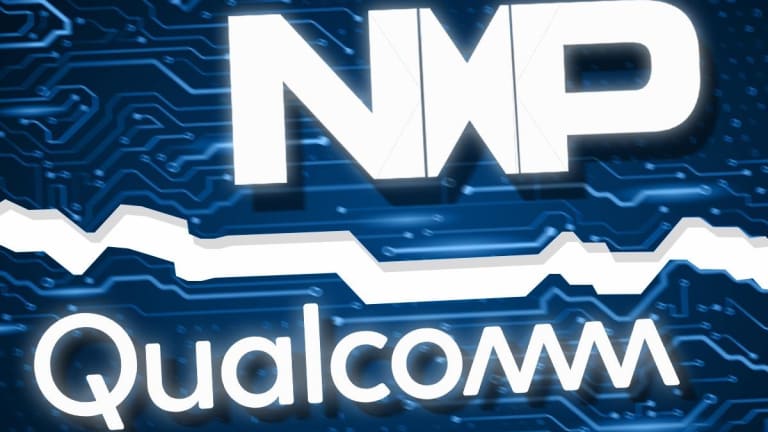 Qualcomm to Terminate NXP Deal
The merger parties have struggled to get merger approval from Beijing amid rising tensions with the Trump administration over trade.
Qualcomm Inc. (QCOM) CEO Steven Mollenkopf said the company will terminate its merger with NXP Semiconductors NV (NXPI) , after the market close Wednesday.
The San Diego chipmaker wrangled with Paul Singer's Elliott Management Corp. over the price for NXP and won approval from European Union antitrust boss Margrethe Vestager after a tougher-than-expected review. The San Diego chipmaker struggled to get approval from China's Ministry of Commerce amid rising tension with the Trump administration over trade policies, however.
Shares of NXP dropped 1.9% to $96.50 in after hours trading. Qualcomm had offered to buy the company for $127.50. Qualcomm dropped 0.6% to $58.50 in after-hours trading. 
Qualcomm agreed to purchase NXP in October 2015 for $110 per share, for a total equity value of $39 billion. The buyer hoped to lessen its reliance on the mobile phone market by acquiring NXP, which is strong in automotive, Internet of things and other markets.

Paul Singer's Elliott Management contested the deal, however. Qualcomm ultimately raised its offer to $127.50, or about $45 billion, in February. As part of the revised agreement, Elliott, Soroban Capital Partners LP. and other investors holding 28% of NXP's equity agreed to tender their shares.
Meanwhile, Hock Tan's Broadcom Corp. (AVGO) launched a hostile bid for Qualcomm as the companies sought regulatory approvals. President Trump blocked the deal in March at the recommendation of the Committee on Foreign Investment in the U.S.
While the MofCom review dragged on, the companies extended the deal's termination date from April 25 to July 25. Qualcomm's leadership previously acknowledged that they might not succeed. In the company's second-quarter call in April, CFO George Davis said the company's Plan B included a $20 billion to $30 billion stock buyback.