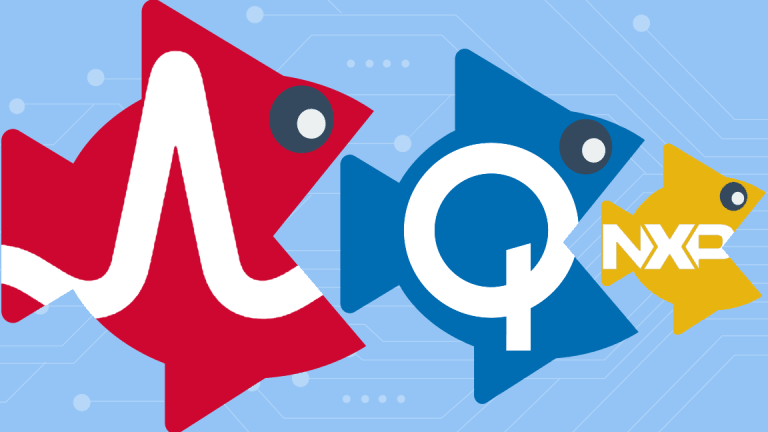 Qualcomm Battles Broadcom Bid as NXP Tie Hits New Snag
CEO Steve Mollenkopf and other Qualcomm executives attacked Broadcom's hostile offer as sheer opportunism that undervalues the company. Qualcomm's bid for NXP has its own detractors, as Ramius Advisors said it will reject the offer.
As Qualcomm Inc. (QCOM) - Get Report attacked a hostile bid from Broadcom (AVGO) - Get Report in a Tuesday investor web cast, an investor snubbed the mobile chipmaker's bid for NXP Semiconductors NV (NXPI) - Get Report . 
Qualcomm CEO Steve Mollenkopf called Broadcom's bid of $70 per share, or $130 billion including assumed debt, an opportunistic attempt to benefit from a royalty dispute from Apple Inc. (AAPL) - Get Report . The mobile chipmaker is poised to cash in on the development of 5g wireless service, he argued, and would be better off remaining independent.
Shares of Qualcomm gained 4.3% to $68.25 on Tuesday, while Broadcom was essentially flat at $263.25.
NXP, which Qualcomm agreed to buy for $110 per share in late 2016, declined about 0.2% to $119.40. NXP shareholder Ramius Advisors LLC came out against Qualcomm's bid, which Paul Singer's Elliott Management Corp. has also attacked. 
Broadcom CEO Hock Tan launched a hostile bid for Qualcomm on Nov. 6 with backing from Silver Lake. The offer comes to 10 times Qualcomm's projected 2019 earnings per share, Mollenkopf said, while the Philadelphia Semiconductor Index, or SOX, trades at 19 times and precedent transactions came to 22 times. 
The hostile bid also carries substantial regulatory risk, Mollenkopf suggested. If it could win approval at all, the Qualcomm executive said, Broadcom company would require at least 18 months to obtain clearance in the U.S., China, Europe, Japan, South Korea and other regimes.
Mollenkopf added that the Committee for Foreign Investment in the U.S., or CFIUS, could have concerns about Broadcom, which is domiciled in Singapore.
Just before announcing the bid for Qualcomm, Broadcom said it would change its domicile to the U.S., which Mollenkopf suggested was an opportunistic move. "It seems strange to us that they have not made any further progress on their commitment to become an American company," Mollenkopf said. 
Qualcomm is gearing up for a showdown at its March 6 shareholder meeting. Broadcom has proposed an entire slate of directors. Mollenkopf told investors that the directors are "handpicked friends of Silver Lake," that do not have experience running a major mobile technology company that is planning for a major industrial shift. 
The wireless industry is at an "inflection point" as self-driving cars, tele-medice, augmented reality and other advanced services emerge in the company years, the Qualcomm CEO said.
During the transition from 3g to 4g networks, management noted that Qualcomm's revenue more than doubled from $11 billion in 2010 to $25 billion in 2013.
The company projected even bigger opportunity with the launch of 5g networks. While the mobile technology market that Qualcomm targets came to $23 billion in 2015, the company said the revenue opportunity will grow to $150 billion in 2020 with advances in 5g, automotive technology, data centers and other segments.  Resolving an IP dispute with Apple and an unnamed licensee would provide $5 billion to $7 billion in "catch-up" royalties, Qualcomm said. 
The 5g opportunity will be sweeter if Qualcomm can close its $47 billion buyout of NXP, which is strong in automotive tech and the Internet of things. Qualcomm, which still needs approval from European regulators, recently extended its tender offer for NXP until Feb. 9--it's 13th extension. 
Shareholder Ramius said Tuesday that it will reject Qualcomm's bid for NXP. The fund is affiliated with Cowen Group Inc. (COWN) - Get Report , which holds about a 0.74% stake in NXP according to FactSet. Ramius spun out Staboard Value LP in 2011 and maintains an minority stake in the activist fund.
Management of Qualcomm tried to dampen expectations for a blockbuster offer for NXP on Tuesday. "We will not pay more value than makes sense for Qualcomm shareholders," CFO George Davis. If it could not close the deal, Davis said, Qualcomm would have enough financial flexibility to pay a large buyback that would provide "the same accretion to stockholders" as the NXP deal. Tax cuts would provide Qualcomm with more cash.
While Qualcomm has been adamant about the shortcomings about Broadcom's offer, Nomura Instinet analyst Romit Shah suggested that management has "deep concern about a possible takeover," in a note published prior to Tuesday's call. The company could raise the NXP bid from $110 to $120 per share, Shah suggested. 
Based on NXP's trading on Tuesday, the market seems to agree.  
Editor's note: This article was originally published by The Deal, a sister publication of TheStreet that offers sophisticated insight and analysis on all types of deals, from inception to integration. Click here for a free trial.
Broadcom, NXP and Apple are holdings in Jim Cramer's Action Alerts PLUS Charitable Trust Portfolio. Want to be alerted before Cramer buys or sells AVGO, NXPI or AAPL? Learn more now.