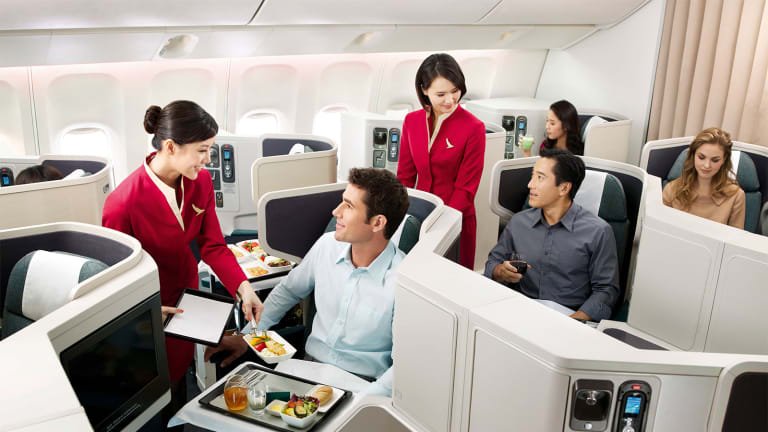 Qatar Airways Looks East with Cathay Pacific Deal After Missing Out on American
The Middle Eastern carrier will pay $660 million for a 9.6% stake just months after abandoning plans to buy a similar holding in American Airlines.
Qatar Airways Ltd. agreed to buy a 9.6% stake in Hong Kong-based Cathay Pacific Airways Ltd., turning its eyes east after failing to find a way into the American market through an investment in American Airlines Inc. (AAL) - Get Report
The Middle Eastern carrier will become Cathay's No.3 shareholder once it completes the acquisition of the equity owned by Kingboard Chemical Holdings Ltd, and associated companies, for HK$5.16 billion ($662 million).
The announcement of the deal had a chilling effect on Cathay Pacfic stock, which fell almost 5% in early trading in Hong Kong before regaining some ground to close at HK$12.98, down HK$0.22 or 1.7%. The acquisition makes a much-rumored merger of Cathay and Air China Ltd. less likely.
Qatar will pay HK$13.65 per share for its stake in Cathay, a 3.4% premium to Cathay's Friday closing price.
"Cathay Pacific is...one of the strongest airlines in the world, respected throughout the industry and with massive potential for the future," said Qatar's CEO Akbar Al Bakar in a statement. Cathay and Qatar are both members of the Oneworld alliance of carriers.
The deal comes just over three months after Qatar abandoned efforts to buy a 10% stake in American Airlines. Qatar had announced those plans in June, but met with resistance from American Airlines before seeming to cite the U.S. airline's second quarter results as a reason that it could no longer justify an investment.
How Qatar Airways Messed Up a Chance to Make a Deal With American Airlines
Buying a stake in Cathay Pacific will give Qatar a stake in air traffic into and out of China, which is expected to surpass the U.S. to become the world's largest airborne commercial aviation market within a decade. The deal also follows a difficult period for Cathay, which has seen shares fall from highs of over HK$20 in 2015, amid tougher competition from Chinese and Middle Eastern carriers on long haul routes and Asian low-cost operators for regional services.
The company, in August, reported a first-half loss of HK$2.05 billion, its worst six month figures in at least 20 years, and announced a major overhaul of operations, including job cuts and talks about pilot compensation. Despite those problems Cathay remains one of the most richly valued airlines with an Ebitda multiple of 9.5 times, almost twice that of local rival Singapore Airlines Ltd.
Qatar's acquisition is the latest in a spate of investment in Chinese airlines. In March, American paid HK$1.55 billion for a 2.68% stake in China Southern Airlines Co. Ltd. In 2015, Delta Air Lines Inc. (DAL) - Get Report snapped up a 3.55% stake in China Eastern Airlines Corp. Ltd. for around $450 million.
Jim Cramer is bullish on Delta Air Lines
Cathay's biggest shareholder is Hong Kong conglomerate Swire Pacific Ltd., which owns a 45% stake, followed by Air China, which has a 30%, combined with Cathay's recent struggles, had stoked rumors of a potential takeover of Cathay. Under that scenario Air China might have bought the stakes held by Kingboard and Swire, establishing a platform from which it could de-list Cathay.
Qatar's acquisition of an equity stake continues a strategy of underpinning commercial alliances with equity holdings. The Middle Eastern airline owns 20% of International Airlines Group SA (ICAGY) , the parent company of British Airways. It also owns 10% of South America's biggest carrier group Latam Airlines Group SA (LFL) . Both of those companies also operate as part of the Oneworld alliance.
More of What's Trending on TheStreet: