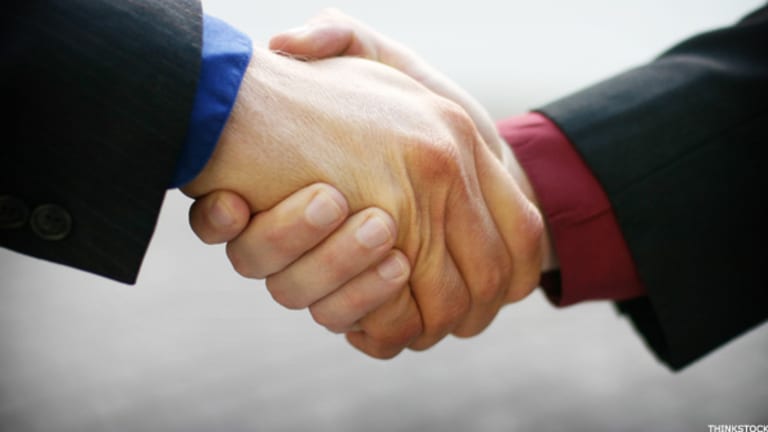 Publish date:
Publicis Strikes $3.7 Billion Takeover Deal for Sapient
The acquisition would boost the French advertising group's earnings from digital operations to more than half of the total.
The acquisition would boost the French advertising group's earnings from digital operations to more than half of the total.
Leading French advertising agency Publicis Groupe SA has agreed to pay $3.7 billion for Sapient Corp. (SAPE) , returning to the U.S. to boost its presence in the fast-growing digital and interactive advertising market months after failing to tie up a deal with Omnicom Group Inc.
Publicis said on Monday, Nov. 3, that it will offer $25 per share for Boston, Mass.-based Sapient, a 44% premium to the target's Friday closing price.
"Sapient is a crown jewel, a one of a kind company born in the technology space with strengths in marketing, communications, consulting and omni-channel commerce, all of which are equally important to best help clients achieve " said Publicis Chairman and CEO Maurice Lévy in a statement, adding that Sapient will give it access to new markets and revenue streams.
Buying Sapient will add €1.1 billion of revenue to Publicis' existing sales of €6.96 billion and boost Ebitda by €137 million, or 11%, the Paris-based company said. Sapient's sales grew just over 14% in the past twelve months compared with a revenue increase of 1.2% for Publicis. The acquisition will boost Publicis' total earnings from digital advertising and commerce to over 50% of the total by next year, three years ahead of a plan to hit that target.
The agreed bid arrives six months after the collapse of Publicis' $36 billion merger with Omnicom Group Inc. to create the world's largest advertising agency. That deal fell apart because of clashing corporate cultures and Publicis' perception that Omnicom saw the merger as a takeover rather than a combination of equals.
Nasdaq-listed Sapient provides digital marketing and commerce services and consulting to clients through three units: SapientNitro, Sapient Global Markets and Sapient Government Services. It makes about 63% of its sales in the U.S.
Sapient had not held talks with other potential buyers and had been in talks with Publicis "over a very long time," Sapient CEO and Co-Chairman Alan J. Herrick said on a call on Monday morning. "The opportunity to do something that will fundamentally change and grow our offer to clients while delivering a great opportunity to our investors is very exciting."
Herrick will become the CEO of the new Publicis.Sapient, which will house both Sapient's operations and Publicis's existing digital units Digitas LBi, Razorfish and Rosetta.
Publicis' bid values Sapient's equity at about 21 times trailing-year Ebitda. That multiple will fall to about 14.1 times Ebitda once expected cost savings and synergies from the deal are included, according to Publicis.
The companies said they expect to deliver about €50 million a year of cost savings as a result of the acquisition, with much of that coming from combining product development and the elimination of duplicate public company costs. The deal will also generate additional sales by strengthening Sapient's presence in Asia and Latin America, where it has struggled to gain traction.
"We are sub-scale in Asia and that was hitting our bottom line," said Herrick.
Publicis will finance the deal using cash at hand and debt, which has already been arranged with Citigroup Inc. The French company said it did not expect the deal to alter its BBB+/Baa2 rating.
Publicis' offer is dependent on it winning the support of at least 50% of Sapient shareholders. Sapient's two co-founders and Herrick have committed to tender to the offer their combined 18% stake in the business. The deal has a breakup fee of $125 million and is scheduled to close in the first quarter of 2015.
Bank of America Merrill Lynch and Rothschild are providing financial advice to Publicis on the deal. Publicis is taking legal advice from a Wachtell, Lipton, Rosen & Katz team including partners Martin Lipton, Adam O. Emmerich, Ilene Knable Gotts, Michael J. Segal, David E. Khan, Joshua A. Feltman and Deborah L. Paul.
Both Rothschild and Wachtell, Lipton, Rosen & Katz advised Publicis on its failed merger with Omnicom.
Sapient is taking financial advice from Goldman, Sachs & Co. and Blackstone Group LP. A Cravath, Swaine & Moore LLP team including Faiza J. Saeed, Eric L. Schiele and Eric W. Hilfers is providing legal counsel. is providing legal counsel.
Shares in Publicis traded Monday morning at €52.32, down €2.95, or 5.3%, on their Friday close. Sapient shares traded in the pre-market at an all-time high of $24.45, up $7.13, or 41%.