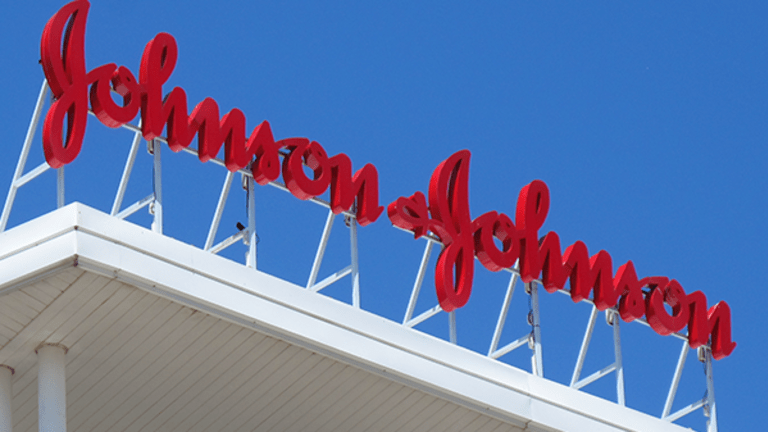 Protagonist Therapeutics Inks License Pact With Johnson & Johnson's Janssen
The license and collaboration deal for Protagonist's PTG-200 is worth up to to $990M plus royalties.
Shares of Protagonist Therapeutics Inc. (PTGX) soared on Tuesday after the biopharmaceutical company signed a license and collaboration pact with Janssen Biotech Inc. in a deal worth up to $990 million plus royalties.
Protagonist and Janssen, which is part of Johnson & Johnson's (JNJ) Janssen Pharmaceutical Cos., agreed to co-develop and commercialize PTG-200, Protagonist's oral interleukin-23 receptor antagonist drug candidate which is being developed for the treatment of Crohn's disease and ulcerative colitis.
Shares of Protagonist were up 43.80% Tuesday, closing up $3.60 to $11.82. Johnson & Johnson shares closed at $127.11, up 19 cents.
Newark, Calif.-based Protagonist had serious discussions with multiples parties regarding PTG-200 starting around seven to nine months ago, said Protagonist president and CEO Dinesh V. Patel in a phone interview on Tuesday.
Protagonist and Johnson & Johnson are no strangers. The healthcare giant's venture capital arm, Johnson & Johnson Innovation - JJDC Inc., led a Series B financing round in Protagonist in 2013 and participated in a Series C financing in 2015.
Protagonist conducted an initial public offering in August of last year, pricing its shares at $12 apiece.
"We look forward to building upon our relationship with Protagonist through this agreement and to strengthening our leadership in inflammatory bowel disease with the addition of PTG-200 to our robust immunology portfolio," said Janssen spokesman Brian Kenney in an e-mail on Tuesday.
JJDC continues to be a Protagonist Therapeutics shareholder, Kenney said.
Terms of the license and collaboration agreement call for Janssen to make an upfront payment of $50 million to Protagonist. Janssen will pay an additional $125 million if it decides to maintain its license rights and continue development of PTG-200 after the planned phase 2A portion of the phase 2 study concludes, according to an 8-K filing. Janssen will make a further payment of $200 million if it chooses to maintain its license rights after the planned phase 2B portion of study is finished.
Protagonist could receive additional potential regulatory and sales milestone payments of up to $615 million plus double-digit tiered royalties on net sales. Protagonist will have the right to co-market PTG-200 in the U.S.
PTG-200 is expected to enter phase 1 clinical testing in the second half of the year, according to the news release.
The transaction with Janssen is expected to close in the third quarter.
"The funding provided by this transaction enables us to advance our platform and clinical pipeline of innovative peptide drugs, including our lead oral peptide alpha-4-beta-7 integrin antagonist, PTG-100, which is currently in a Phase 2b clinical trial as a potential treatment for ulcerative colitis," Protagonis' Patel said in the announcement.
Cooley LLP's Barbara Kosacz, Marjorie Wagman, Kristy Brady, Tanisha James, Josh Seidenfeld, Stephanie Gentile, Aaron Pomeroy and Kenn Guernsey provided Protagonist with legal counsel on the transaction.