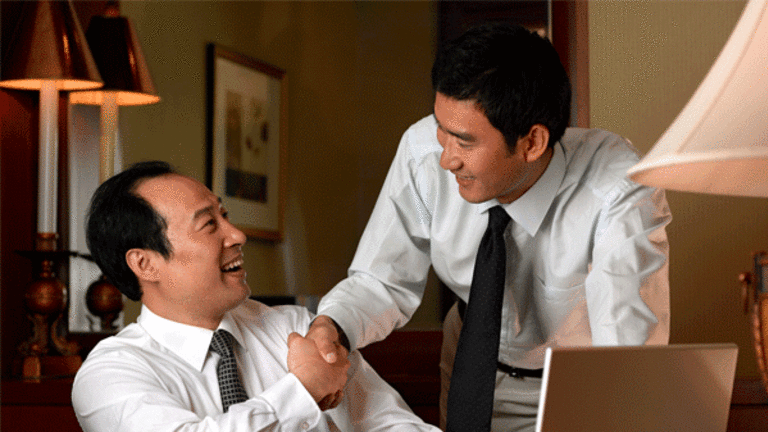 Progress Energy Mega-Utility Deal Could Still Go Dark
Progress Energy's falling earnings and a possible FERC rejection of its merger with Duke Energy remain risks.
Progress Energy's falling earnings and a possible FERC rejection of its merger with Duke Energy remain risks.
NEW YORK (
) --
Progress Energy
(PGN)
shareholders are in the dark, at least for the moment, when it comes to the utility's proposed $13.7 billion mega-merger with
Duke Energy
(DUK) - Get Report
.
Warmer than expected weather has hit utility earnings, and key regulatory approvals remain for the deal with Duke to close, in spite of progress.
Progress Energy investors should remain cautious. The value of the all-stock deal increased with Duke Energy's over 20% stock gain in 2011.
Amid falling earnings for both North Carolina-based utilities, management commentary and recent media reports still signal confidence that the merger will close ahead of a July 2012 termination date, with state regulatory approvals imminent. However, an approval by the
Federal Energy Regulatory Commission
, a roadblock that pushed the deal closure into 2012, remains a key risk, and for Progress Energy, there's still prospect its shares could fall if the utilities mega deal is cut off by the federal government.
On Thursday,
Bloomberg
reported that Duke Energy has reached a key "agreement in principle" with the North Carolina Utilities Commission on the merger, mirroring recent comments by Progress Energy CEO Bill Johnson, who said that the approval would come "pretty soon." Potential approval by North Carolina regulators would remove one of the biggest lingering risks to the deal.
"Progress Energy's confidence in finding a deal with the states is clearly tightening the spread to Duke Energy and will be an important step in building confidence that the deal will close," wrote Credit Suisse analyst Dan Eggers, in a Friday note to clients. "We appreciate the appeal of capturing the
arbitrage spread to Duke Energy but given FERC's actions so far we are still more cautious considering the downside risk if the deal were to fail based on the significant premium
price-to-earnings multiple for Progress Energy shares today."
Both companies have told investors they are working to close the merger by July 1, but nearly a year and a half has passed since the deal was first announced in January 2011 when Duke Energy first offered $13.7 billion in an all-stock deal for Progress Energy, a tie-up that would create a regional utility behemoth in the Carolinas, serving 7.1 million customers in Southeastern states. The prospective May agreement with North Carolina regulators would offer $650 million in customer savings and an assurance that energy users won't bear regulatory costs from the deal,
Bloomberg
reported.
In first quarter earnings, Raleigh, N.C.-based Progress Energy's revenue fell over 3% to $2.1 billion, while its net income fell nearly 20% to $150 million, or 51 cents a share, on falling energy prices during the unusually warm winter weather. Those earnings missed expectations.
Duke Energy, based in Charlotte, N.C., saw its first quarter profit drop 42% on mild weather and regulatory costs related to an Indiana state settlement. Its net income fell to $295 million, or 22 cents a share, from $511 million, or 38 cents, in the first quarter of 2011. Excluding one-time items like the settlement, Duke's earnings beat EPS forecasts, according to data compiled by
Bloomberg
.
In December, FERC blocked the merger on grounds that the tie-up would be harmful to energy market competition in North and South Carolina.
After Duke and Progress Energy proposed an 8-year power selling agreement to mitigate concentration issues in the Carolinas in October, FERC rejected the plan, calling it "flawed" and leaving key anti-competitive pricing threats unaddressed. However, the rejection of the proposal was not an outright veto of the merger.
Duke and Progress remained committed to the merger. "The companies are planning to submit a revised mitigation proposal as soon as the analysis of the commission's order is complete," said Duke and Progress in response to the FERC order. In a filing this year, Progress CEO Bill Johnson said he expects the merger to close in June 2012, pending regulatory approvals, a sentiment he mirrored on the company's first quarter analyst call.
The companies are in the process of resubmitting divestiture plans and hope to have it accepted ahead of a July 8 termination date for the deal.
Previous to the December FERC stoppage, the merger had received approvals from the
U.S. Department of Justice
, the
U.S. Nuclear Regulatory Commission
and the
Federal Communications Commission
, among other approvals, which also include the shareholders of both companies.
Divestitures are a key to utilities mergers that create regional powerhouses. In December, the DoJ and other regulators
between
Constellation Energy
( CEG) and
Exelon
(EXC) - Get Report
that would create a mid-Atlantic energy titan. In March, FERC approved the merger, in the final regulatory approval needed for the deal to close, pending the agreed divestitures of three power plants.
Currently, analysts give Progress Energy shares a $52.73 price target. There are no buy recommendations, 17 holds and two sells, according to
Bloomberg
data. Analysts polled by
Bloomberg
give Duke Energy shares a $21.85 price target with one buy rating, 18 holds and a sell.
For more on utility stocks, see
TheStreet's
portfolio of
the highest yielding utility stocks
.
-- Written by Antoine Gara in New York