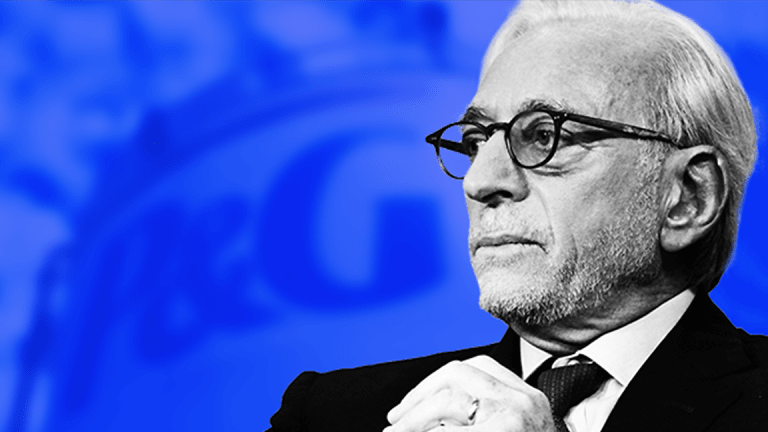 P&G Preps for Nelson Peltz Invasion
The packaged goods giant beat expectations for earnings per share, met key forecasts for organic revenue growth, made its pay packages more shareholder friendly and hiked its share re-purchase program significantly for the rest of fiscal 2018.
Procter & Gamble Co. (PG)  beat expectations for earnings per share, met key forecasts for organic revenue growth, adjusted its C-Suite pay packages and hiked its share re-purchase program significantly for the rest of fiscal 2018.
In short, the iconic packaged goods company did what it needed to do in the second quarter as it moves to welcome activist investor Nelson Peltz to its board March 1. P&G agreed last month to add Peltz to an expanded 13-person board in a settlement that brought to a conclusion a nearly year-long bruising boardroom battle pitting the activist fund manager against CEO David Taylor. Roughly half of the shares voted backed the insurgent investor for the position.
Specifically, Procter & Gamble earned $1.19 a share on an adjusted basis in its fiscal second quarter, topping expectation of $1.14 a share for the quarter. It also said it expects fiscal 2018 adjusted per-share earnings growth of 5% to 8%, above prior projections of 5% to 7%.
The company reported organic sales growth of more than 2%, driven by a hike in the volume of sales, meeting consensus expectations. Analysts contend that the metric, which focuses on core operations, not M&A or foreign exchange, is the most crucial number for investors and it is a number that Peltz will be watching.
Also, activists like Peltz typically pressure companies, privately or publicly, with cash on balance sheets to buy back stock or issue dividends. P&G on Tuesday took steps that will meet distribution expectations Peltz might have by saying it expected to repurchase between $6 billion to $8 billion in shares for the fiscal year, up from its previous expectation of $4 billion to $7 billion.
For more coverage like this, sign up for the Activist Daily.
Overall the packaged goods company plans to return between $13.5 billion and $15.5 billion in value to shareholders for the fiscal year, including dividends. P&G CFO Jon Moeller said the improvement was driven partly by steady operating cash flow, working capital progress and a cash benefit enabled by historic tax overhaul legislation approved in Washington last month. (P&G said it would get a net earnings benefit of $135 million from the tax statute for the December quarter and that benefit will double to $300 million in fiscal 2019 and double again to about $600 million per year after that). 
P&G also appeared to move forward in other key areas put under Peltz's spotlight. Peltz's team have complained that significant acquisitions in the past have done poorly because the company wasn't focused on competition. P&G's Gillette, for example, which it acquired in 2005, has had difficulty competing with Harry's and Dollar Shave Club in recent years.
More of What's Trending on TheStreet:
P&G responded to the spike in competition by implementing a 12% price reduction on average for Gillette items, including razors, which took effect April 1. Moeller said Tuesday that the cost-cutting strategy was working, adding that the volume response to the price cut has been "significant." Overall, the grooming segment was down 3%, which wasn't as bad as the consensus estimate expectation of down 5%.
Nevertheless, Moeller suggested that its volume growth in the category has been in the mid-to-high-single digits and that P&G is growing its volume share, on track for the category. Also, P&G also brought some new items to market, adding that retailer uptake on those items has been "encouraging."  "The intervention plan is working really well," Moeller told analysts.
Also, Peltz, once on the board, will likely seek to have a say on the executive compensation packages of top executives, including Moeller and Taylor. A key question will be whether Peltz is seeking to join P&G's compensation subcommittee, and if so, whether he is permitted to join. 
Likely in response to Peltz's contest, P&G announced that its board compensation subcommittee was adjusting its performance stock program "based in part on shareholder input" to include a relative sales growth metric and a total shareholder return component. The goal, Moeller said, was to tie bonuses more closely to the results individuals deliver. Activist investors often seek to tie pay packages to total shareholder returns so expect Peltz to be pleased. Peltz declined to comment.
Also, Peltz had been seeking a wholesale re-evaluation of P&G's R&D strategy, something that Taylor has suggested would be "very dangerous" and result in the complete elimination of the R&D department.
Also, P&G appears to have made some serious headway in R&D-driven innovation in recent months, particularly in the beauty business division, which had a strong quarter. Moeller discussed P&G's Olay cell science, its super peptide formula, which he said delivered "visible skin transformation in 28 days."
Also, Peltz's team has urged P&G to focus more on acquiring small brands or developing new brands in an attempt, partly, to improve market share among millennials that don't want the big global brands. P&G took a step in that direction in November by acquiring Native, a San Francisco-based premium natural deodorant brand, for $100 million in cash. Moeller added that 13 of P&G's leading brands were market share leaders among millennial customers, including Always, Bounty, Cascade, Olay, and others. He added that e-commerce sales growth is up 40%, with a goal of building e-commerce sales to nearly $4.5 billion.