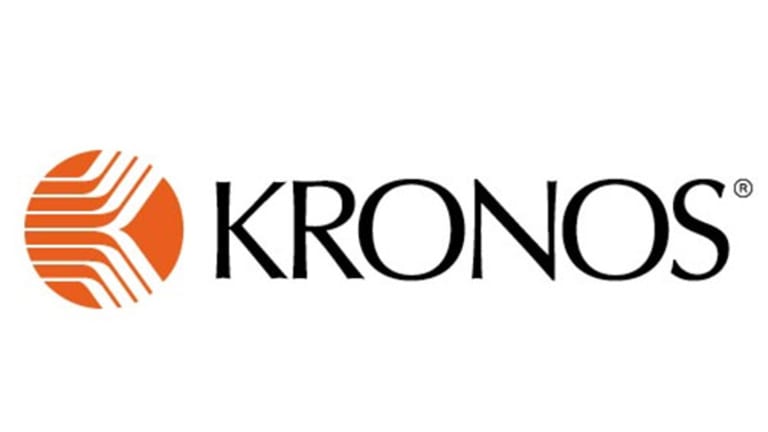 Private Equity Owners Not Ready to Punch Out of Kronos
Kronos private equity owners are holding onto the cloud HR specialist seven years after its $1.8 billion leveraged buyout.
NEW YORK (TheStreet) - Private equity firms Hellman & Friedman and JMI Equity aren't ready to punch out of Kronos Incorporated, a fast-growing cloud HR specialist that patented the first microprocessor-based time clock to record employee hours in 1979. Instead of selling the company, the PE firms announced on Thursday that they had agreed to a recapitalization of the company through a $750 million equity investment by Blackstone Group (BX) - Get Blackstone Group Inc. Class A Report and Singaporean sovereign wealth fund GIC.
The minority equity investment by Blackstone and GIC will allow Hellman & Friedman and JMI to maintain a controlling interest in Kronos as it pushes towards $1 billion in annual revenue and continues to see growth in its cloud-based human resources solutions. The move also indicates that Hellman & Friedman and JMI Equity are targeting additional gains from Kronos, after both PE firms bought the company in a $1.8 billion leveraged buyout in 2007.
Inclusive of Thursday's deal valuation and an expected $450 million special dividend paid by Kronos to its investors, Hellman & Friedman and JMI Equity have made over five times their initial equity investment. After Kronos's new equity investment and its expected special dividend, the company is expected to have over $2.7 billion in debt and an equity value of around $1.8 billion. Blackstone and GIC will hold about 42% stake in the company, while Hellman & Friedman and JMI Equity will control Kronos's remaining equity.
Chelmsford, Mass.-based Kronos, during its time in private equity hands, has effectuated a shift in its business towards cloud-based solutions. That transformation is driving top-line growth at Kronos and strong operating margins for the company at a time when business software giants such as Oracle (ORCL) - Get Oracle Corporation Report, IBM (IBM) - Get International Business Machines (IBM) Report and Hewlett-Packard (HPQ) - Get HP Inc. (HPQ) Report struggle to transition their business towards cloud solutions.
Revenues have increased 45%and earnings before interest, tax, depreciation, and amortization (EBITDA) increased 114% during Kronos time in private hands.
Kronos CEO Aron Ain said in a Thursday interview with TheStreet that the company is now able to offer its HR services on the premises of its clients or through its Kronos Cloud because it had broken its offering into components such as license and subscription, or hosted and un-hosted offerings. That flexibility has allowed Kronos to retain customers as they move toward the cloud, and it has helped the company pick up market share from vertically integrated players like Oracle, Ain said.
Partnerships with SAP-owned SuccessFactors and ADP (ADP) - Get Automatic Data Processing, Inc. Report have also provided a boost for Kronos, Ain added.
Ain joined Kronos more than 30 years ago when the company was pioneering computer-based time clocks to record employee hours, innovating a specialty business that had been invented by IBM in the early 1900s. Kronos was founded by Mark S. Ain, a graduate of Massachusetts Institute of Technology and was incorporated in 1977. Mark turned over the CEO role the company over to his brother Aron Ain in 2005 and remains chairman of the company.
Now, Kronos is targeting $1 billion in annual revenue as it works to grow its cloud business. Ain said product bookings are growing at between 15%-to-25% year-over-year, and that 50% of Kronos's new business is coming from its cloud offering. In first quarter earnings released earlier in February, Kronos said its workforce management cloud revenue increased 137%. 
Kronos offers ways to organize and manage hourly workers, and counts the federal, state and local government, big box retailers, hospitals and energy companies as its biggest customers. The company's services span time & attendance systems, to hiring, payroll and scheduling.
A recent profile by the New York Times Magazine's Adam Davidson explains how some of Kronos's biggest customers such as Ikea use the company's software and cloud offerings.
Using Kronos software, Ikea can plan its staffing for surges in foot traffic, online order fulfillment and the like. Ain told TheStreet those capabilities could allow big box retailers to nimbly adjust their staffing if online orders or foot-traffic surges during holiday seasons. Kronos's services now extend all the way to hiring and staffing.
The company has also had to adjust, in recent years, to conditions in the U.S. economy. Government shutdowns, a re-shaped healthcare system, recovering automotive markets and a booming energy sector have presented challenges and opportunities for the company.
Private equity investors appear increasingly interested in investing in Kronos. The company, when it was put up for sale, had multiple acquisition offers. Nevertheless, Hellman & Friedman and JMI Equity opted for a minority investment. After the investment by Blackstone and GIC, Kronos appears poised to continue returning cash to its owners through special dividends.
The company has already paid out about $1.5 billion in special dividends to its initial private equity investors. Hellman & Friedman and JMI Equity made a roughly $700 million equity investment in Kronos when buying the company in 2007.
Following a dividend recapitalization late last year, Kronos pushed its debt north of 7.3 times EBITDA, only to see those leverage ratios quickly fall because of the company's high operating cash flow. After last year's dividend recap, ratings agency Moody's forecast Kronos' total debt-to-EBITDA would decline to about six times by the end of 2014, driven by revenue growth in the mid-single digit ranges, and free cash flow of about 4% to 5% of total debt over 12-to-18 months.
Now, in a new $450 million dividend recap, Kronos would likely push its debt to about eight times EBITDA. Kronos revenue for the quarter increased 9% to $243.4 million, while earnings before interest, tax, depreciation, and amortization (EBITDA) increased 18% to $78.7 million. For private equity investors, Kronos appears to represent a strong formula of growth and high cash flow generation that can absorb high leverage.
Eventually, the company may return to public stock markets. "There is a possibility Kronos could be a public company," Ain said.