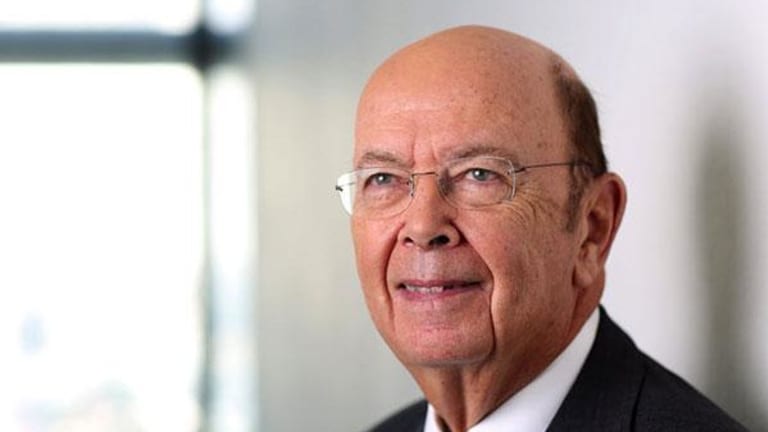 Private Equity Billionaire Wilbur L. Ross: Man 'Over Board'?
The W.L. Ross chairman is a director at 17 companies, committees and clubs. Governance experts suggest that he is spread too thin.
The W.L. Ross chairman is a director at 17 companies, committees and clubs. Governance experts suggest that he is spread too thin.
NEW YORK ( The Deal) -- Late last year private equity billionaire Wilbur L. Ross Jr. -- best known for restructuring failed companies in the steel industry and other sectors -- was elected as vice chairman of the Bank of Cypress.
Ross joined a newly constituted board to help the embattled institution complete a turnaround after Cypress was rocked by a Greek debt crisis. His buyout shop, WL Ross & Co. LLC, owns a 19% stake.
In a statement, Ross noted at the time that due to "new European rules" limiting directorships of bank officers that he was resigning from the boards of several other companies including Assured Guaranty, International Automotive Components Group, International Textile Group (ITXN) , Navigator Holdings (NVGS) - Get Report, Talmer Bancorp  (TLMR) and embattled mortgage debt collector Ocwen Financial  (OCN) - Get Report. 
However, according to a compilation of data by Deal affiliate BoardEx, Ross still sits on at least five public company boards: ArcelorMittal (MT) - Get Report, the world largest steel company, the Bank of Cypress, Exco Resources  (XCO) , Sun National Bank (SNBC) and a special purpose acquisition company, or SPAC, for WL Ross Holding (WLRHU)

At the same time he is executive director or supervisory director at privately held DiamondShipping, a tanker company where WL Ross is a major stakeholder and he holds the non-executive chairman position. 

On top of that, Ross is a member of the investment committee for Asia-focused activist investor The Taiyo Fund LP, a joint venture between WL Ross, the California Public Employees' Retirement System and a team investing in Japan. He also is a trustee at the Brookings Institution, a Washington think tank, the Palm Beach Civic Association, and the board of the Yale School of Management, where he studied, as well as several other other non-profits. In all, BoardEx reports that Ross serves roughly 17 boards, committees and clubs, a number that is substantial though significantly down from a few years ago.
That's still too many, according to governance experts and restructuring specialists. Kurt S. Schulzke, director of law ethics and regulation at the Kennesaw State University Corporate Governance Center, said there is no question that Ross is over-boarded. "There is plenty of data out there to support the notion that for a top executive to sit on more than two or three boards is excessive," Schulzke said. "There is no way one can absorb, synthesize and analyze the company when you are sitting on so many boards."  
Ross defends his directorships, telling The Deal that all the for-profit boards he sits on represent present or former portfolio companies. He added that participating on boards and influencing the direction of companies is an important component of the business model for WL Ross & Co., the private equity firm he founded in 2000. "In some particularly active situations I might be on the phone or in physical meetings with management several times a week," Ross told The Deal. "We also interact informally with managements between meetings."
Invesco (IVZ) - Get Report, a money manager based in Atlanta acquired WL Ross in 2006. Ross stepped down from day-to-day management of WL Ross & Co. last year and is currently chairman and Chief Strategy Officer, clearly still a top position at the firm. The buyout shop has two senior managing directors that are co-leaders of the firm , which no longer employs the CEO title.
"Now that I am less involved in the day to day affairs of the [WL Ross] business I have even more time available," Ross said.
Ross suggested that there is a big difference between a top executive of a public company sitting on a number of other boards and his situation, where WL Ross owns stakes in public and private companies. "We are major stakeholders in companies and are active, not passive managers," Ross said. "An executive from a non-private equity firm would not have as much time to devote to boards as I do because for such a person an outside directorship is just a side line."
Being on multiple boards, Ross added, exposes individuals to a wide range of management practices and relationships between board and management. "You can perhaps imagine the breadth of experience that serving on so many and such diverse boards enables me to bring to portfolio companies," he said.
However, governance experts said they don't buy that "richer knowledge base" justification for multiple board seats. Schulzke acknowledges that many individuals who have multiple directorships make the argument that being a director at so many companies allows them to work from a broader grasp of the markets and corporations in general. He argues that the individual still has to physically spend the time to understand and provide adequate oversight to each of the companies. "Unless you have a deal with Dr. Who to let you travel back in time it is a mystery to me how someone can serve on five or six or seven public company boards and do their job effectively," Schulzke said.

Charles Elson, chief of the University of Delaware's Center for Corporate Governance, suggests that a director of a public company board should be able to devote over 220 hours a year to each board "and maybe more if the company is in trouble."
The National Association of Corporate Directors recently revealed in its 2014-2015 annual survey of directors that board time commitment is on the rise. Adding a new category of "informal meetings/conversations with management," the NACD said that respondents said they spent an average of 278 hours annually in commitments to a particular board, up from last year's 236 hours.
Elson added that sitting on so many boards -- public and private -- potentially exposes the individual to liability. "If there is an action against you and the court reviews the number of boards you are on you would be hard pressed to say you were giving adequate attention to that particular board," Elson said.
Nevertheless, many observers acknowledge that there are legitimate reasons why public, private and non-profit boards would want to have Ross involved. At WL Ross & Co., Ross has assisted in restructuring more than $200 billion of corporate liabilities in the U.S. and abroad. He was involved in some of the largest bankruptcies and out-of-court restructurings and even received the nickname "The King of Bankruptcy." His success, they say, makes him coveted by boards and companies, for his financial expertise, advice and connections.
Schulzke added that there is evidence to support the notion that a director -- particularly a high-profile one -- who serves on multiple boards can bring connections and additional expertise to each firm's board. He added that a celebrity director like Ross is likely useful in attracting other talented directors. "If someone calls you up and says I've got Bill Gates on my board do you want to join as well you will say, 'yes, I would love to be on a board with Bill Gates,'" Schulzke said.
However, investors should question whether they are getting Ross's connections or oversight. "Am I getting Wilbur's brain, expertise and strategic insight?" Schulzke asked. "There is no physical way you can deliver strategic oversight to all those companies."
Ross stepped down from a short stint on the board of Ocwen in November, as part of his deal to obtain the vice chairman position on the Bank of Cypress. That move came shortly before the company agreed in December to pay $150 million in penalties and compensation to homeowners for improper foreclosures as part of a settlement with New York's main financial regulator. A person familiar with Ross said that he was "actively engaged" on the board of Ocwen during his short tenure on the board. In 2012, Ocwen acquired Dallas mortgage lender Homeward Residential from WL Ross & Co. for $750 million.
When it comes to his non-profit seats, Ross argued that it is the responsibility of successful business people to give back to their communities and participating on non-profit boards is one way to do that. He added that these directorships also bring with them access to scholars and other senior business people and an opportunity to share views with them and that a number of these boards only meet once or twice a year. "This provides a broader perspective than we could develop just within our office," Ross said.
Of course, there are a lot of ways to "give back." For example, Ross acknowledges that he agreed to sit on the board of trustees at the Museum of American Finance on Wall Street in New York "solely so that they could use my name for fundraising" and to give them some "initial credibility." According to BoardEx, he joined the museum's board in 2000 and stepped down last year. "They knew that I had no intention of participating in the actual board meetings but that I would give a speech or two if they wanted and when some big deal was going there for an opening or some such thing, I would try to fit it into my schedule," Ross said. "Eventually, it seemed to me they had outgrown the need for my brand name so I went off."
Elson acknowledged that directors on the boards of private entities generally have fewer responsibilities and obligations than those on their public corporation counterparts. However, he added that those companies still require a great deal of oversight. "If you are on the boards of a number of private companies it makes it more difficult to be on the board of many public companies," he said. "You can't add hours to the day and you can't serve your responsibilities effectively if you are on too many boards."
For Ross, though, having a stake in each company's outcome makes all the difference. 
Read more from: