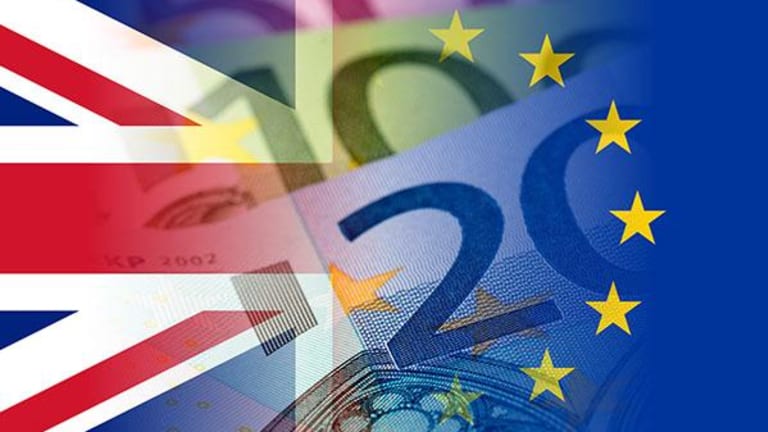 Priceline, Expedia, TripAdvisor Hope for End of Bitter Brexit Holiday
Online travel stocks recover a sliver of their post-referendum losses.
Online travel stocks recover a sliver of their post-referendum losses.
Updated with a comment from Expedia. 
Online travel stocks caught a break on Tuesday, as shares recovered a sliver of their losses after concerns that the "Brexit" vote signaled a long, painful holiday for companies with exposure to the U.K. and Europe travel markets.
Expedia (EXPE) - Get Report , Priceline (PCLN) , TripAdvisor (TRIP) - Get Report and Sabre (SABR) - Get Report gained on Tuesday, but have not recovered losses following the vote.
Priceline is the largest of the group, with a nearly $60 billion market cap, and has the greatest exposure to the U.K. and Europe. Shares gained $18.20, or 1.5%, to $1,204.25 on Tuesday, but are still well below the pre-Brexit close of $1,390.20 on June 23.
Morningstar analyst Dan Wasiolek said that about 55% of total bookings are from Europe and 15% from the U.K. Recent acquisitions, such as the $1.8 billion purchase of travel site Kayak Software in 2012 and the $2.6 billion acquisition of reservation site OpenTable Inc., likely "there were, and probably still are, more of a U.S.-centric mix," Wasiolek said. "They certainly wouldn't increase their exposure to Europe."
Expedia, which Wasiolek said has 30% of exposure to Europe and 8% to the U.K., has boosted its European exposure through the deals, such as a $632 million purchase of a nearly 62% stake in German travel site Trivago in late 2012.
Shares of Expedia gained $2.75, or nearly 2.8%, on Tuesday to $101.19, but still have not recovered from their level of $109.90 before the U.K. voted to leave the European Union.
"The UK is a popular travel destination for Americans today, and we expect this to continue irrespective of the UK's EU membership," an Expedia spokesperson said.
UBS Internet and interactive entertainment analyst Eric Sheridan noted that TripAdvisor obtained 21% of 2015 revenue from Europe in 2015, with 14% coming from London. On Tuesday, TripAdvisor rose $1.12, or nearly 1.9%, to $61.15, versus a close of $65.98 on June 23.
Sabre is best-positioned among the group, according to Pacific Crest Securities analyst Brad Erickson, who wrote that the company has "low-single-digit" exposure to the U.K. and 20% to Europe. Saber gained 63 cents, or nearly 2.5%, to $25.93 on Tuesday, less than a dollar from its $26.93 close on June 23.
Reactions to the vote appear, at least partly, overdone.
Were the pound to drop to $1.275, Erickson wrote, 2017 earnings per share would decline 2.1% for Priceline, 2.3% for TripAdvisor, 1.5% for Expedia and .4% for Sabre. A fall in the euro to $1.05 would produce a 3.4% drop in EPS for Priceline, 1% decline for TripAdivsor, 2.5% for Expedia and 1.3% for Saber.
UBS's Sheridan estimates that Priceline, the most exposed name in the bunch, applying the June 24 spot rate for the pound, would cost Priceline a modest .4% of revenue in 2016 and .9% in 2017.
Standard & Poor's analyst Elton Cerda said that the credit agency is not currently contemplating changes in ratings for Priceline and Expedia. Fellow S&P analyst Andy Liu suggested that the market would adjust to a downturn. "The hoteliers will say, we're not getting as much traffic. Let's give more to the online travel agencies," he said.
Shifting patterns in travel could also have an impact.
Amsterdam travel site Bookings.com, which Priceline purchased for $133 million in 2005, is stronger in secondary and tertiary markets.
Expedia is better positioned in capitals such as London and Paris. Priceline and European bookings, in general, were resilient during worries about sovereign debt in 2011 and 2013, Morningstar's Wasiolek noted.
Cheap deals in London could lure travelers from Europe, the U.S. and China, providing a potential benefit for the online travel agencies. "There are a lot of offsets," he said.
This article originally appeared in The Deal, a sister publication of TheStreet.com focused on deals and dealmakers. For more information about The Deal
.