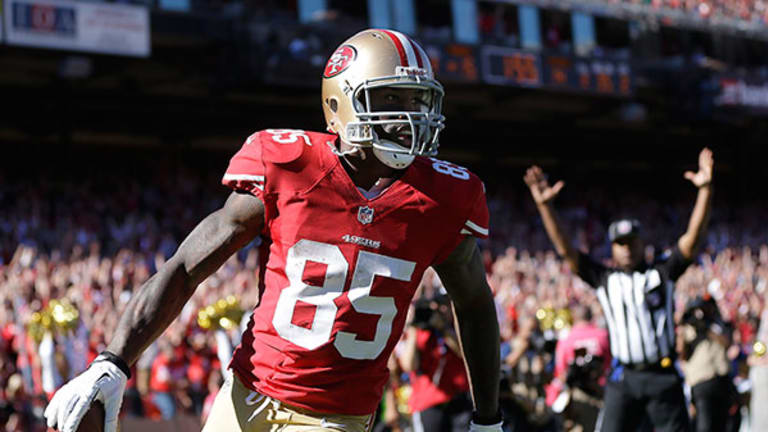 Pretend You Are Investing in Fantex, Not Arian Foster or Vernon Davis
Here is the biggest risk to Fantex's NFL stock market.
NEW YORK
(
) -- Here's a tip for those who are interested in investing in
Fantex's
 offering of the future earnings streams of NFL stars Arian Foster of the
Houston Texans
and Vernon Davis of the
San Francisco 49ers
: Pretend you aren't.
That's because if you buy shares in Arian Foster or Vernon Davis's prospective offerings, you are also directly investing in Fantex's business of creating player stock listings. It's a little understood part of the offering that casts a pall over the whole premise of investing in Arian Foster's brand or that of Vernon Davis.
There are dozens of pages of risk factors attached to Arian Foster's IPO prospectus, however, skeptical investors probably don't have to read past page two of the
.
Here are the salient points: Fantex is listing a "convertible" tracking stock for 20% of Arian Foster's so-called brand income. In the very same offering, Fantex is also offering shares in the brokerage platform's common stock. If you buy Arian Foster's tracking stock, it can be convertible to Fantex platform common stock at any time and in any way the company's management sees fit.
Traditionally, in private equity deals the convertibility of a class of stock falls under the power of the investors. In Fantex's instance, the brokerage controls whether or not your interest in Arian Foster or Vernon Davis's brand income will turn into company common stock and with no influence whatsoever from investors.
Would Fantex be asking for such seemingly extraordinary conversion preferences if they didn't plan on exercising them? There is reason to be skeptical.
It also makes sense why most of the 150-plus page offering focuses on the financial situation of Fantex Inc., including income statements, balance sheets and cash flows of the money-losing service.
On page two of the offering, the company also makes clear that investors are putting their money in Fantex Inc.
"This is the initial public offering of Fantex Series Arian Foster Convertible Tracking Stock, which we refer to as Fantex Series Arian Foster. This is also an offering of shares of our platform common stock into which the shares of Fantex Series Arian Foster are convertible, and references in this prospectus to an offering of shares of Fantex Series Arian Foster shall be deemed also to mean a reference to the shares of platform common stock," Fantex states.
Just to be clear.
"Holders of shares of Fantex Series Arian Foster will not have an ownership interest in our Arian Foster Brand, or any of our affiliated entities. Rather, investors in our Fantex Series Arian Foster will be our common stockholders," the company adds.
"What you are investing in is Fantex the brokerage," says Charles Baker, a Corporate and Finance practice partner with DLA Piper's Global Sports, Media and Entertainment Group.
When Fantex's listing was first unveiled,
TheStreet
went through the S-1 documents
to explain what prospective investors would own if they bought shares, and the risks of doing so.
Issues
TheStreet
flagged were the lack of recourse investors would have toward Arian Foster or any other player's earnings. For instance, if Arian Foster were to fall into financial difficulty, investors would likely be subordinated to just about every financial commitment the running back made.
Fantex was able to provide
TheStreet
with greater insight into their diligence into Arian Foster's finances, which showed that the running back carried virtually no debt. It is interesting to note that Fantex's preliminary discussion of Vernon Davis includes greater clarity for investors on his finances.
Even if NFL players the brokerage contracts maintain strong financial standing, the discretion of distributions falls entirely upon Fantex. While investors are buying a direct stake in Fantex, as the offering states, they will get no voting power or representation.
There are countless other risks like Fantex's listing of shares on its own platform, but overall, it is hard to get beyond the facts stated on page two of the offering. 
This is an IPO of Fantex as much as it is an IPO of Arian Foster, Vernon Davis or any other player's prospective "brand income."
"I believe your likelihood of success may be better in playing fantasy leagues," Baker of DLA Piper concludes.
For now, it is hard to disagree.
-- Written by Antoine Gara in New York.