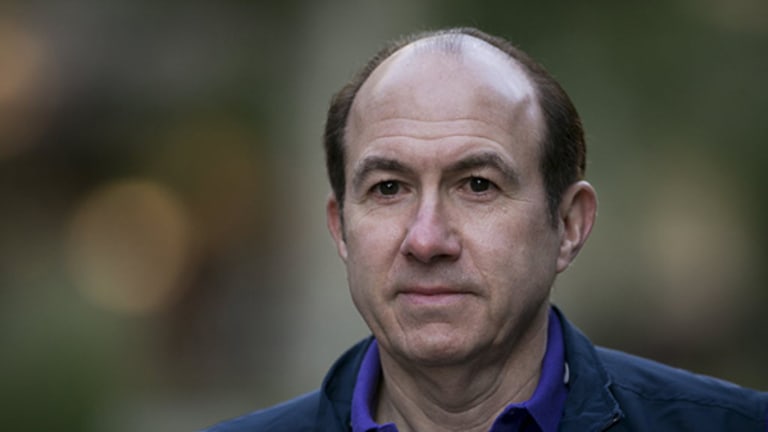 Publish date:
Pressured Viacom May Sell Minority Stakes in Paramount
Viacom CEO Philippe Dauman is under pressure from a number of shareholders including Mario Gabelli's Gamco.
Viacom CEO Philippe Dauman is under pressure from a number of shareholders including Mario Gabelli's Gamco.
Under pressure from shareholders including Mario Gabelli's Gamco Investors and Eric Jackson's SpringOwl Asset Management, Viacom (VIA) - Get Report (VIAB) - Get Report Exeuctive Chairman and CEO Philippe Dauman said Monday the company would consider selling minority stakes in its Paramount Pictures unit.
"We have been approached by several potential strategic investors in Paramount," Dauman said at a Jefferies conference in New York. The New York media group retained PJT Partners to weigh options for the movie studio behind The Big Short, Zoolander 2, Mission Impossible: Rogue Nation and others.
Dauman said an agreement, which could be announced around the end of the third fiscal quarter, would bring financial gain but would also include strategic benefits from new forms of digitial content distribution in global markets.
"I've gotten a glimpse of what some of that can be based on discussions that I've had and we'd like to be able to pursue some of those discussions to brig not just fin benefit but strategic benefit to help drive the growth of Paramount," Dauman said.
Investors sought this kind of strategic open-mindedness two weeks ago, when Viacom announced results for the first fiscal quarter of 2016. Gabelli and Jackson had pushed Viacom to consider steps such as selling a minority stake in Paramount to Alibaba (BABA) - Get Report or Amazon (AMZN) - Get Report .
Longtime Chairman Sumner Redstone stepped down recently, succeeded by Dauman. The markets apparently had anticipated bolder strategic from the new chairman during the Feb. 9 earnings presentation. When Viacom did not announce a review, the stock dropped nearly 18%.
Viacom class B shares spiked as high as $39.45, a gain of 7%, before closing at $37.01. The class A shares closed at $41.
"The positive reaction in share price illustrates the support we have among shareholders,"SpringOwl's Jackson, a columnist for TheStreet'sReal Money site, said in an emailed statement. "Good things happens when this team and board put the shareholders first in their thinking."
It's likely that a report issued privately last week to institutional investors from  Institutional Shareholder Services factored into Viacom's decision to launch a strategic review for Paramount.
The proxy advisory firm on issued a report Friday, obtained by The Deal, that recommended shareholders to "withhold" their vote -- essentially vote against -- for six incumbent directors over "ongoing pay-for-performance concerns" in an upcoming uncontested director election scheduled for March 14.
In addition, ISS recommended voters back a recapitalization proposal up for a vote at the meeting to establish a capital structure in which voting power equates with economic interests. Currently, Sumner Redstone controls the majority of the voting power through a holding company so a dissident investor would never technically succeed at electing directors.

The proxy advisory firm also gives the media giant its worst governance risk score, a 10 out of 10, according to a QuickScore report obtained by The Deal.
While Paramount's Zoolander 2 has been a disappointment, Dauman highlighted some of the promising films in its pipeline. Paramount will have a film in the Transformers franchise in 2017, 2018 and 2019. This summer, there is a Teenage Mutant Ninja Turtles film and more films in the Star Trek and Mission Impossible series are on the way.
With strategic investment and free cash flow, Dauman said Viacom could delever, invest in strategic priorities and return cash to shareholders. "Need I remind you we that have well over a 4% dividend yield right now on our stock?" he told investors.
--Ronald Orol contributed to this report.