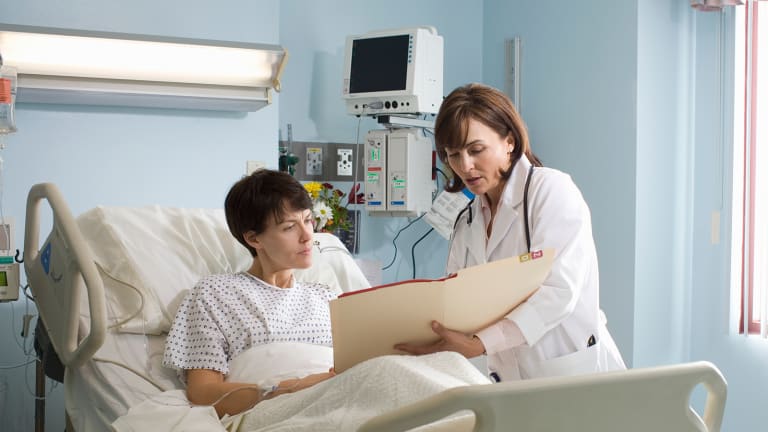 Publish date:
Pressure Mounts at Community Health as Liquidity Concerns Grow
The hospital operator is currently working to sell a group of 12 hospitals, while simultaneously engaging in talks with financial sponsors about potential transactions.
The hospital operator is currently working to sell a group of 12 hospitals, while simultaneously engaging in talks with financial sponsors about potential transactions.
Community Health Systems' (CYH) - Get Report troubling preliminary third-quarter results fueled by a collapse in earnings before interest, taxes, depreciation and amortization should add to pressure on management to execute on divestitures and other strategic moves as the hospital operator comes closer to violating its debt covenants. 
It also raises questions as to whether Community's largest shareholder, the investment vehicle of Chinese billionaire Tianqiao Chen, will feel inclined to take a more active role in the Louisville, Ky.-based company. Community on Oct. 4 adopted a poison pill after Shanda Investment upped its stake in the company to 14%, though the firm subsequently reiterated that its stake was passive. 
With shares of Community tumbling 42% to $5.80 a piece in Thursday trading, perhaps that will change. A number of activist funds also own shares of Community, including David Einhorn's Greenlight Capital, with a 9.8% stake. 
The stock's drop comes after the for-profit hospital system posted preliminary third-quarter results that included $466 million in Ebitda, significantly below analysts' consensus estimates of $550 million and compared to $661 million over the same period a year ago.
The company blamed challenged volumes, a higher level of reductions to reimbursement from state supplemental programs and a failure to meet necessary expense reductions as it faced increases in health insurance costs, among other things. 
Community also cut its 2016 adjusted Ebitda guidance yet again, estimating a range of $2.2 billion to $2.27 billion for the full year, down from a previous $2.4 billion to $2.55 billion. 
Though most investors were already expecting a wide miss given the stock's recent performance, the deteriorating outlook makes it more incumbent on management to "make sure the company is safe", Brian Tanquilut of Jefferies said in a Thursday phone inteview. 
"More than anything else, the management team needs to do something to deleverage its balance sheet very quickly," Tanquilut said. 
To pay down enough debt to remain in compliance with its debt covenants, Tanquilit said Community would have to make good on its ongoing efforts to sell a dozen hospitals and perhaps more assets. Its covenants include Ebita levels of 4.25 times its secured leverage and two times its interest, the analyst noted.
Although Community is not currently at risk of breaching its covenants, the company cannot let its Ebitda fall significantly below $2 billion, Tanquilut said.
"With the magnitude of the [Ebitda] miss, you start to question that," the analyst noted. 
Mizuho Securities' Sheryl Skolnick wrote in a Thursday note that the company's new Ebitda guide for the current year seems high, noting its consistent failure to grow volume, manage labor and collect cash. 
"There is, in our strong view, no reason to believe that CYH has any plan to turn things around that is likely to work in the near term," Skolnick wrote. "Dictating cost savings from headquarters doesn't work. Firing docs doesn't work ... because CYH has a revenue problem first, and now it's created from that revenue problem a cost problem."
Debt-ridden Community in early August had said it was working to sell 12 unidentified hospitals, having announced in May it was shopping 10 of those. CEO Wayne Smith had said he it expects the bucket of assets to fetch $850 million in total proceeds. 
As part of the divestiture plan, the company on Sept. 29 announced an agreement to sell four rural hospitals, three in Mississippi and one in Florida, to privately held not-for-profit hospital operator Curae Health. Community a few weeks later on Oct. 17 revealed plans to sell an 80% stake in its home health unit to Almost Family (AFAM) for $128 million.
The company subsequently unveiled a separate initiative, disclosing on Sept. 19 that it is undertaking a strategic alternatives process. Community said then that it was working with advisers to explore possible transactions with financial sponsors, though an unusual lack of shareholder reaction in the public markets likely points to a high level of skepticism that a leveraged buyout, or at least one at a premium, is feasible.
Further complicating matters are accounting concerns raised by one shareholder of its spinoff company Quorum Health (QHC) - Get Report earlier this month. Texas hedge fund  Q Investments in a letter to the board of Quorum demanded that it conduct an independent investigation aimed at its own management and that of Community. The investor argued that Community beefed up Quorum's numbers and covered up costs prior to its spinoff for the purpose of raising as much financing as possible.
Though Community denied the claims, sources familiar with the situation told The Deal that the claims will likely ultimately lead to litigation one way or another.
Community is scheduled to report its complete financial results for its third quarter ended Sept. 20 on Nov. 1, followed by call with investors at 11 a.m. Eastern time on Nov. 2.
EDITOR'S NOTE:This article was originally published by The Deal, a sister publication of TheStreet that offers sophisticated insight and analysis on all types of deals, from inception to integration. Click here for a free trial.