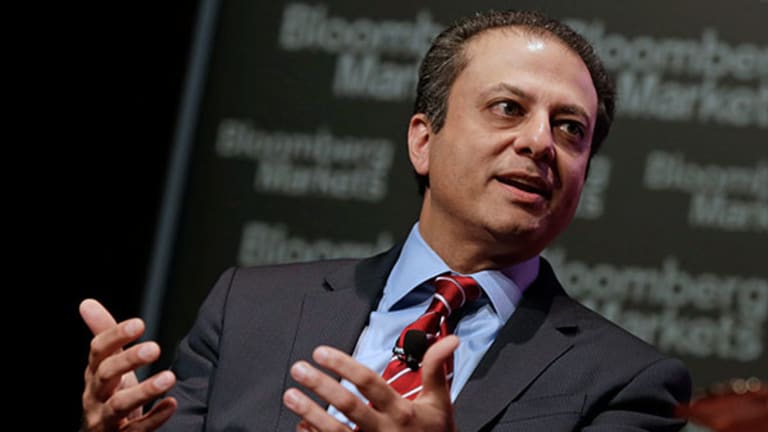 Preet Bharara Tells Why Wall Street Executives Aren't in Jail Over Crisis
Legal sign offs have helped Wall Street executives stay out of jail, according to Preet Bharara, U.S. Attorney for New York's Southern District.
NEW YORK (TheStreet) -- Legal sign-offs over questionable conduct by financial firms makes it difficult to prosecute top executives, according to Preet Bharara, U.S. Attorney for the Southern District of New York.
Bharara extracted a deferred prosecution agreement from JPMorgan Chase (JPM) over its failure to alert authorities about its suspicions regarding Bernard Madoff's Ponzi scheme before it came to light. However some criticized the fact that no individuals at JPMorgan were charged.
Bharara also assisted with criminal cases against BNP Paribas (BNPQY) and Credit Suisse (CS)  that led to guilty pleas by those institutions. None of those cases was directly related to the financial crisis, however, nor were insider trading convictions he won against various hedge fund executives, including Galleon Group's Raj Rajaratnam. Bharara also won a conviction against hedge fund giant SAC Capital, though its founder, Steven A. Cohen, continues to run a $10 billion "family office" now named Point72 Asset Management.
Speaking at a breakfast hosted by Crain's New York Business Tuesday, Bharara said crisis-related prosecutions against individuals had proven more difficult in part because executives had gotten lawyers to sign off on their actions.
"It is a very difficult thing to put a person in jail when they say 'I asked my lawyers to do the best they could and tell me what I'm supposed to do and they are independent and they were paid a fee.' So those are among the various obstacles you have," said Bharara. 
Bharara appeared to be alluding in particular to Lehman Brothers, which got London-based lawyers at Linklaters to sign off on controversial transactions known as Repo 105 that hid the extent of the company's leverage, though he did not mention the company by name. Linklaters signed off on the deal after Lehman was unable to find a U.S. law firm that would bless the transaction, according to a report by Lehman's bankruptcy examiner Anton Valukas.
Having a lawyer's blessing makes it harder to prove an offense "beyond a reasonable doubt," Bharara said.
"There are lawyers who are prepared to be the firm that blesses something they know may be fishy and they know that the first firm wouldn't bless it, the second firm wouldn't bless it, the third firm wouldn't bless it, the fourth firm wouldn't bless it and maybe the fifth firm located abroad somewhere will bless it."
Still, in remarks following the event, Bharara would not rule out the possibility of jail time for senior executives of large banks.
"There are varying lengths of statutes of limitations and sometimes it takes a long time to build a case. I wouldn't close the door on anything," he said.
Bharara easily dodged the inevitable question about whether he will seek the vacant U.S. Attorney General position following the resignation of Eric Holder.
"The problem is when you have a very proud Indian mother and a vacancy seems to be coming open, she will call the newspapers and say 'Please put me on the list.' I've told my mom to stop calling them. I'm very happy doing my job and that's all I'm going to say," he said.

Follow @dan_freed
Disclosure: TheStreet's editorial policy prohibits staff editors, reporters and analysts from holding positions in any individual stocks.