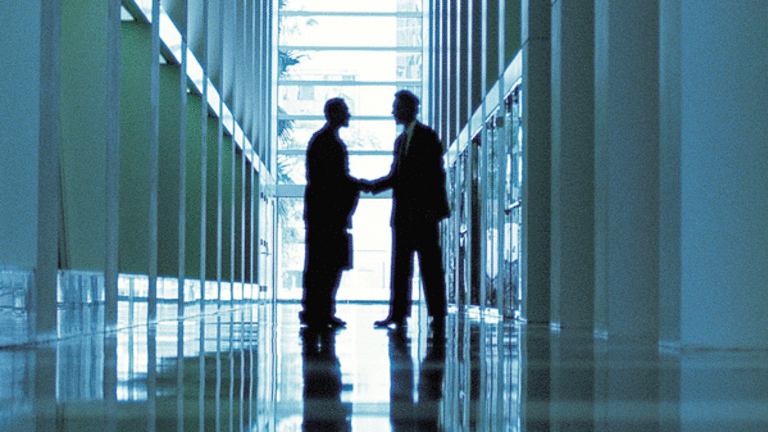 PPL, Riverstone create Talen Energy
PPL and Riverstone Holdings said Monday they agreed to combine their independent power generation businesses into a new stand-alone, publicly traded power producer, allowing PPL to focus on its regulated utility business.
HOUSTON (The Deal) -- PPL (PPL) and Riverstone Holdings said Monday they agreed to combine their independent power generation businesses into a new stand-alone, publicly traded power producer, allowing PPL to focus on its regulated utility business.
The new company, called Talen Energy, will own and operate 15,320 megawatts of generating capacity in Maryland, New Jersey, Texas, Massachusetts, Pennsylvania and Montana and generate sales of $7.2 billion, making it the third-largest investor-owned independent power producer in the country.
In what's known as a Reverse Morris Trust, PPL will spin off PPL Energy Supply LLC, the parent of PPL Generation LLC and PPL EnergyPlus LLC, to PPL shareholders and then combine it with Riverstone's generation business and take it public on the New York Stock Exchange.
PPL didn't say how many shares PPL stockholders will get for their shares, but they will end up with 65% of the new company while Riverstone will have 35%. Talen will have five board seats at the new company and Riverstone will get three. PPL won't own any shares in Talen and the exchange is intended to be tax free to PPL and its shareholders.
PPL chairman, CEO and president William Spence said in a statement that Talen will be a significant player in the U.S. competitive generation market, bringing together the best of two businesses with a very strong presence in the Pennsylvania-New Jersey-Maryland, or PJM, region and nearly 2,000 megawatts of generating capacity in the fast growing Electric Reliability Council of Texas (ERCOT) market. "Talen Energy will have significant scale, a very competitive cost structure and the financial agility to pursue growth opportunities," he said.
PPL CFO Paul Farr will be CEO and president of Talen. To help with the transition before closing, Farr is becoming president of PPL Energy Supply and PPL controller Vincent Sorgi will become CFO.
Riverstone partner Michael Hoffman said in a statement that the blending of the two complementary businesses will create one of the largest independent power producers in the U.S. with diversified generating capacity in the most attractive U.S. markets with strong free cash flow and a conservatively capitalized balance sheet. "With an outstanding management team led by Paul Farr, we believe Talen Energy will be one of the most successful IPPs [independent power producers] in North America," he said.
Tudor, Pickering, Holt & Co. Securities wrote in a note that PPL's spin of its "underwater" merchant supply business is positive, as it comes at a near peak of the power market.
Kit Konolige, a longtime utility analyst who works at BGC Partners LLC, said it's good for PPL shareholders and Riverstone, giving it "liquidity opportunities."
Talen expects to have $1.07 billion in Ebitda next year, including $155 million in cost cuts. PPL kept its guidance for earnings per share this year at $2.05 to $2.25 and expects earnings next year to be $2.05 to $2.25 with 4% compound annual growth rate. It also hopes to maintain its current dividend rate of $1.49 per share per year until the transaction closes and expects to raise it as a purely regulated company.
The deal doesn't require PPL shareholder approval but must clear the Nuclear Regulatory Commission, the Federal Energy Regulatory Commission, Hart-Scott-Rodino review and the Pennsylvania Public Utility Commission. The deal is expected to close in the first or second quarter of next year.
On a conference call, Farr said Talen would be looking for acquisitions to expand, particularly where it already has plants (including west of PJM, the midwest and the ERCOT) but not to expect "drop downs" from Riverstone into Talen if Riverstone were to buy one of the power plant packages that are on the market, including Ohio power plants being sold by Duke Energy (DUK) and AES (AES) .
When asked by an analyst how quickly Riverstone might exit Talen, Farr also noted that the private equity firm is "expecting big things from me and this portfolio" and will be looking for a "material uplift" before liquidating most of their shares in Talen.
Farr said the "Talen" name came from a combination of talent, energy, enthusiasm and an aggressive nature, from the prey perspective. "We thought it was appropriate," he said.
PPL owns and operates regulated utilities in the U.K., Kentucky and Pennsylvania serving 10 million customers, generating $7.2 billion and providing 85% of PPL's 2013 earnings from ongoing operations. It expects to maintain a strong balance sheet, manage its finances consistent with investment-grade credit ratings and continue to provide a competitive dividend for shareholders.
Spence said as stand-alone companies, PPL and Talen each will have compelling growth prospects "and we expect the financial markets will ascribe valuations that more appropriately recognize the inherent strengths of each company."
"Given the challenges, uncertainties and opportunities in the wholesale power markets, maintaining the status quo was not a viable option," he said. "This transaction provides greater clarity for shareowners, our PPL Energy Supply employees, customers and the communities we serve."
Talen will combine 5,325 megawatts of capacity owned and operated by Riverstone at 15 sites in Maryland, New Jersey, Texas and Massachusetts with 9,995 megawatts of capacity owned and operated by PPL Generation at 12 sites in Pennsylvania and Montana, with 40% natural gas, 40% coal and 15% nuclear. Those numbers exclude capacity from PPL's 11 hydroelectric units in Montana, which are expected to be sold to NorthWestern Energy as part of a September 2013 agreement. About 83% of Talen's generating capacity is in the PJM region.
PPL Energy Supply had debt of $2.7 billion and cash of $520 million as of May 31. Riverstone's generation business is expected to have $1.25 billion of debt after its planned refinancing. About $880 million of PPL Capital debt will stay at PPL.
Farr will lead the transition process while PPL strategic development vice president Jeremy McGuire will assist and become CFO of Talen.
Talen will be headquartered at a yet-to-be-determined location in Pennsylvania. PPL Corp. and the company's Pennsylvania electricity delivery operation, PPL Electric Utilities, will continue to be headquartered in Allentown. PPL EnergyPlus will continue to serve wholesale and retail customers in the mid-Atlantic region and Montana.
PPL expects the combination will lead to layoffs at plant locations and at the corporate level, which will become clear during the transition period.
The transaction doesn't include the 8,100 megawatts of regulated generating capacity owned by PPL's Kentucky utilities, which will continue to be owned and operated by Louisville Gas and Electric Co. and Kentucky Utilities Company to serve customers in Kentucky and southwestern Virginia.
Spence said PPL continues to forecast significant rate base growth in its regulated businesses as it invests $16 billion over the next five years in transmission facilities, in regulated power plants and in environmental improvements.
PPL has 1.2 million customers in Kentucky, 1.4 million in Pennsylvania and 7.8 million in the U.K.
Citigroup Global Markets Inc.'s Jack Paris and Jugjeev Duggal and Morgan Stanley & Co. LLC's Craig Edgar and Jason Truman advised PPL while JP Morgan's Carsten Woehrn and Jay Horine assisted Riverstone. Simpson Thacher & Bartlett LLP's Mario Ponce, Breen Haire and Brian Chisling counseled PPL and Vinson & Elkins LLP's Trina Chandler, Maritza Okata, Ashley Tufts, Matthew Greenberg, David Peck, Ramey Layne, David Stone, John Decker, Neil Imus and Sean Becker represented Riverstone.
PPL had sales of $12 billion last year with 10 million customers and 18,000 megawatts of generating capacity.
Riverstone was founded in 2000 by David Leuschen and Pierre Lapeyre, Jr. and has raised $27 billion of equity capital and committed $26.1 billion in 108 energy investments around the world, including exploration and production, midstream, oilfield services, power and renewables.