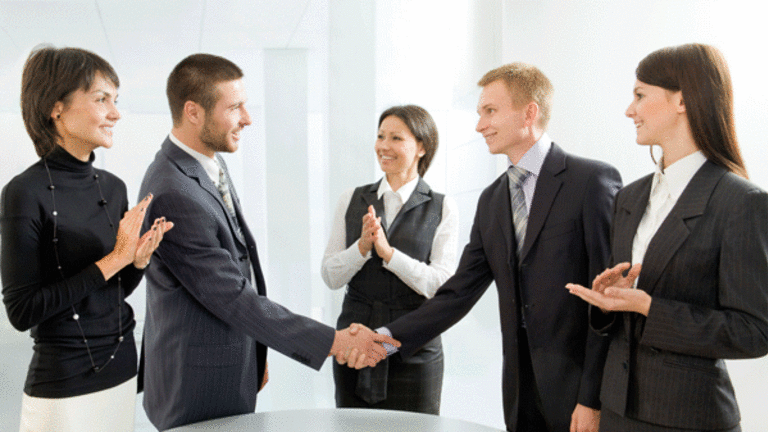 Poundland, Pets At Home Price London IPOs
Two private equity-backed U.K. retailers priced their IPOs on Wednesday.
LONDON (The Deal) -- Two private equity-backed U.K. retailers priced their IPOs on Wednesday, March 12. Discounter Poundland Group achieved the maximum valuation in an offering worth 375 million pounds ($623.6 million) before a greenshoe, while Pets at Home Group priced at the upper end of an indicative range to raise 490 million pounds for the company, Kohlberg Kravis Roberts & Co. and other selling shareholders.
The IPOs are the latest in a series of successful London offerings by private equity-backed companies, which started with a trickle of construction and real estate-related companies in spring last year and has in recent months been dominated by retailers. Conditional dealings started in both companies' shares on Wednesday, with Poundland rising sharply above its 300 pence IPO price to 367 pence and Pets at Home unchanged at the IPO price of 245 pence on Wednesday morning.
Poundland's "base" offering comprised 125 million existing shares, mainly sold by Warburg Pincus LLC, which will cut its stake to as little as 30.4% from 76% if it uses a greenshoe. The 300 per-share price was at the top of an indicative range that started at 250 pence and will give Poundland a market value of £750 million.
Poundland's fast growth and a respected board led by former Tesco plc CFO Andrew Higginson, as chairman, proved a lure to investors. Warburg Pincus and management had set a conservative minimum 25% target for the amount of the company they aimed to sell, giving them plenty of flexibility to respond to demand without losing face - or exit profits.
"We identified the European discount market as an attractive and growing industry and believed that Poundland's best-in-class management team would be great partners. We are pleased with the tremendous growth that management and employees have delivered to date and look forward to continued growth in both the UK and internationally," said Warburg Pincus Managing Director Paul Best in a statement.
Poundland tapped into consumers' recession-fuelled appetite for discounted merchandise. Sales and Ebitda rose at a compound annual growth rate of 17% and 21% respectively between March 2011 and March 2013, coming in at the end of the past fiscal year at £880.4 million and 45.5 million pounds. The company sells well-known manufacturers' brands at its outlets, often packaged in smaller sizes so it can maintain its single-price strategy.
Between 50% and 57.5% of Poundland, of Willenhall, England, will be in free float, depending on whether the overallotment option is used, when unconditional dealings start on Monday.
Pets at Home priced its IPO towards the upper end of a 210 pence to 260 pence range. The offering comprises 280 million pounds of new shares and will also raise gross proceeds of 210 million pounds before expenses for KKR and other selling shareholders, with another 74 million pounds flowing their way if a greenshoe is used.
The company starts life with a market value of 1.225 billion pounds and the free float, before the greenshoe, will be 40%, the top end of the expected free float range.
KKR will retain a 46.2% stake before the greenshoe, and management will hold 4.3%
The Handforth, England company is the U.K.'s biggest pet supply chain, with a 12% market share, 369 stores, plus veterinary clinics and in-store grooming "salons."
KKR bought Pets at Home in a 2010 secondary buyout from Bridgepoint Capital Ltd. for 955 million pounds.
In its past financial year, Pets at Home had revenue of 598 million pounds and underlying Ebitda of 99 million pounds.
A Bank of America Merrill Lynch team including Saba Nazar, George Close-Brooks, Peter Bell and Craig Coben was sponsor, joint global coordinator and joint bookrunner in the Pets at Home sale, with Goldman Sachs International's Anthony Gutman, Nick Harper, Michael Casey and Phil Raper and KKR Capital Markets' Edward Law and Mark Danzey as joint global coordinators and joint bookrunners. A Nomura International plc team including Ken Brown, Ed Matthews and Ed Boyce was co-lead manager. Full trading in Pets at Home shares also start on Monday.
Poundland's financial adviser is a Rothschild team led by Nigel Himsworth. Credit Suisse Group's George Maddison, Nick Williams, Jon Grussing and Michael Taylor and JPMorgan & Co.'s Toby Radford, Greg Chamberlain, James Taylor and Caroline Thomlinson were joint global coordinators, joint sponsors and joint bookrunners. Canaccord Genuity Ltd.'s Roger Lambert and Shore Capital Stockbrokers Ltd.'s Dru Danford were co-lead managers.