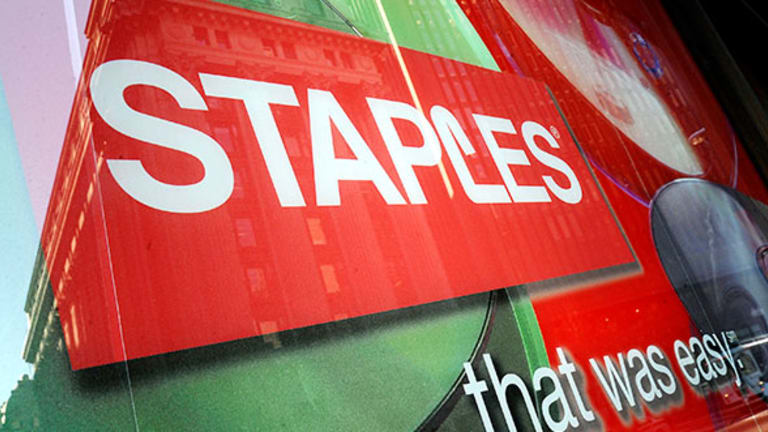 Possible FTC Deadlock Could Aid Staples-Office Depot Merger
The regulatory agency is reportedly split over the $5.4 billion merger.
A report the Federal Trade Commission is split over the $5.4 billion merger of Staples (SPLS) and Office Depot (ODP) should be positive news for the deal. The New York Post reported Monday the FTC is split 2-2 over whether to allow the office products merger to proceed.
The FTC declined to comment and Staples did not return calls.
Although the Post stated that the FTC division indicates the deal is about to be blocked, a split commission cannot bring a suit to block a merger, an action that requires a majority vote. The White House has yet to nominate a replacement for the seat left vacant by this summer's departure of Joshua Wright. 

The core issue is whether the FTC will view the merger as a combination of the two largest national brick and mortar retailers and as such an anti-competitive combination by definition, or if the agency will include online retail in its market definition.
The logic of the 2013 approval for the merger of Office Depot and Office Max could lead to the clearing of the Staples-Office Depot deal. The FTC allowed the Office Depot-Office Max transaction to proceed, concluding that price zones and retail pricing are not solely governed by superstores but priced either nationally or, if priced locally, with the competition of non-superstores taken into account. 
In the current office products merger the FTC review has a Dec. 8 deadline, which can be extended by the companies. The competition review in the European Union currently has a March deadline, so an extension in the U.S. does not alter the potential close of the transaction.
Staples is reportedly contemplating a divestiture to U.S. wholesaler Essendant (ESND) , formerly United Stationers, as a package to address competitive concerns.
Some risk arbitrageurs have steered clear of the transaction because of the history of FTC opposition to consolidation of national brisk and mortar retailers regardless of competition from Internet traffic. This deal is a test of whether the agency's position on the nature of that market definition has changed.
It is very difficult to figure out, one arbitrageur said. "If the government wants to bring a case they likely have at least a 50-50 chance of prevailing," he said  "However, I actually don't think a case should be brought. It seems preposterous to me in today's age to have a separate market for delivery of paperclips and pens," he said.
One antitrust attorney thought it unlikely the current FTC Democrats would take a stand against the deal.
The deal spread Monday was $3.31, or 50%, which underscores the market's inability to game the situation. The big box office retailers in August certified substantial compliance with the FTC regarding a second request.