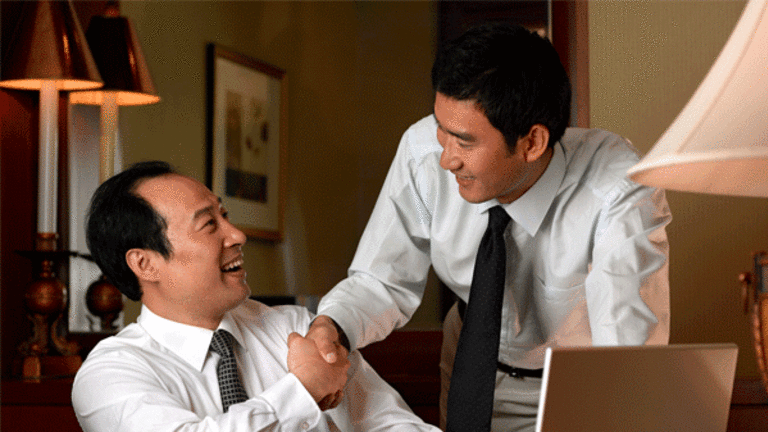 Portugal Telecom, Oi Redo Merger Terms After Espirito Santo Affiliate Default
Portugal Telecom agrees to accept a smaller-than-expected stake in the company it is creating by merging with Brazil's Oi after an Espirito Santo affiliate default.
NEW YORK (The Deal) -- The crisis at Espirito Santo Financial Group on Wednesday claimed its first major corporate casualty as Portugal Telecom SGPS (PT) - Get Pintec Technology Holdings Ltd. Report agreed to accept a smaller-than-expected stake in the company it is creating by merging with Brazil's Oi after an Espirito Santo affiliate defaulted on almost $1.2 billion of debt.
Oi and Portugal Telecom said Portugal Telecom shareholders will now get just 25.6% of the enlarged group, rather than the previously agreed 39.6%. The Portuguese company will also take back bad Espirito Santo debt it had transferred to Oi entities.
Espirito Santo owns 10% of Portugal Telecom and its Rioforte Investments SA unit on Tuesday missed an 847 million euro ($1.15 billion) payment due to the telecom. Another 50 million euro payment falls due on Thursday.
"Portugal Telecom and Oi announce that they remain committed to the full completion of their business combination," the companies said.
Rioforte's troubles first came to light earlier this month and the company will soon seek protection from creditors through a bankruptcy filing, according to the Wall Street Journal. Troubles at the complex Espirito Santo Financial Group empire last week triggered a market rout amid fears that Portuguese banking-sector problems could trigger a new euro-zone crisis. (Espirito Santo Financial Group owned 25.1% of major Portuguese lender Banco Espirito Santo SA before shaving its stake to 20.1% on Monday).
The knockon effect on the transatlantic telecom deal, meanwhile, was just the latest setback in a fusion that had been controversial from the outset. Oi complained it hadn't been informed of Portugal Telecom's Rioforte exposure and two Oi representatives on Portugal Telecom's board resigned following the disclosures, with one publicly wondering why Portugal Telecom had remained silent about its relationship with Espirito Santo and Rioforte.
After the merger was announced in October, Oi shareholders had immediately complained about a related Oi capital increase because it diluted their investment. Then in March, Brazil's securities regulator temporary halted the capital increase, saying Oi CEO Zeinal Bava had improperly talked to the media.
Under the new terms, Portugal Telecom will return 474 million Oi ordinary shares, with voting rights, and 949 million non-voting Oi preference shares to Oi to be held in treasury. Portugal Telecom will have an option to buy back the shares, though the number of shares covered by the call will decrease in each of the call's six-year term.
"Portugal Telecom, in coordination with Oi, will pursue its legal and procedural options against Rioforte and relevant related parties to the full extent of the law, to secure repayment of the Rioforte debt," the company said.
The two companies want to link up to create a company with $17 billion in annual sales that can compete with the likes of Mexican billionaire Carlos Slim's America Movil SAB de CV and Spain's Telefonica SA, a former Portugal Telecom partner in Brazil. The transaction is due to close by year-end.
Portugal Telecom shares jumped 4.8% to 1.917 euros in Lisbon after the question marks over the deal were removed.
Banco Espirto Santo, alongside Bank of America Merrill Lynch and Morgan Stanley, is acting as financial adviser to Portugal Telecom in the merger.
Banco BTG Pactual SA is Oi's financial adviser.