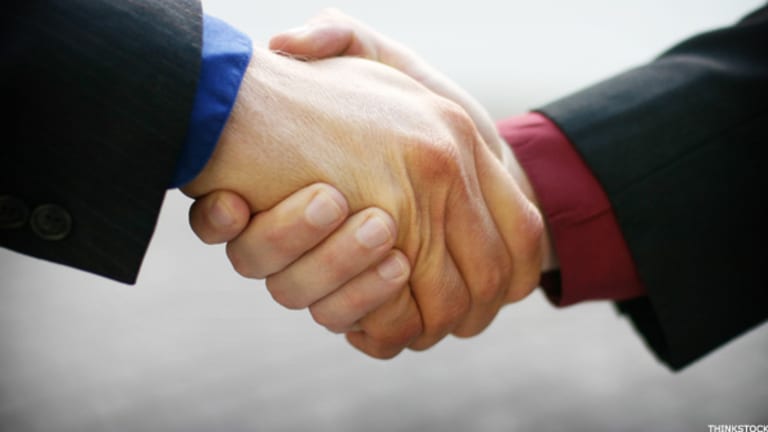 Pinnacle to Spin Off REIT at Activist Investor Orange Capital's Behest
Casino operator doesn't expect to complete REIT separation until 2016.
Under pressure from activist investor Orange Capital LLC's Daniel Lewis, casino operator Pinnacle Entertainment Inc. (PNK) - Get Pinnacle Entertainment Inc Report on Thursday announced it plans to separate its real estate assets from its operating assets.
In a statement, Las Vegas-based Pinnacle said it plans to create a Real Estate Investment Trust, or REIT, for its real estate that will be distributed to the company's existing shareholders in a tax-free spinoff. In addition, "substantially" all of the real estate will be leased back to Pinnacle, which currently owns and operates 15 gaming properties in eight states, and the new REIT will have a mandate to make real estate acquisitions in the "gaming, leisure and entertainment industries."
The move comes after Lewis in April said in a 13D regulatory filing announcing his activist stance, reporting that he has had "ongoing discussions" with Pinnacle's management over his recommendation that it consider spinning off its real estate into a REIT.
"This is a great result for shareholders, and for management," Lewis told The Deal Thursday. "They were highly responsive to shareholders and we think it's a great outcome."
Orange Capital has a 4.2% Pinnacle stake as well as economic exposure to the company through a 3.4% derivatives stake, as of the activist fund's most recent filing with the Securities and Exchange Commission in July.
Nevertheless, he declined to comment on whether he had to threaten a proxy fight to convince Pinnacle to make the move. Lewis has threatened or launched proxy contests at a few other companies, including at InnVest REIT (IVRVF) and Strategic Hotels & Resorts Inc. undefined . "We believe we were a constructive party in this process, and we give management a lot of credit for executing on this transaction in a timely manner," he said.
Lewis' effort at Pinnacle and the resulting REIT spinoff comes as there have been increasing calls from activist investors for companies to consider this structure — mostly restaurant and casino operators. According to data compiled by Factset Sharkrepellent in October, there were eight activist campaigns in 2014 where insurgent pressure tactics included some effort to separate real estate or create a REIT structure. That was on par with the eight that took place in 2013 and up significantly from one such effort in each of the three prior years.
Lewis told The Deal last month that he expected Pinnacle to decide on whether to do a REIT spinoff by Nov. 15. Lewis had suggested at the time that a comparable transaction was conducted by Penn National Gaming Inc. (PENN) - Get Penn National Gaming Inc. Report , a rival casino and racetrack operator that late last year decided on its own to spin off its real estate into a REIT, Gaming & Leisure Properties Inc. (GLPI) - Get Gaming and Leisure Properties Inc. Report .
"We think it [a Pinnacle REIT] can trade well," he said. "A casino REIT can grow and acquire more properties in the casino or leisure space."
However, questions remain about whether a REIT spinoff makes sense. Penn National spinoff may have been good for shareholders and helped reduce Penn's debt associated with the facilities that were spun off. But it also added rent payments for Penn, which it expects will be $420 million for the full year 2014. It is unclear how much rent Pinnacle would need to pay its partner REIT if the spinoff is consummated – the company said that the rent structure has yet to be determined.
Critics have also raised questions about whether stripping companies of their real estate may make adapting to recessionary periods more difficult. Rent payments are much more difficult to make during hard times when revenues are down significantly and some observers suggest that real estate can act as a buffer during stalled economic cycles.
The stocks of Penn and its REIT have been trading down of late. GLPI's stock is down about 38% year-to-date, while Penn is down about 6.6% year-to-date.
The Pinnacle transaction still has a lot of work ahead of it and executives at the casino operator say they don't expect it to be completed until 2016. Key hurdles include getting a favorable response from the Internal Revenue Service and the SEC on the transaction as well as the identification and appointment of senior executive leadership for the REIT.
Pinnacle CEO Anthony Sanfilippo told a Gaming & Lodging conference hosted by Bank of America Merrill Lynch on Sept. 9 that it had hired Skadden, Arps, Slate, Meagher & Flom LLP and Goldman Sachs & Co. to advise it on whether it would make sense for the company's shareholders to spin off the company's real estate into a REIT. At the time Sanfilippo said that in the next couple of months "we will have a defined point of view."
On Thursday, Sanfilippo said he was pleased to announce the spin off plans, adding that he believes it would provide a "a lower weighted average cost of capital and an attractive financial platform" to create long-term shareholder value. Pinnacle has a $1.4 billion market capitalization.