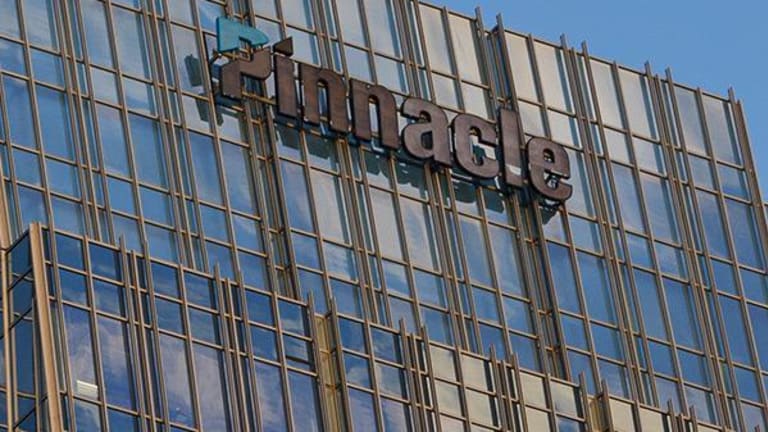 Pinnacle Picks Up BNC for $1.9 Billion in First Out-of-State Deal
The transaction allows Nashville, Tenn.-based Pinnacle to expand into neighboring Virginia, North Carolina and South Carolina.
Pinnacle Financial Partners (PNFP) - Get Pinnacle Financial Partners, Inc. Report  has agreed to buy Bank of North Carolina parent BNC Bancorp (BNCN)  for $1.9 billion in the Nashville, Tenn.-based buyer's first out-of-state purchase.
BNC shareholders will receive 0.5235 Pinnacle shares for every BNC share, valuing the company at $35.70 per share, based on Pinnacle's 20-day average closing price as of Friday. That implies a premium of about 7.5% based on BNC's Friday close at $33.20. BNC shareholders will also receive a 47% increase to their 5-cent quarterly dividend.
Once the merger is completed, Pinnacle will have $20 billion in assets, $14 billion in loans and $15 billion in deposits on a pro forma basis. The acquisition extends Pinnacle's footprint into North Carolina, South Carolina and Virginia, where BNC has 76 offices.
BNC is Pinnacle's first acquisition in 2017; the buyer has spent more than $650 million scooping up banks in the Southeast over the past two years. The Deal, a subsidiary of TheStreet, reported in July that BNC was a likely takeover target, with Steven Comery of Gabelli Securities calling it "the most valuable asset" in the consolidating southeastern U.S. market. 
After the transaction is completed, BNC CEO Rick Callicutt II will be named chairman of Pinnacle's Carolinas and Virginia region, which will operate out of BNC's headquarters in High Point, N.C. He and three other BNC directors will join Pinnacle's board. BNC CFO David Spencer will work with Callicutt as a Pinnacle executive vice president.
Private equity firm Aquiline Capital Partners LLC closed a $35 million private placement in which it acquired a 9.9% stake in BNC in 2010. The private equity firm led a $72.5 million capital raise two years later. Aquiline's G. Kennedy Thompson, former CEO of defunct Wachovia, sits on BNC's board.
Following the close, assuming Pinnacle completes an expected Tier I equity raise and a fourth-quarter 2017 technology conversion, the company expects the deal to increase its 2018 earnings per share by 10%, excluding acquisition costs. The transaction -- expected to close before Sept. 30 -- will increase tangible book value, a measure of sellable assets minus liabilities, even with deal-related expenses.
Pinnacle retained a Keefe, Bruyette & Woods team led by Scott Anderson as its financial adviser for the transaction, with a Bass, Berry & Sims team led by Bob Thompson, Scott Holley and Brad Hart serving as outside counsel.
A Banks Street Partners team led by Lee Burrows and a Sandler O'Neill & Partners team led by Scott Clark are financial advisers to BNC, which retained a Wachtell, Lipton, Rosen & Katz team led by Matthew Guest and a Troutman Sanders team led by James Stevens and Brendan Thomas as its outside counsel.
Bass Berry previously advised Pinnacle on its $201.4 million acquisition of Avenue Financial Holdings, which closed July 1, and its 2015 purchases of Magna Bank for $83.4 million and CapitalMark Bank & Trust for $187 million.
Troutman Sanders previously represented BNC during its $141.3 million purchase of High Point Bank, which closed Nov. 16, and its $95.5 million acquisition of Southcoast Financial, which closed June 17.
Banks Street, which also worked on the High Point deal, was BNC's financial adviser when it acquired Valley Financial for $101.3 million in July 2015.