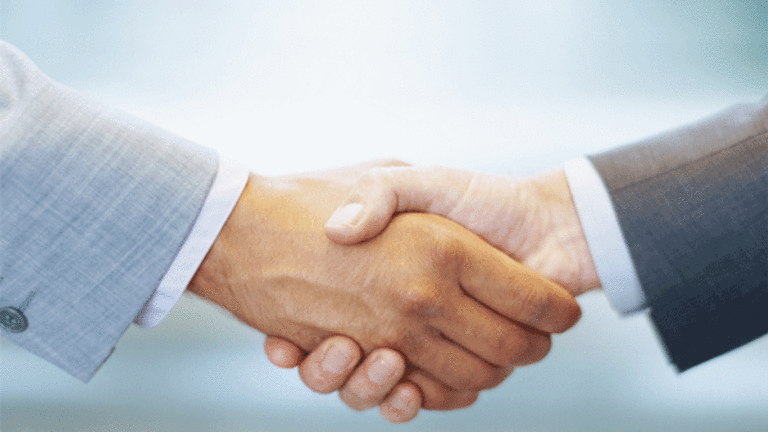 Pilgrim's Pride Bids $6.4B for Hillshire
Bidder hopes to derail target's pending $6.6 billion deal to buy Pinnacle Foods from Blackstone.
Bidder hopes to derail target's pending $6.6 billion deal to buy Pinnacle Foods from Blackstone.
NEW YORK (The Deal)-- Shares of Hillshire Brands (HSH) surged more than 20% Tuesday morning after Pilgrim's Pride (PPC) - Get Report revealed a $6.4 billion deal to acquire the packaged foods company, a move that it hopes will prevent the target's pending agreement to buy Pinnacle Foods (PF) .

WATCH: More market update videos on TheStreet TV
Pilgrim's, a chicken-producing powerhouse based in Greeley, Colo., disclosed Tuesday a preliminary, nonbinding proposal to acquire Hillshire for $45 per share in cash, or 12.5 times the target's trailing adjusted Ebitda as of March 29. The deal is valued at $6.4 billion, including debt, Pilgrim's said.
The offer represent's a 21.6% premium over the company's closing stock price of $37.02 on Friday. The premium works out to about 25% over the weighted average over the past 10 trading days.
Shares of Hillshire, trading on the New York Stock Exchanges as HSH, rallied about 21.6% midmorning to $45 following the announcement.
"As you are well aware, it has long been our desire to acquire [Hillshire]," Pilgrim's CEO William Lovette wrote in a publicly released letter addressed to Hillshire CEO Sean Connolley, noting that the two parties had met on Feb. 20.
Pilgrim's bid comes about two weeks after Chicago-based Hillshire agreed to purchase Parsippany, N.J.-based Pinnacle Foods from Blackstone Group (BX) - Get Report for $6.6 billion. The new offer is contingent on Hillshire ending its pursuit of Pinnacle.
The Deal Pipeline reported last week that the widening spread in the Hillshire-Pinnacle deal led arbitrage investors to speculate that Hillshire was a potential takeover target. Eminence Capital has reportedly decided to vote against the deal for Pinnacle. The New York hedge fund owns approximately 1.1% of Hillshire.

Hillshire would be required to pay a $163 million termination fee if it agrees to Pilgrim's offer instead of pursuing the Pinnacle deal.
Pilgrim's Pride plans to finance the acquisition using its existing liquidity and new debt. While the company has yet to line up commitments, it said it anticipates finalizing commitments soon. The company has only $155 million of debt on its books and said leverage would be about 4 times following the acquisition, which it notes is lower than Hillshire's leverage would be if it bought Pinnacle Foods.
The fusion of Pilgrim's and Hillshire - which would be comprised of brands including Pierce, Wing Dings, Jimmy Dean, Hillshire Farm, Ball Park and State Fair - implies combined revenue and Ebitda of $12.4 billion and $1.4 billion, respectively, over the past twelve months.
Pilgrim's said its offer has gained the support of its board and its controlling shareholder, meat processing giant JBS. Pilgrim's emerged from Chapter 11 in December 2009 when Sao Paulo, Brazil-based JBS acquired its majority stake in the company for $800 million in cash.
Pilgrim's is being advised by Antonio Weiss and Alex Hecker at Lazard and Cravath, Swaine & Moore's Scott Barshay and Damien Zoubek.
-- Jonathan Schwarzberg contributed to this report.