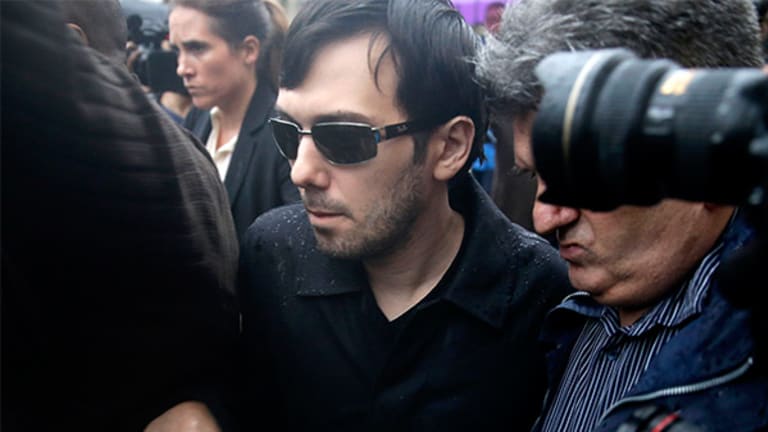 Pharma Bro Martin Shkreli Awaits Jury Decision in Fraud Case
Former hedge funder and biotech CEO Martin Shkreli finds himself in limbo as a criminal jury now decides if allegations of fraud will put him in orange coveralls.
Martin Shkreli, whose self-assured smirk has become known as the face of price gauging in the pharmaceutical sector, now sits in limbo, his future anything but certain.
The 34-year old Shkreli is playing a waiting game along with his high-profile lawyer Benjamin Brafman as a Brooklyn jury mulls its decision regarding whether to declare the man known as "Pharma Bro" innocent or guilty of eight counts of securities fraud, conspiracy to commit securities fraud and conspiracy to commit wire fraud. He could get 20 years in a federal prison if convicted, but sentencing guidelines could knock that time down considerably.
The four week trial featured witnesses that included investors in Shkreli's two failed hedge funds who told the jury stories of delayed pay outs and tall tales about why their investments were not going well. The testimony painted a picture of Shkreli as the master of spinning a yarn and making payments to some investors with cash from newer investors, with prosecutors equating the funds with Ponzi schemes. Federal prosecutor Jacquelyn Kasulis called Shkreli a "con man who stole millions" in her closing argument.
Brafman, whose client roster has included singers Michael Jackson, Sean "Puff Daddy" Combs, and Mafia don Salvatore "Sammy the Bull" Gravano, argued Shkreli had made his investors whole when his drug company Retrophin went public and in fact some made more money when the shares climbed in value. In a defiant closing argument, Brafman looked the jury over and asked rhetorically "Who lost anything?" He then answered his own query, "Nobody."
Shkreli did not testify on his own behalf, which is not unusual in a criminal trial. Indeed, given Shrkreli's argumentative nature and quick tongue, Brafman aired on the side of caution by keeping his client in his seat and out of the line of fire of sharp cross from Kasulis.
The indictment was unsealed in December of 2014 and was tied to allegations that Shkreli used assets that belonged to biotech company Retrophin to pay off investors in MSMB Capital Management, the hedge fund he ran before he founded Retrophin as CEO. He also ran a related firm, MSMB Healthcare Management.
The 34-year old Shkreli has developed a larger-than-life profile thanks in part to his move as Turing Pharmaceuticals CEO when he purchased 62-year old Daraprim from Impax Laboratories for $55 million and repriced the drug from $13.50 a dose up to $750 a pill. The drug is used to treat malaria and toxoplasmosis. When Shkreli was roundly criticized for 5,455% price hike, he said that the increase brought the drug into line with other medications used for rare conditions. He also said that a discount would be available for some patients and that the increase would allow privately held Turing to do research and bring better drugs to market to aid more patients.
But it wasn't just his professional exploits that drew attention to Shkreli, who seemed to suntan in the harsh rays of the public spotlight. He paid $2 million for the sole copy of Wu-Tang Clan's double album "Once Upon A Time in Shaolin" with the stipulation that he could not commercially release the album for 88 years, and then leaked the album to fulfill the promise to do so if Donald Trump won the White House.
He live streamed his life out on YouTube from his Brooklyn apartment and became a terror on Twitter to the point that the social network gave him the boot on a temporary basis after he attacked Teen Vogue editor Lauren Duca online. Later Twitter made the suspension permanent.
Shkreli began his investment career as a 17-year-old college intern at Cramer, Berkowitz & Co., the hedge fund operated by TheStreet's founder and CNBC host Jim Cramer. (The Deal is owned by TheStreet.)
Later, Shkreli went on to work at Intrepid Capital Management for "Tiger Cub" Steve Shapiro.
At MSMB, Shkreli staked out short positions in Cytori Therapeutics Inc. undefined and MannKind Corp. (MNKD) , and backed those plays with scathing reports of their prospects on the stock investment website SeekingAlpha.
He also drew the wrath of the non-profit Citizens for Responsibility and Ethics in Washington, known as CREW, by lobbying the Food and Drug Administration to reject an application for a cancer drug developed by Neoprobe Corp. In another instance, Shkreli asked to speak before an FDA panel to argue against the approval of Lorcaserin, a weight loss drug made by Arena Pharmaceuticals Inc. (ARNA) .
MSMB had short positions in both Neoprobe and Arena, and CREW argued that Shkreli's lobbying and shorting together essentially amounted to an attempt to manipulate the stocks. CREW took its arguments to the U.S. Attorney's Office in Manhattan and the SEC. The organization previously said it never heard back from the SEC or the Justice Department.
In a previous interview with The Deal, Shkreli defended his interaction with the FDA by saying that he made no secret of his investments and that citizens have the right to speak to the FDA about drug candidates. "At the end of the day, I'm just a guy writing a letter," Shkreli said in 2013.
By February 2013, MSMB had run its course and Shkreli had burned out on hedge funds. "The hedge fund business has changed," he said. "When I started, you could make 50% or 100% returns in a year. It was someplace you could use your intellect to make a lot of money, but not anymore."
The reality, according to filings and testimony in the criminal case now being deliberated, is that Shkreli was not successful in the hedge fund game, losing the money investors entrusted to him in ill-fated trades.
Instead, Shkreli told The Deal he planned to run biotech firms and go searching for drugs that would aid patients struck by rare diseases. He brought Retrophin Inc. public using a reverse merger and raising $80.1 million in a trio of private placements, according to PrivateRaise, TheStreet's database that tracks private placements larger than $1 million.
He told The Deal he planned to bring Turing public, but the company remains privately held.
Retrophin revealed in 2014 SEC filings that the SEC was investigating Shkreli over allegations he had used consulting agreements as legal settlements. Last August the company sued Shkreli in federal court in Manhattan for $65 million in damages, essentially charging Retrophin was brought public so that its shares could be utilized to pay off MSMB investors. The lawsuit alleged that Shkreli had been a "faithless servant" when he headed up the company. In September the company sent Shkreli packing from the company he founded.
Shkreli denied the allegations at the time, saying his old company included "half-truths and speculative conclusions" in its legal action.
The SEC brought a parallel civil fraud action against Shkreli but the action was stayed in light of the criminal prosecution.