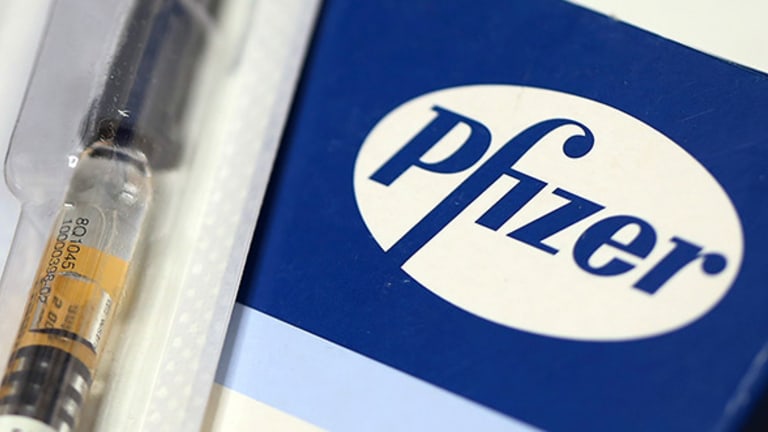 Pfizer's Bid for Allergan May Be Too Good to Turn Down
With Pfizer's need for tax savings and pipeline products, an offer is expected to hand Allergan shareholders a 30% premium.
Pfizer (PFE) - Get Pfizer Inc. Report is exploring a merger with Allergan (AGN) - Get Allergan plc Report that it hopes will provide attractive tax savings but also a strong pipeline of products.
And, while the target has a number of attractive drugs, doubt remains about how much benefit the acquirer would reap from using Dublin-based Allergan in a tax inversion strategy.
Merger talks were confirmed by the companies Thursday following a Wall Street Journal report.
Shares of New York-based Pfizer dropped by 1.9%, closing at $34.77. Allergan rose by 6%, closing at $304.38.
This is Pfizer's second attempt at a transformative deal that has tax savings as its main hallmark. Last year, it tried to acquire U.K.-based AstraZeneca (AZN) - Get AstraZeneca PLC Report with offers that kept being raised and eventually reached about $117 billion before it ran afoul of the target's resistance and British regulatory deadlines.
How Pfizer's tax savings will affect the value of the deal in an Allergan transaction is debatable, however.
Leerink Research analysts said in a note Thursday that Allergan shareholders may consider a 30% premium to the current share price, which they believe would mean about a $156 billion deal.
There is, however, still a fair amount of risk involved in tax inversions, given U.S. legislators pushback against certain headline deals.
One risk arbitrageur calculated that in order for Pfizer to avoid inversion restrictions, it would have to offer 10.5 shares of Pfizer for each share of Allergan, which would result in Allergan owning 40% of the combined company.
That exchange ratio would imply a value of $359 per share for Allergan. That deal price also implies a 30% premium. At Allergan's close Wednesday of $287.20, the deal value would come in at around $147 billion.
BMO Capital Markets analyst Alex Arfaei sees some uncertainty in the bonus from a probable lower tax rate, in part because of uncertainty regarding the final deal structure and because of the potential for government intervention, according to a BMO note Thursday.

But Arfaei likes the opportunities for a combination with Allergan to strengthen Pfizer's expected split of its "established" and innovative" businesses, with the addition of Allergan's growing branded businesses in aesthetics, eye care and other products. BMO puts a valuation of $28 per share on the line of innovative products and $16 on the established.
Moody's analyst Jennifer Gladstone said in a telephone interview that while tax savings are likely paramount in the consideration of this deal, Allergan also has a number of newly approved drugs coming to market that would be attractive to Pfizer.
Of course, Allergan's Botox franchise would also be a strong selling point. Revenue from the Botox line was 11% of the company's total revenues before the company spun off its generics business in a $40.5 billion sale to Teva Pharmaceutical Industries (TEVA) - Get Teva Pharmaceutical Industries Limited American Depositary Shares Report this summer, she said.
"Allergan has quite a few products that are recently approved and will launch soon," said Gladstone. "They have a pretty strong pipeline."
Allergan has strong franchises in the gastroenterology, eye care and aesthetics areas. Gladstone also pointed out that the company's recent purchase of Kythera Biopharmaceuticals (KYTH) for $2.1 billion will add Kybella -- a non-surgical treatment for double chins -- which will fit in well on the aesthetics line and is attractive.
The company's anti-bacterial Avycaz drug is seen as a bright spot in Allergan's portfolio as well as its irritable bowel syndrome drug Viberzi, Gladstone added.
More savings could be had besides on taxes, according to another research note from Leerink. The companies have a limited product overlap and the analysts project that there are likely $1.7 billion in pre-tax synergies in the event of a deal.
The analysts expect the offer to come in a range of between $375 and $400 per share, which, they noted, "may be difficult for Allergan shareholders to walk away from."