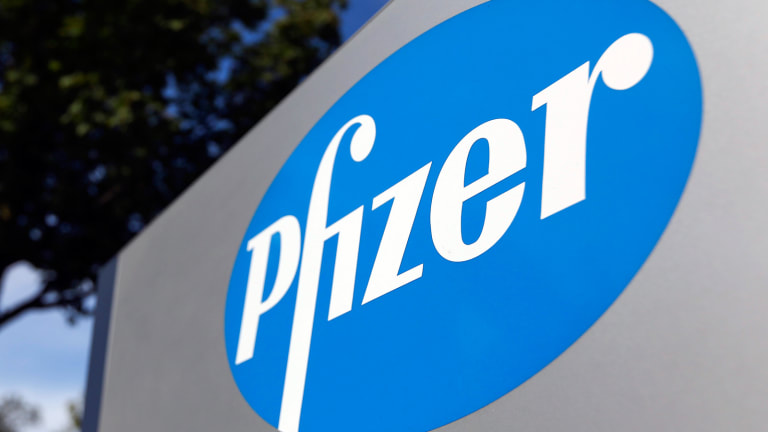 Pfizer Picks Up AstraZeneca's Antibiotics Business
The deal could be worth $1.5 billion.
U.K. pharmaceutical giant AstraZeneca (AZN) - Get Free Report has sold its small molecule antibiotics business Pfizer (PFE) - Get Free Report, days after the U.S. pharma giant bought cancer drugmaker Medivation in a $14 billion deal.
In a deal that could be worth $1.5 billion Pfizer has bought the commercialization and development rights to its late-stage small molecule antibiotics business globally outside the U.S.
The portfolio includes approved antibiotics Merrem, Zinforo and Zavicefta. It also includes ATM-AVI and CXL, which are in clinical development.
Pfizer will buy the rights to Merrem in the U.S., however, the North American rights for remaining drugs are owned by Allergan (AGN) - Get Free Report , which saw a takeover deal with Pfizer fall apart this year.
Merrem and Zinforo are available in more than 100 countries and had combined product sales of $250 million in 2015.
Pfizer will make an upfront payment of $550 million upon completion and a further unconditional payment of $175 million in January 2019 for the commercialization and development rights. Pfizer Pfizer will pay up to $250 million in commercial, manufacturing and regulatory milestones, up to $600 million in sales-related payments as well as recurring, double-digit royalties on future sales in some markets.
The deal is expected to close in the fourth quarter of 2016.
Pfizer Essential Health group president John Young said: "As we continue to reshape our Essential Health portfolio, we are focusing on areas that further address global public health needs and that complement our core capabilities and experience in therapeutic areas, including anti-infectives."
The sale will allow AstraZenaca to focus on three main therapy areas - oncology, respiratory and cardiovascular/diabetes.
The company does not expect the sale to impact financial guidance for 2016. The company said in July when delivering its second-quarter earnings that total revenue is expected to decline by a low to mid-single digit percentage point.
In the second quarter, the company reported earnings of 83 cents per share, beating analysts' estimates of 76 cents per share. Revenue came in at $5.6 billion, above analysts' projected $5.56 billion.
Last year, AstraZeneca posted earnings of 60 cents per share on revenue of $6.31 billion.
Pfizer shares closed 0.72% up on Tuesday at $35.09 in New York. AstraZeneca was recently down 0.57% in London.
(Pfizer and Allergan are part of Jim Cramer's charitable trust portfolio Action Alerts PLUS. See all of Cramer's holdings with a free trial).